Paneer 65 recipe (spicy paneer starter) – Indian snack recipes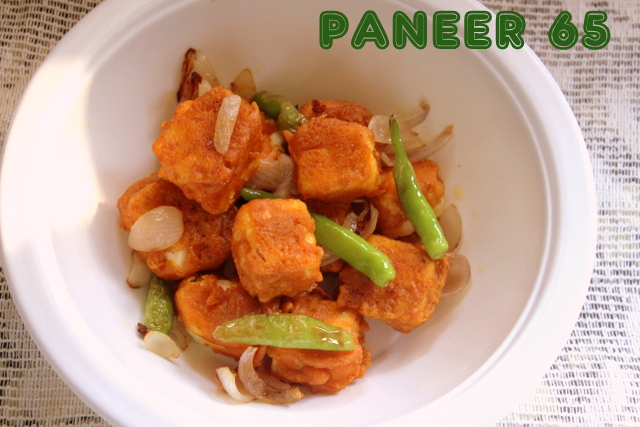 Paneer 65 is a very popular and  spicy paneer snack served as a starter dish or appetizer.  Paneer cubes are coated with spicy paste and then deep fried or shallow fried.  You can try this recipe with tofu for a vegan version.  You can make it more spicier by adding green chilli paste to the batter.  But I have not used green chillies here, as we prefer less spicy.  Paneer 65 is a famous dish from the Southern part of India, especially Hyderabad and Chennai.  But nowadays, it is available in menus of all major hotels and joints..
More paneer recipes :
paneer tawa masala, peas paneer butter masala, shahi paneer paneer masala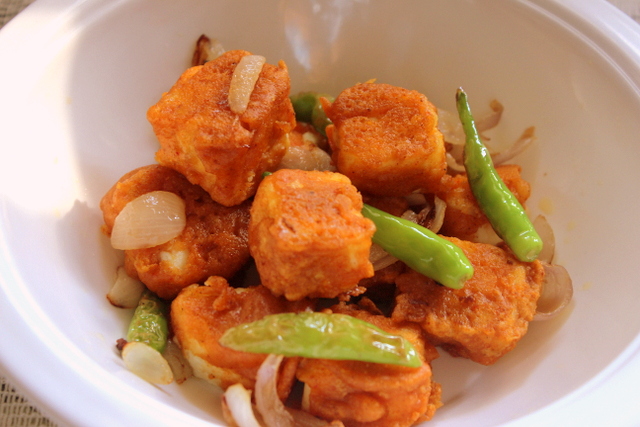 Prep Time : 15 mins
Cook Time : 15 mins
Servings : 2 persons
South Indian cuisine
INGREDIENTS
Paneer or cottage cheese – 200 gms
Maida or all purpose flour – 2 tablespoons
Besan or gram flour – 2 tablespoons
Corn flour -1 tablespoon
Kashmiri red chilli powder – 1 teaspoon
Ginger-garlic paste -1 teaspoon
Garam masala – 1 teaspoon
Lemon juice – 2 tablespoons
Cooking oil for frying
Salt to taste
SEASONING/GARNISHING
Cooking oil – 2 tablespoons
Onion – 1 small sized (chopped into long pieces)
Green chillies – 4 (slit in between)
HOW TO MAKE OR PREPARE PANEER 65  RECIPE
Take a wide mouthed bowl.  Add maida, besan and corn flour.  Then add ginger-garlic paste, Kashmiri red chilli powder, garam masala, lemon juice and salt.
Add little water and mix all the ingredients to a smooth paste. The batter should be of medium consistency.  Cut the paneer into small cubes.
Gently add the paneer cubes to the batter to coat them evenly.  Mix well so that the pieces are coated well with the batter mixture.  Heat little oil on medium flame.  Once the oil gets hot, add the coated paneer pieces and shallow fry them till crisp and golden in colour.
Add another batch of paneer pieces and shallow fry them.  Drain the paneer pieces on an absorbent paper.
Heat 2 tablespoons of oil and fry the onion pieces and slit green chillies till light brown in colour and garnish the paneer pieces with it.
Serve delicious paneer 65 hot with tomato sauces or just by itself as a snack.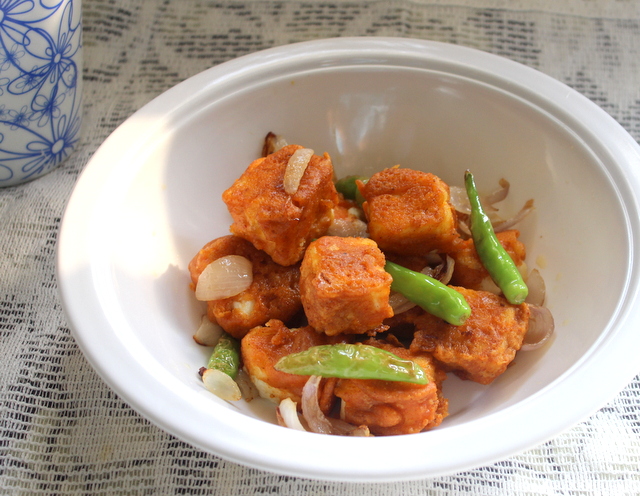 NOTES/TIPS
You can add little rice flour for more crispiness.
Add soya sauce, curd or vinegar instead of lime juice for getting that sour taste.
Do add Kashmiri chilli powder as it gives a nice red colour to the paneer cubes after frying.