Tofu matar masala recipe – How to make tofu and peas curry recipe – healthy recipes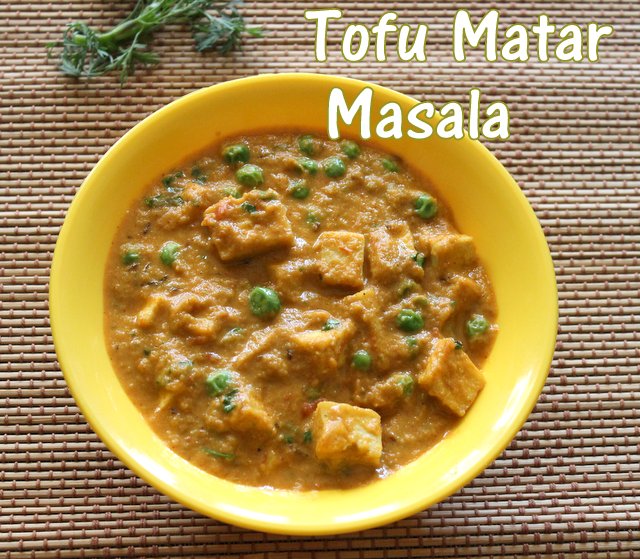 Tofu matar masala is a healthy side dish for rotis made with 'tofu' also called as 'soya paneer'.  Tofu is low in calorie but has got high protein content.  An excellent source of amino acids, iron, calcium and other micro-nutrients, tofu is a versatile ingredient with many health benefits. 
Tofu, or bean curd, is a popular food derived from soya. It is made by curdling fresh soya milk, pressing it into a solid block and then cooling it – in much the same way that traditional dairy cheese is made by curdling and solidifying milk. The liquid (whey) is discarded, and the curds are pressed to form a cohesive bond. It can be cooked in different ways to change its texture from smooth and soft to crisp and crunchy.
Tofu and green peas make a good combination and tastes delicious when cooked with flavourful spices.  Do try this healthy and vegan side dish for rotis for a change from the routine.
OTHER TOFU RECIPES :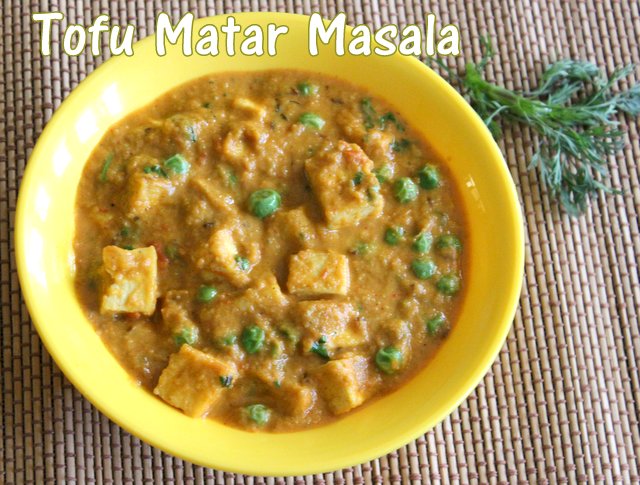 Prep Time : 10 mins
Cook Time :  20 mins
Servings :  4 persons
Indian cuisine
INGREDIENTS
Tofu – 200 gms
Green peas – 1/2 cup
Garam masala – 1/2 teaspoon
Kasoori methi/dried methi leaves – 1 teaspoon
Oil – 3 tablespoons
Cumin seeds – 1/2 teaspoon
Few coriander leaves (chopped) for garnishing
Salt to taste
TO GRIND TO A SMOOTH PASTE
Onions – 1 (big sized) (roughly chopped)
Tomatoes – 2 (big sized) (roughly chopped)
Garlic cloves – 7
Ginger – 1 inch sized (chopped roughly)
Green chillies – 2
Cashewnuts – 6
Red chilli powder – 1/2 teaspoon
Turmeric powder – 1/4 teaspoon
Coriander powder – 1 teaspoon
Cumin powder – 1/2 teaspoon
HOW TO MAKE OR PREPARE TOFU MATAR MASALA RECIPE
Squeeze out the excess water from the tofu.  Then chop them into equal pieces.   (To remove the excess moisture, press the tofu gently with a kitchen towel.)
Heat 2 tablespoons of  oil in  a pan or kadai on medium flame.  Add the chopped tofu pieces and saute till it turns slightly golden brown in colour.  Remove them and set aside.
To the same pan, add the onions, and cashewnuts and stir till they turn light brown in colour.
Then add tomatoes, green chillies, garlic cloves and ginger.  Cook for 2 minutes and then switch off the flame. Allow the mixture to cool down.  Take the mixture to the  grinder.  Add red chilli powder, turmeric powder, coriander powder, cumin powder and little salt.
Grind the mixture to a fine paste without adding water.  Heat 1 tablespoon of oil in a pan.  Add cumin seeds and allow them to crackle and turn light brown in colour.
Add the ground paste and the green peas to the pan.  Add 1/2 cup of water and cook for 2-3 minutes on a low flame so that the peas gets cooked well.
Add garam masala and kasoori methi.  Mix well.  Then add the sautéed tofu pieces to this.  Add more water if required and bring it to the right consistency.  Simmer for another 2 minutes on a low flame.  Switch off the flame.
Lastly garnish with chopped coriander leaves and serve hot with whole wheat rotis, naan or rice.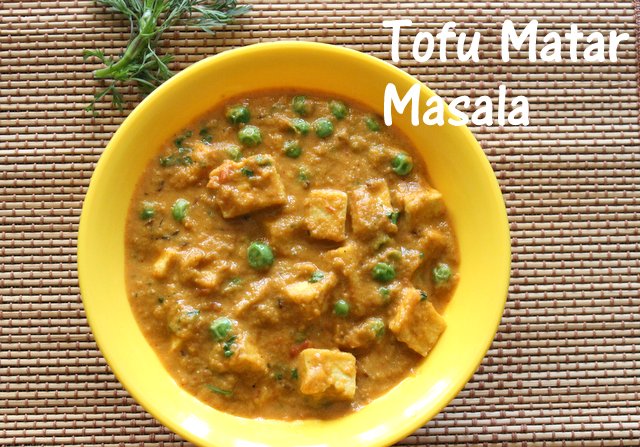 NOTES/TIPS
You can replace tofu with paneer and make this curry with the same recipe.
Add 1/2 cup of tomato puree instead of adding tomatoes.
You can also add a tablespoon of cream to get a rich gravy.