Vangi bhath or brinjal rice recipe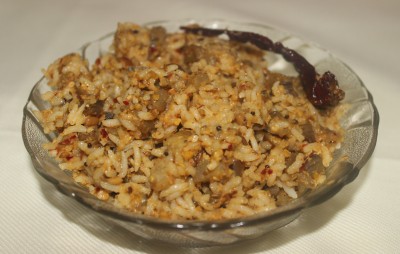 Vangi Bhath is a South Indian dish originated in Karnataka,  especially popular among the Brahmin community. It is also prepared and equally popular in Maharashtra, Andhra Pradesh and Tamil Nadu.  Vangi bhath is a easy, quick and delicious rice dish and mostly accompanied with onion raitha or fresh curd.  It is made with  brinjals, rice and  mixed with spice powders.   Vangi bhath tastes better when made with fresh and tender baingan or eggplant.  It can be had as breakfast dish or as a one pot sumptuous meal.
Ingredients
Cooked rice - 3 cups
Brinjals (eggplants) - 250 gms (medium sized)
Grated jaggery - 2 tablespoons (optional)
Mustard seeds - 1/2 teaspoon
Cumin seeds - 1/2 teaspoon
Whole red chillies - 2
Turmeric powder - 1/4 teaspoon
1 string of curry leaves
Salt to taste
Lemon juice - 2 teaspoons
FOR DRY MASALA POWDER
Coriander powder - 2 tablespoons
Cumin seeds - 1 teaspoon
Chana dal - 1 teaspoon
Urad dal - 1/2 teaspoon
Whole red chillies - 4 to 5
Peanuts or groundnuts - 6 to 7
Sesame seeds - 1/2 teaspoon
Grated coconut - 1/4 cup
Cooking oil - 2 tablespoons
1 inch cinnamon
Method
Step 1
Cut the brinjals into small cubes and immerse them in water with 1/2 teaspoon salt added to it. This prevents the brinjals from changing its colour. Soak in salted water until you need it.
Step 2
Heat 1 teaspoon of oil in a pan. Fry all the ingredients given in 'dry masala powder' till light brown, except coconut and sesame seeds. Add coconut and sesame seeds at the end and fry for few seconds. Remove from heat. Grind all the ingredients to a coarse dry powder.
Step 3
Heat the remaining oil in a pan. Add mustard seeds. Once the seeds start spluttering, add cumin seeds, curry leaves, red chillies and fry for few seconds.
Step 4
Add chopped brinjals, turmeric powder and salt and cook covered for 8 to 10 minutes or until brinjals are cooked. Ensure that there is no moisture in the vegetable.
Step 5
When the brinjals are cooked well, add the masala powder, grated jaggery and mix well.
Step 6
Add cooked rice to this brinjal mixture and mix well.
Step 7
Sprinkle lemon juice and serve hot with raita or papads.
Step 8
NOTE : This masala powder can also be used for making capsicum rice. If you want to store the masala powder, use dry coconut and store in an airtight container and use it within a month.