Peas and paneer pulao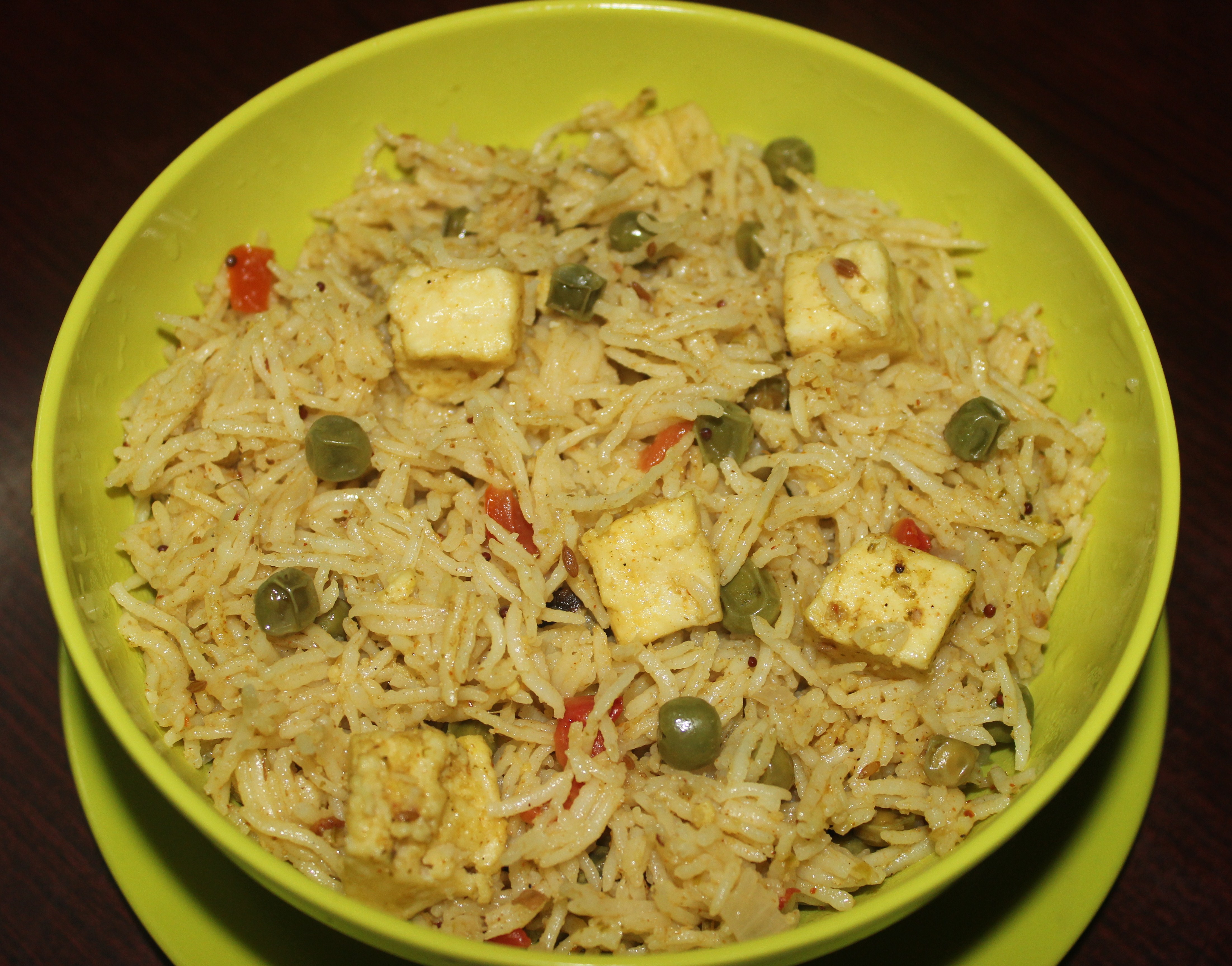 Peas and paneer pulao is a nutritious and delicious rice dish.  It can be served as a one pot meal with  raita or papad as a light accompaniment.
Ingredients
Basmati rice - 2 cups
Green peas - 1/2 cup
Cottage cheese (paneer) - 100 gms (cut into cubes)
Chopped onions - 1/4 cup
Chopped tomatoes - 1/4 cup
Coriander powder - 1 teaspoon
Garam masala powder - 1 teaspoon
Red chilli powder - 1/2 teaspoon
Turmeric powder - 1/4 teaspoon
Ghee - 2 tablespoons
Curd - 1/4 cup
Mustard seeds - 1/2 teaspoon
Cumin seeds - 1/2 teaspoon
Star anise - 2
Bay leaves (tejpatta) - 2 to 3
Cloves (lavang) - 2
TO GRIND
Garlic cloves - 7 to 8
Ginger - 1 inch small piece peeled
Grated coconut - 1/4 cup
Green chillies - 2
Coriander leaves - 1 tablespoon
Method
Step 1
Wash and soak basmati rice for half an hour. This helps the grains to be separate while cooking.
Step 2
Grind garlic, ginger, coconut, green chillies and coriander leaves with little water to make a smooth paste. Keep it aside.
Step 3
Heat ghee in a small pressure cooker. Add mustard seeds. Once it stops spluttering, add cumin seeds, star anise, bay leaves, cloves and saute for half a minute.
Step 4
Add chopped onions and tomatoes and stir fry for a minute.
Step 5
Add green peas and mix well.
Step 6
Add ground masala, salt, turmeric powder, coriander powder, red chilli powder, garam masala powder and paneer pieces and combine together.
Step 7
Add soaked basmati rice, 2 1/2 cups of water and curd and mix well.
Step 8
Close the lid and pressure cook upto 3 whistles.
Step 9
Serve hot with raita or papad