Turmeric milk or haldi doodh recipe – How to make golden turmeric milk recipe(turmeric latte)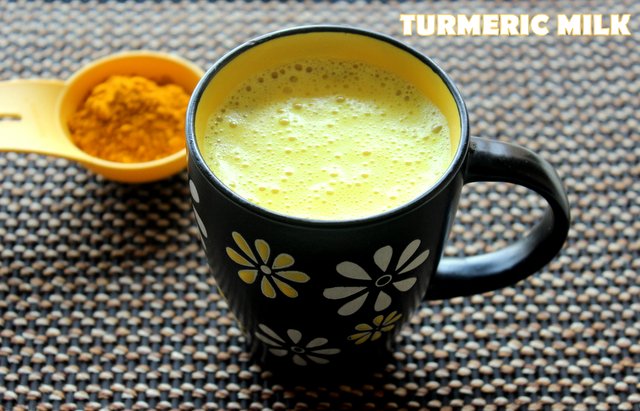 Turmeric milk also called as golden milk or turmeric latte is a popular Indian drink made by cow milk and other spices such as peppercorns, cinnamon and ginger.  It has huge health benefits and used as a remedy to boost immunity and reduce cold and cough.  This Indian haldi doodh (turmeric milk) helps to reduce bloating, improves bone health and reduce joint pains.
The key ingredient used in turmeric milk is the turmeric, a yellow spice spice popular in Asian cuisine, which gives the recipe its yellow color. Curcumin, the active component in turmeric, has been used in Ayurvedic medicine for centuries due to its strong antioxidant properties. Golden milk is rich in antioxidants, which help protect cells from damage, fight off disease and infections and contributes to your overall health.
Pepper powder used in turmeric milk helps to absorb curcumin faster in the body.  Ghee acts as a lubricant for joint pains and it helps to soothe your throat, especially if you are having sore throat.  This drink is not only completely comforting, relaxing, and soothing, but it's also extremely nutritious.  You can add little honey or maple syrup to sweeten the milk.  Enjoy this tasty and  a powerful Ayurvedic Indian drink with medicinal properties while still hot and reap its benefits.
A quick video on turmeric milk :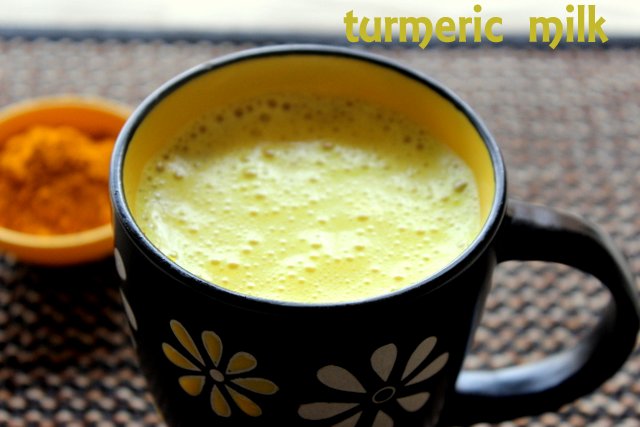 Prep Time :  5 mins
Cook Time :  10 mins
Servings : 2 persons
Indian cuisine
INGREDIENTS
Milk – 2 cups
Grated ginger – 1/2 teaspoon
Organic turmeric powder – 1/2 teaspoon
Black pepper powder – 1/4 teaspoon
Ghee – 1/4 teaspoon (optional)
HOW TO MAKE OR PREPARE TURMERIC MILK RECIPE
Heat milk in a pan and bring it to a nice boil.  Add 1/2 teaspoon of turmeric powder to the milk.
Then add 1/2 teaspoon of grated ginger and ghee to the milk.
Finally add 1/4 teaspoon of black pepper powder and give a good mix.  Cook the turmeric milk  for 2-3 minutes on a low flame.  Switch off the flame.  Turmeric milk is now ready to be served.
Serve turmeric milk hot or warm.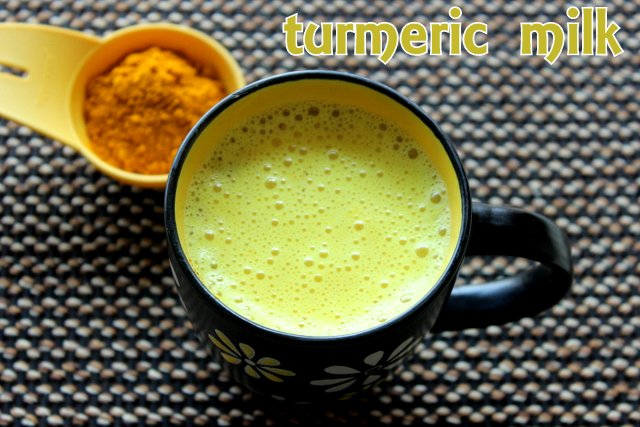 NOTES/TIPS
You can also use almond milk or soy milk for making this turmeric milk.
Add honey, brown sugar or coconut sugar for a sweeter version.
Pour the milk in a glass or cup from a distance to get a nice froth.
Use fresh turmeric when in season, for making this milk.