Vegetable rava idli recipe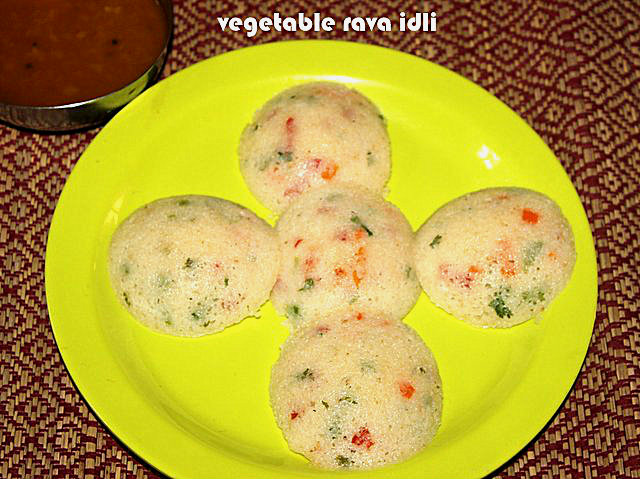 Vegetable rava idli is a perfect and instant  breakfast dish made from semolina (rava) and curd which are the main ingredients.  It is one of the easiest and most popular South Indian recipe which can be prepared in a jiffy.  Vegetable rava idli does not require any elaborate grinding like the traditional idli. It is easily digestible and nutritious too.  It can be also had as a evening snack and goes well with coconut chutney or sambar as the side dish.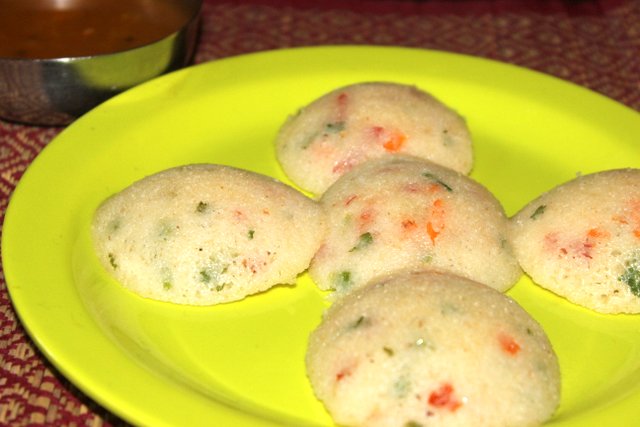 Prep Time : 10 mins
Cook Time : 15 mins
Yield : 8-10 rava idlis
Total time – 25 mins
South Indian cuisine
INGREDIENTS
Semolina/rava/sooji – 1 cup
Curd/yoghurt – 1 cup
Carrot – 1 (medium sized) (chopped finely)
Onion – 1 (chopped finely)
Tomato – 1 (chopped finely)
Green chillies – 2 (chopped finely)
Salt to taste
Few coriander leaves chopped finely
Baking soda – 1/4 teaspoon
HOW TO MAKE/PREPARE VEGETABLE RAVA IDLI RECIPE
Take a mixing bowl.  Add rava  and curd and whisk well.  Whisk the batter well and ensure that no lumps are formed.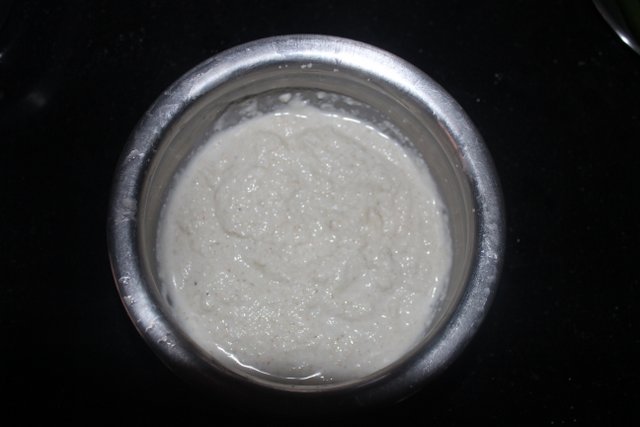 Add all the chopped vegetables, green chillies, coriander leaves and salt and mix well.  Add water little by little and make a batter which is of medium consistency,  neither too thick nor too thin consistency.  The consistency of the rava idli batter should be similar to that of  traditional idli batter.  Leave the batter aside for 15-20 minutes.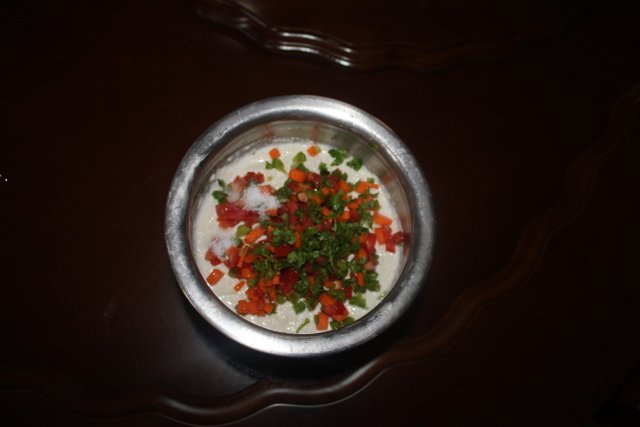 Then add baking soda to the batter and mix well.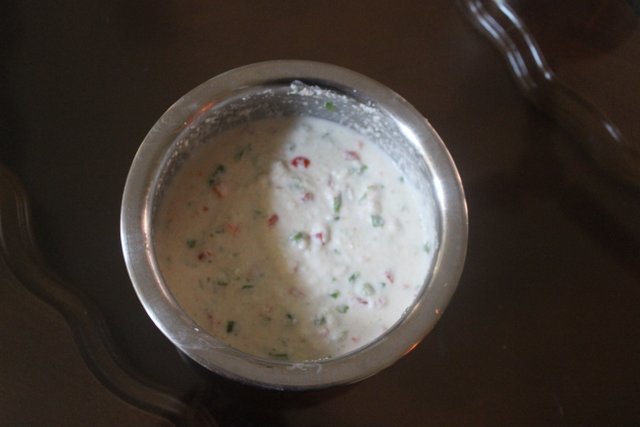 Grease the idli mould  with little oil and pour the mixture in each blocks.  Steam cook for 8-10 minutes with the help of a idli cooker.  Once done, let it cool down completely.  Remove the idlis with a spoon or a fork.
Serve vegetable rava idli hot with coconut chutney or sambar or any other chutney of your choice.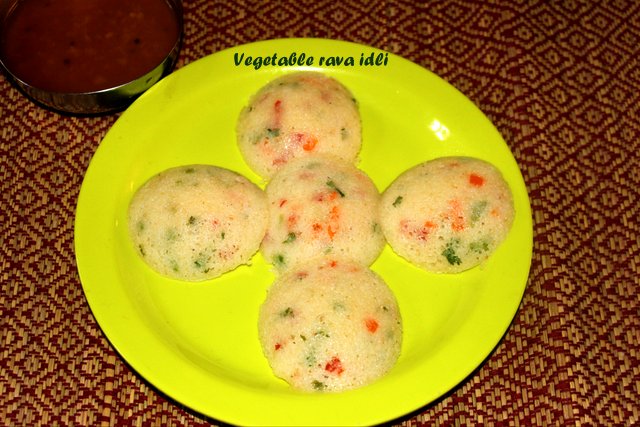 NOTES/TIPS
After adding baking soda, make the idlis immediately.
If you are using a pressure cooker, then steam cook without the whistle for 8-10 minutes.
You can also season the mixture with mustard seeds and cashewnuts.
You can add more vegetables like capsicum or green peas or grated cauliflower for a more healthier version.
I have prepared rava idlis in a microwave.  If you are using a microwave then use the plastic microwave idli stand and  microwave on high for 2-3 minutes.