Vegetable rice or how to make mixed vegetable rice recipe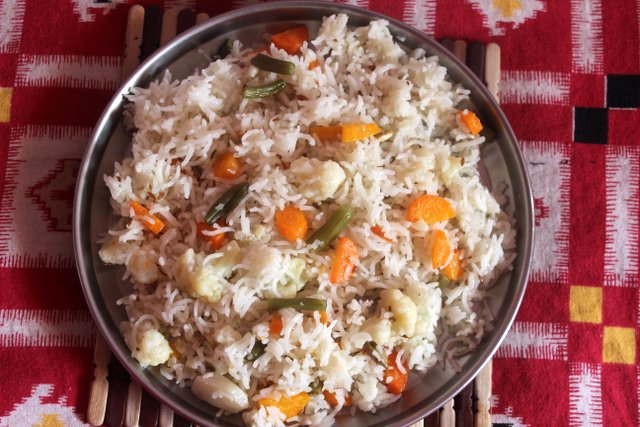 Mixed vegetable rice is a simple yet delicious rice dish. It is a combination of vegetables and rice and a comforting one pot meal. Mixed vegetable rice is a easy lunch recipe with mixed vegetables and tastes best when served with any gravy dish or raita or papads or chips or plain kadhi. It is a perfect rice dish when you want to make quick and hot meal. Mixed vegetable rice is a healthy recipe too as it is loaded with lots of vegetables and a full meal by itself. So try this healthy recipe and enjoy..
Ingredients
Basmati rice - 1 cup
Onion - 1 (medium sized) (chopped lengthwise)
Ginger-garlic paste - 1 tablespoon
Green chillies - 2 (slit vertically)
Mixed vegetables (french beans, cauliflower, carrot and potato) - 1 1/2 cups
Few chopped coriander leaves for garnishing
Salt to taste
Lemon juice - 1 tablespoon
FOR THE SEASONING
Oil - 2 tablespoons
Cumin seeds - 1/2 teaspoon
Cinnamon - small 1 inch piece
Cloves - 2
Bay leaves or tejpatta - 2
Cardamom pods - 2
Method
Step 1
HOW TO MAKE OR PREPARE MIXED VEGETABLE RICE RECIPE Soak basmati rice in sufficient water for half an hour. Drain the water and keep the rice aside.
Step 2
Chop the mixed vegetables lengthwise and keep it ready.
Step 3
Heat oil in a pan or kadai. Add all the seasonings mentioned under seasoning. Saute for few seconds till you get a nice aroma.
Step 4
Add chopped onion, green chillies and ginger-garlic paste. Saute till the onions become translucent.
Step 5
Then add the chopped mixed vegetables, salt and coriander leaves and mix well. Stir fry for half a minute on a low flame.
Step 6
Add drained rice and 2 cups of hot water and bring it to boil.
Step 7
Once it starts boiling, reduce the flame and close the pan with a lid. Cook till the rice is fully cooked. Switch off the flame. Sprinkle lemon juice and mix well.
Step 8
Mixed vegetable rice is now ready to be served.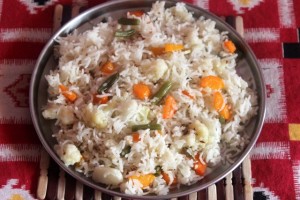 Step 9
Serve mixed vegetable rice hot with raita, papad, potato chips or any gravy based dish like matar paneer or paneer butter masala. It also tastes good as it is.
Step 10
NOTES : You can also add peas to mixed vegetable rice. Here I have taken 1 potato, 6-7 cauliflower florets, 1 carrot and 5-6 french beans. Chop the vegetables evenly so that they get cooked well and also look good. You can use ghee instead of oil to give a nice aroma to the rice. To enhance it further, you can garnish with fried cashewnuts and raisins. Mixed vegetable rice also goes well with onion raita or cucumber raita. You can also cook the rice separately in a pressure cooker. In that case, once the pressure is cooled down, spread the rice in a plate and allow it to cool. This way the rice grains do to not stick to each other and remain separate. Add the cooked rice after the seasoning and vegetables are fully cooked in a pan.