Jowar dosa or jolada dose recipe – How to make jowar dosa recipe – healthy dosa recipes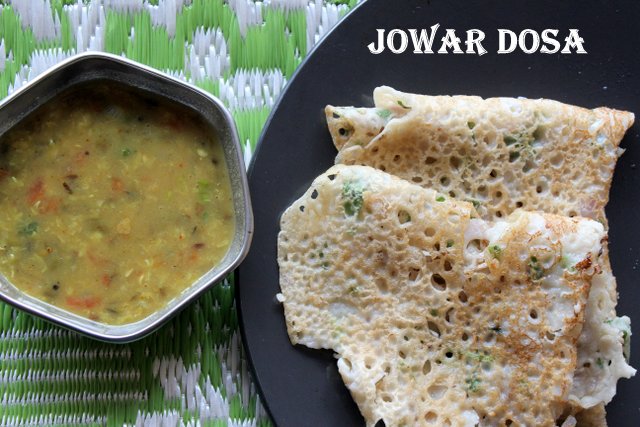 Jowar dosa – an instant dosa recipe which is not only healthy but also delicious breakfast dish.  Jowar also called as sorghum is high in nutrition.  It is gluten free, rich in fibre, high in protein, controls blood sugar levels, good for bone health and packed with vitamins, minerals and micronutrients.  For making this dosa, no grinding and fermentation is required.  Just add chopped onions, green chillies and few spices to make it more tasty and flavourful.  This dosa is prepared by using jowar flour and rice flour.
Jowar dosa is best served with sambar or coconut chutney.
Other dosa varieties :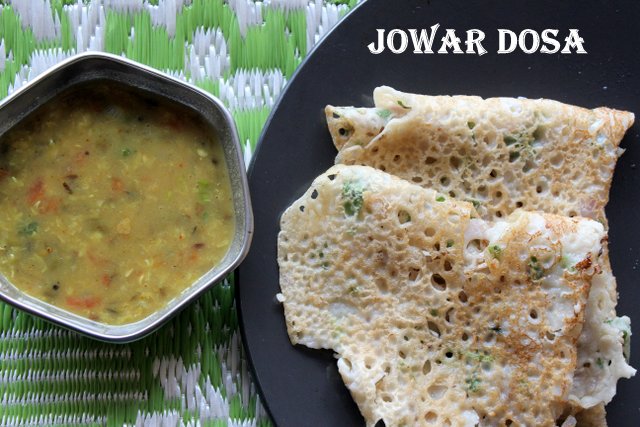 Prep Time :  10 mins
Cook Time : 15  mins
Yield:  5 to 6 dosas
INGREDIENTS
Jowar flour/sorghum – 1 cup
Rice flour – 1/4 cup
Onion – 1 (small sized) (chopped finely)
Green chillies – 2 (chopped finely)
Cumin seeds/jeera – 1/2 teaspoon
Curry leaves – 10
Coriander leaves – 2 tablespoons
Oil for making dosas
Salt to taste
HOW TO MAKE OR PREPARE JOWAR DOSA RECIPE
Take a container or vessel.  Add the jowar flour and rice flour.  Then add chopped onions, cumin seeds, green chillies, chopped curry leaves and coriander leaves and salt.
Mix everthing well.  Add water little by little to make a thin batter.
The batter should flow easily while making the dosa.  Heat a non-stick pan or a well seasoned cast iron pan.  Add few drops of oil and grease the tawa with the oil.  
Pour a ladleful of batter  in the center of the tawa and spread to a round little medium circle.  Add oil on the edges of the dosa and cook for 1-2 minutes on a medium flame.
Once cooked, flip on the other side and cook till done.  Serve jowar dosa hot with chutney or sambar.
NOTES/TIPS
You can add little rava or semolina to make it more crispier.
Prepare this dosa immediately without fermenting.  Leftover batter can be refrigerated for 2-3 days.
The tawa or the dosa griddle should be hot enough, before you pour the batter, (not too hot).  Ensure to season the tawa with little oil before making the dosas.  The first one or two dosas usually tend to stick to the tawa, but after one or two trials, the tawa gets well seasoned.  So make small dosas to avoid wastage of batter, in the beginning.