Akki rotti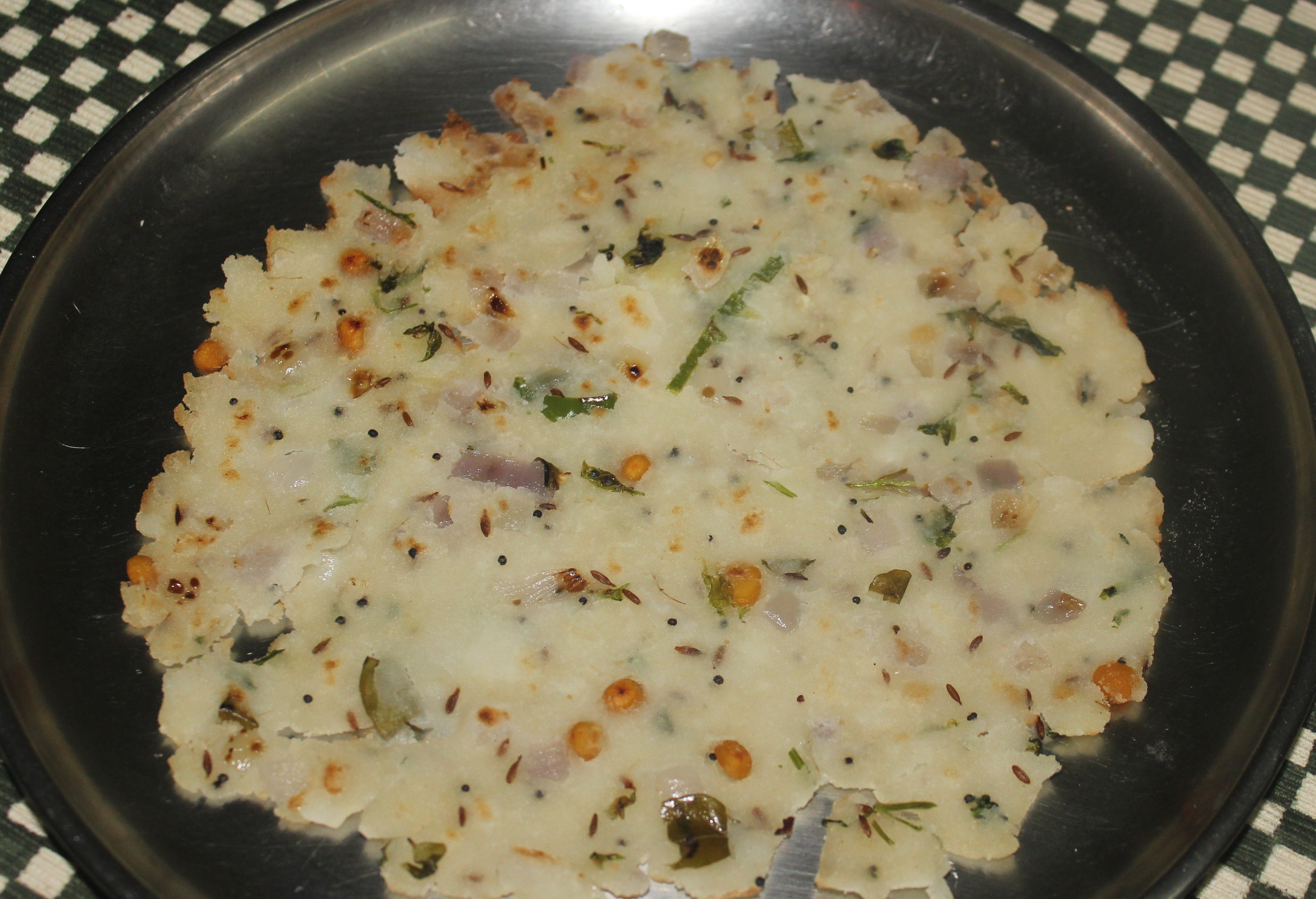 Akki rotti means rice pancake in Kannada.  It is a rice based breakfast dish which is very popular in Karnataka.  It is made of rice flour which is mixed with onions, green chillies, coriander leaves, chana dal, cumin seeds, salt and water and heated on a tawa/pan till light brown.  Akki rotti is also served as an evening snack.  This Akki rotti recipe has been contributed by one of my very close friends, Mrs. Usha Nayaka who happens to be a  Mysorean.  I am very grateful to her for sharing Akki rotti recipe to all  my visitors who, I am sure would be benefitted by this recipe.
Ingredients
Rice flour - 2 cups
Onions - 2 (chopped finely)
Salt to taste
FOR SEASONING
Oil - 1 tablespoon
Mustard seeds - 1 teaspoon
Cumin seeds - 1/2 teaspoon
Chana dal - 1 teaspoon
Urad dal - 1 teaspoon
Green chillies - 2 (chopped finely)
Chopped coriander leaves - 2 tablespoons
Few curry leaves
Grated coconut - 1 tablespoon (optional)
Method
Step 1
HOW TO MAKE AKKI ROTTI KARNATAKA STYLE Heat oil in a pan. Add mustard seeds and cumin seeds. Once the seeds stop spluttering, add urad dal, chana dal and fry till light brown.
Step 2
Add green chillies, onions, coriander leaves, curry leaves, grated coconut and salt and fry till onions become translucent. Keep this onion mixture aside.
Step 3
Boil 2 cups of water in a separate vessel to boiling stage. Once the water reaches the boiling stage, switch off the flame.
Step 4
In a separate bowl, firstly add onion mixture. Then add rice flour and mix well.
Step 5
Now add boiled water little by little and knead well to get a smooth dough consistency. The dough should be medium soft, not too hard nor too soft. Keep the dough covered for 10 to 15 minutes.
Step 6
Heat a tawa on a medium flame. Smear oil on the tawa and spread around it.
Step 7
Grease a plaintain leaf or a plastic sheet and place a portion of the dough and flatten it with the palm to a round shape.
Step 8
Place the rotti on the hot tawa with the leaf side up. Slowly peel the leaf up and pour oil all round the rotti.
Step 9
When one side is cooked, turn and cook the other side of the rotti. Cook the rotti till both the sides become light brown.
Step 10
Serve with garlic chutney or any chutney of your choice.
Step 11
HOW TO MAKE GARLIC CHUTNEY Grind 1/2 cup grated coconut, 4 tablespoons of roasted and peeled peanuts, 2 red chillies, 8 to 10 garlic cloves, salt and little water to make a smooth paste. Season garlic chutney with mustard seeds and curry leaves.
Step 12
NOTE You can add grated carrot/ cabbage/coconut to the mixture to enhance the taste and also make it more nutritious. Heat the tawa on a medium to high flame to get crispy and soft rottis. Otherwise rottis become very hard. Always spread the oil on tawa before putting the rotti for heating. The rotti will come off easily and not become too sticky. Same steps can be used for making ragi rotti. Instead of rice flour, use ragi flour to make ragi rotti.