Gobi manchurian dry recipe – How to make gobi manchurian dry recipe – Indian snacks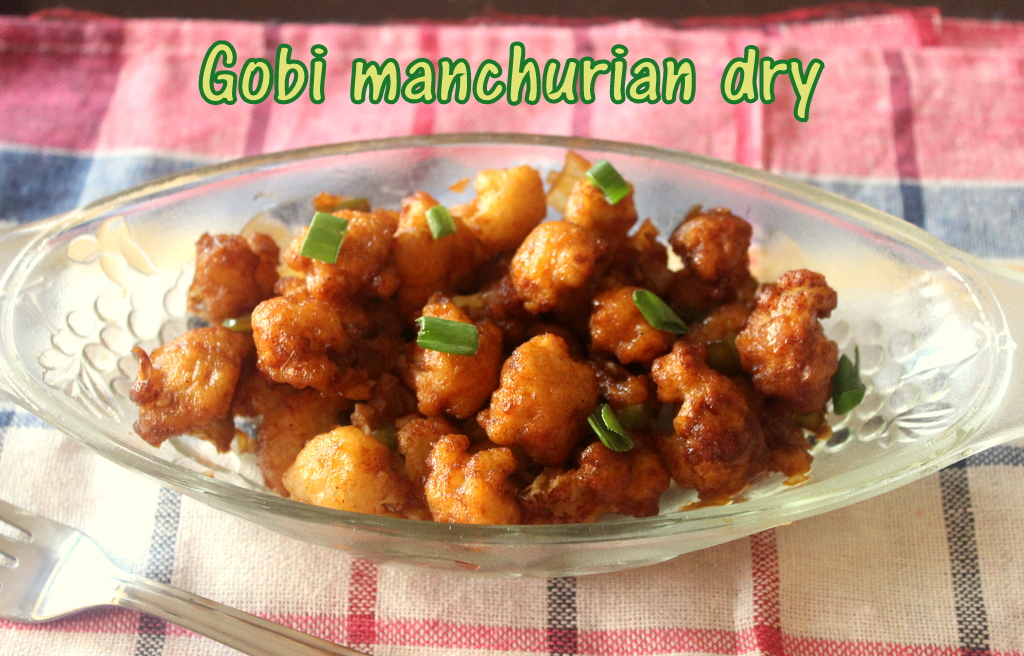 Gobi manchurian is an Indian Chinese fried cauliflower dish and a popular snack in India.  There are 2 versions of gobi manchurian, dry and gravy.  This is a dry gobi Manchurian recipe.  Both the recipes are prepared by  using common ingredients like  cauliflower, green capsicum, corn flour, maida, spring onion, soya sauce, tomato sauce and garnished with spring onion greens.  Dry gobi manchurian is typically served as a snack or as a starter.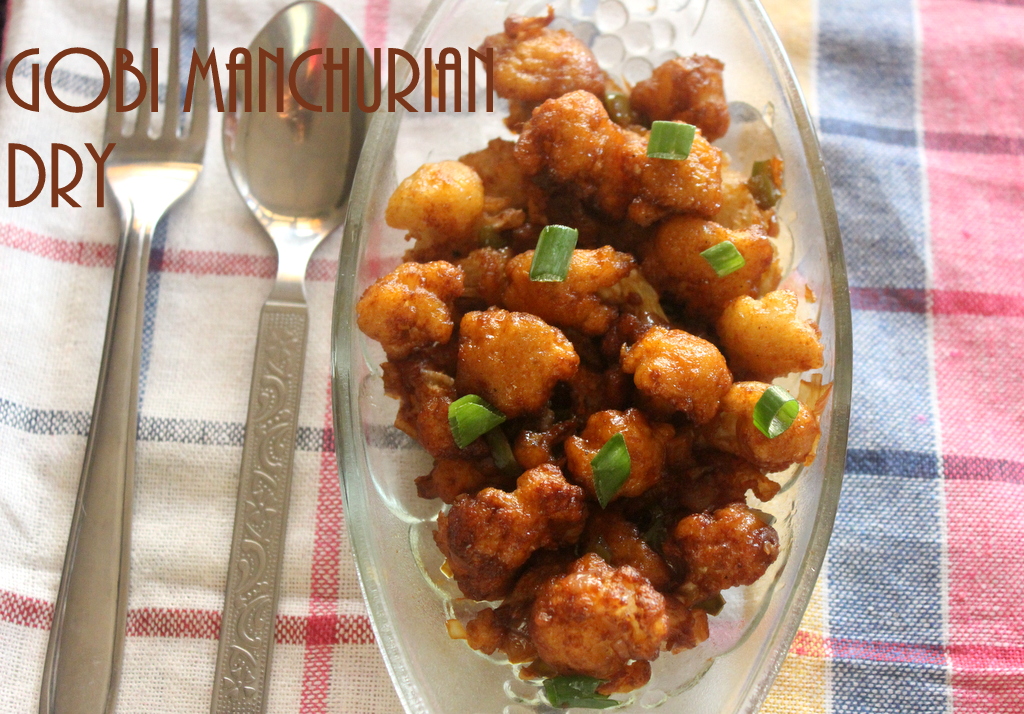 Prep Time :  30 mins
Cook Time : 25 mins
Servings :  4 persons
INGREDIENTS
Cauliflower – 1 (medium sized) approx. 3 cups
All purpose flour or maida – 1 cup
Corn flour – 1/4 cup
Black pepper powder – 1/2 teaspoon
Salt to taste
Oil for frying
FOR THE SAUCE
Chopped spring onion (whites) – 1/2 cup
Garlic – 10 (chopped finely)
Ginger –  1 inch sized  or 2 teaspoons of ginger (chopped finely)
Green chillies – 3 to 4 (chopped finely)
Green capsicum – 1/4 cup (chopped finely)
Soya sauce – 2 tablespoons
Green chilli sauce – 1/2 teaspoon
Tomato sauce/ketchup – 2 tablespoons
White vinegar or apple cider vinegar – 1/2 teaspoon
Spring onion greens for garnishing
Oil – 2 tablespoons
Salt as required
HOW TO MAKE OR PREPARE GOBI MANCHURIAN DRY RECIPE
Chop the cauliflower into florets and blanch them in hot water for 4-5 minutes.  Once blanched, drain the excess water and pat the florets dry and keep them aside.  Take a mixing bowl.  Add maida, corn flour, pepper powder and salt.  Mix well.
Add little water and make a thick batter.  The batter should be of medium consistency.  Add the florets to the batter and mix well.  Let the batter coat the florets evenly.  Heat sufficient oil in a deep bottomed pan on  medium flame.  Gently slide the coated florets into the oil and deep fry till golden brown in colour.
Drain the fried florets into  an absorbent paper to remove excess oil.  For the sauce, heat 2 tablespoons of oil in a pan.  Add chopped garlic cloves and chopped ginger and stir well.
Add chopped onions, green chillies, green capsicum and salt.  Stir well for 3-4 minutes on high flame.
Add soya sauce, green chilli paste, vinegar and tomato sauce and stir well.
Add the fried florets and stir fry for another 1-2 minutes on high flame, till the sauce is well coated with the fried florets.  Switch off the flame.  Transfer them to a serving plate and garnish them with chopped spring onion greens.
Serve dry gobi Manchurian as a snack or starter or as a side dish for veg fried rice or veg hakka noodles.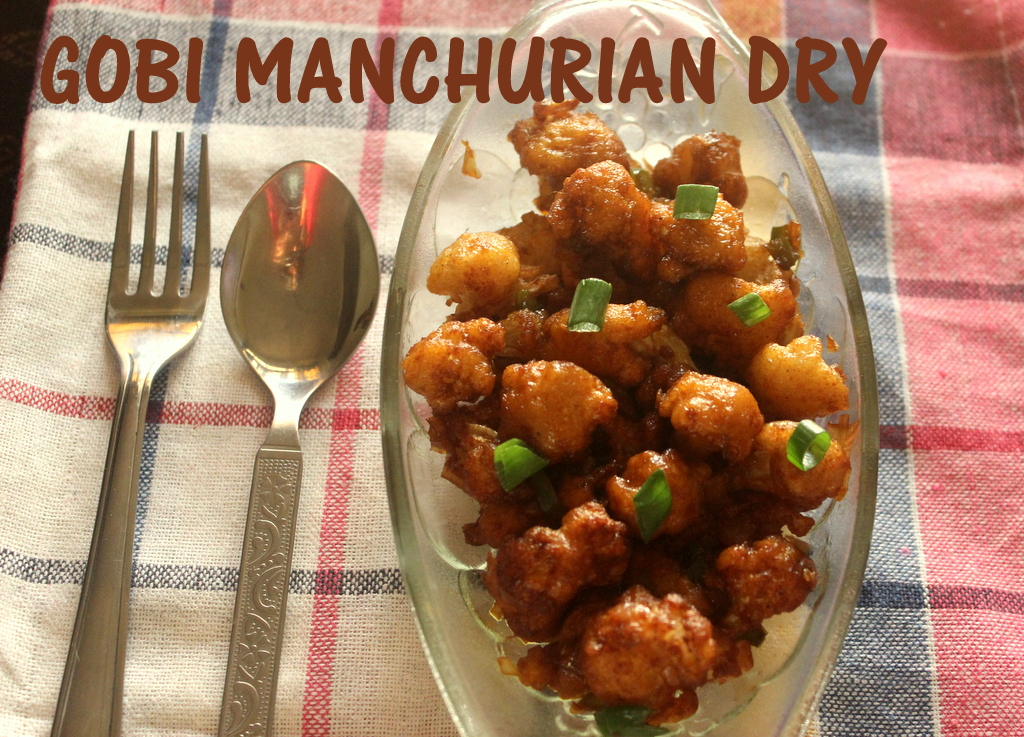 NOTES/TIPS
Deep fry the florets for the second time, if you want to make them crispy.
You can add ginger-garlic paste instead of chopped ginger and garlic cloves.
It is better to serve this dish immediately to get the crunchy taste.
You can shallow fry the florets instead of deep frying, if you want to use less oil.