Kesar peda recipe – Festival sweet recipe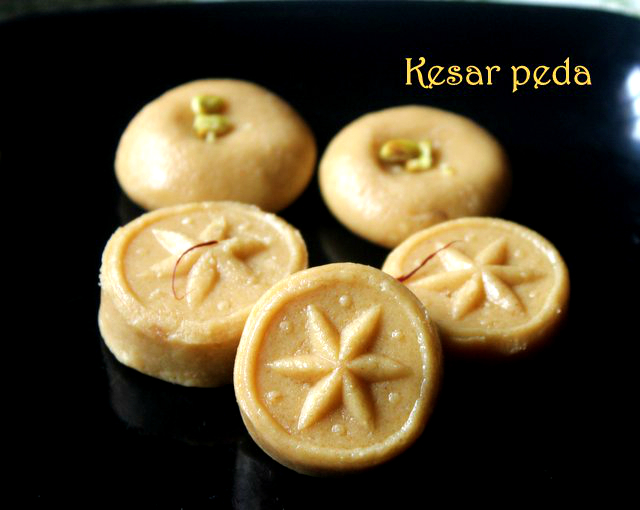 Kesar peda is a simple and easy milk based peda with just 2 ingredients – khoya and sugar and flavoured with cardamom powder and saffron strings.  It is an ideal and perfect peda recipe for any festivals like Diwali, Navarathri, holi, raksha bandhan or any other special occasions.  Kesar peda is a very delicious and popular Indian sweet dish and saffron added to it gives a unique taste to the peda.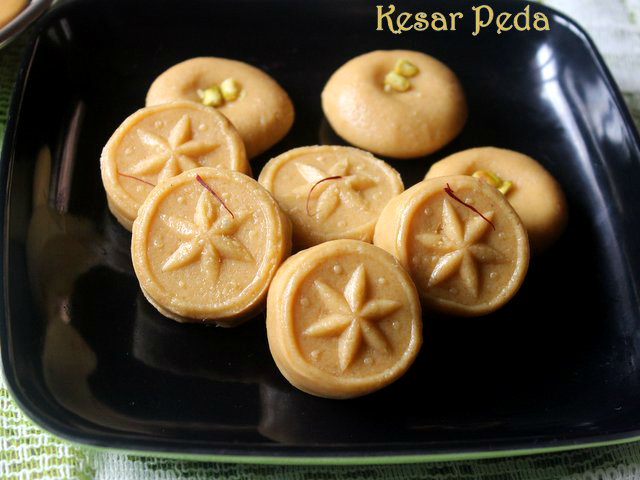 Prep Time :  10 mins
Cook Time : 20  mins
Yield: 10-12 pedas
Indian cuisine
INGREDIENTS
Unsweetened khoya/mawa – 1 cup (crumbled)
Powdered sugar – 1/2 cup
Cardamom powder – 1/4 teaspoon
Saffron strings (kesar) – 20 to 25
Milk – 2 tablespoons
Peda mould
Ghee to grease the peda mould
HOW TO MAKE OR PREPARE KESAR PEDA RECIPE
Soak the saffron strings in milk for 15-20 minutes.  Keep it aside.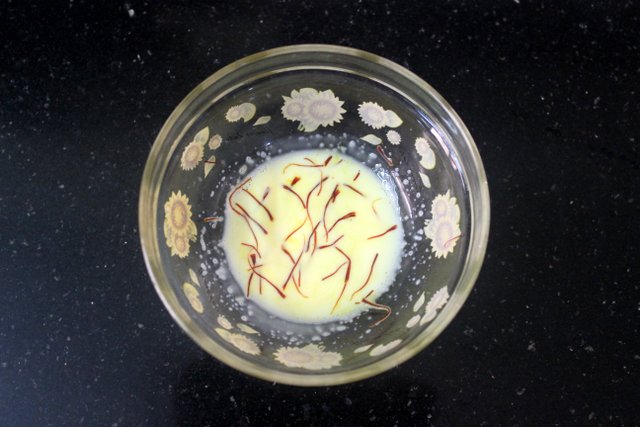 Heat a pan on a low flame.  Add khoya and sugar and melt it by stirring continuously.  Let the sugar dissolve completely and.
Keep stirring continuously on low heat till the mixture starts thickening.  Now add cardamom powder and saffron strings soaked in milk.  Keep stirring again on low heat till the mixture thickens and leaves the sides of the pan.  Switch off the flame.
  Remove the mixture in a bowl.  Allow it to cool down completely.  Apply little ghee to the mould.  Put some dough into the mould and flatten the outer portion.  Press the mould towards outside and remove the peda.  You will get an impression or design on the peda.   Repeat the process with the remaining dough.  Arrange the pedas in a plate.
Alternatively, if you do not have the mould,  apply some ghee in your hand.  Knead the mixture to a smooth dough. Divide the dough into small round pieces.   Take a small piece of round dough in your hand.  Press lightly in the center with finger and decorate with pista slices.
Once set and cooled down, store the pedas in an airtight container.
Consume the pedas within 2-3 days and keep it refrigerated.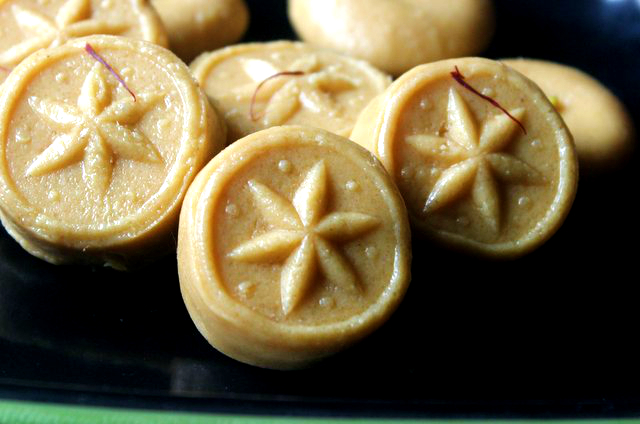 NOTES/TIPS
If the mixture is a bit loose or runny, add little milk powder or powdered sugar and knead the mixture again.
If the mixture is little tight, add few tablespoons of milk and bring it to the right consistency.
If you are using frozen khoya, thaw it completely and then crumble the khoya.
You can also decorate the pedas with a mix of  chopped almonds and cashewnuts to enhance its flavor.