Amla pickle/amla achar – How to prepare instant amla pickle/gooseberry pickle – pickle recipes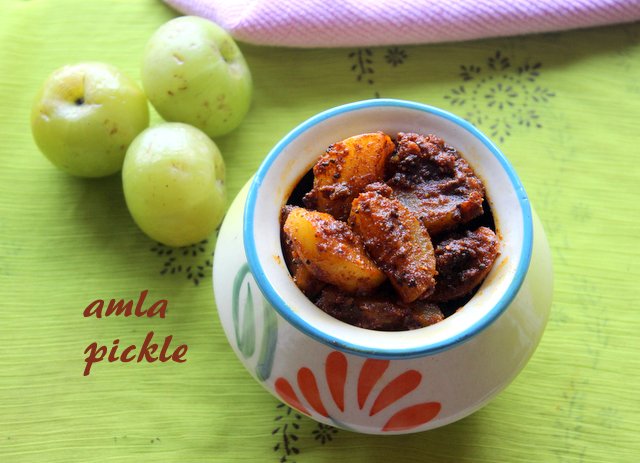 Amla pickle – this is an instant amla pickle recipe made from gooseberries also called as amla in hindi.  Here I have used til oil, but you can use sesame oil which also adds flavour to the pickle.  As this is an instant version of pickle, you do not need sunlight to prepare this pickle and also the shelf life is less as compared to the traditional pickles.  It is called as nellikayi uppinakayi in kannada or nellikai thokku in tamil.
Amla pickle is very simple to make and can be prepared in less than half an hour.  It is easily available during winter months and good to consume during cold as it is helful for digestion too. And not mention its benefits, amla is high in vitamin C and iron and other important nutrients.  It is extremely beneficial to health.  Amla goes well with dal rice or curd rice.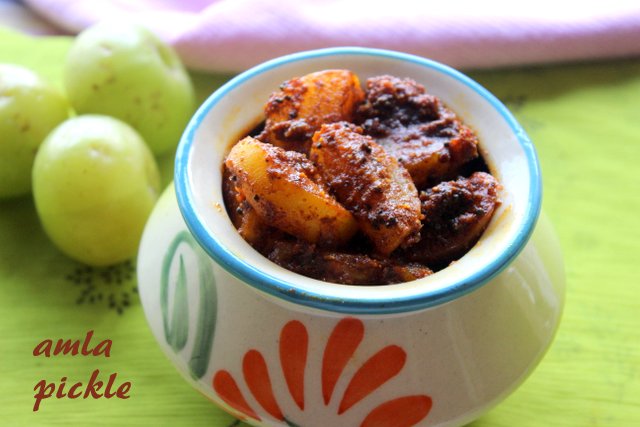 Prep Time : 15 mins
Cook Time : 10  mins
Yield:  1 small jar
Indian cuisine
INGREDIENTS
Amla/gooseberry/nellikayi – 7 to 8 nos.
Til/gingelly oil – 1/4 cup
A pinch of asafoetida or hing
Mustard seeds/rai – 1 teaspoon
Turmeric powder/haldi – 1 teaspoon
Kashmiri chilli powder/red chilli powder – 2 teaspoons
Salt – 1 teaspoon or as required
TO BE GROUND TO A DRY FINE POWDER (PICKLE MASALA)
Mustard seeds/rai – 2 teaspoons
Cumin seeds/jeera – 1/2 teaspoon
Methi seeds/fenugreek seeds – 1 teaspoon
Fennel seeds/saunf – 1 teaspoon
HOW TO MAKE OR PREPARE AMLA PICKLE/AMLA ACHAR RECIPE
Wash the amlas thoroughly in running water.  Then steam the amlas for 10 minutes in a steamer or in a pressure cooker (without lid). Ensure that the amlas are well cooked and not too mushy.  Once the amlas cool down completely, chop them into small long pieces.  Discard the seeds.  Keep the chopped amla pieces aside.
For pickle masala, heat a pan on low flame.  Add 2 tsps mustard seeds, 1/2 tsp cumin seeds, 1 tsp methi seeds and 1 tsp fennel seeds.  Dry roast till the seeds turn light golden in colour.
Once they turn golden, switch off the flame.  Once cooled down, transfer the ingredients to a mixer grinder.
Grind them to a fine powder.  Heat 1/4 cup of til oil or any cooking oil on a low to medium flame.
Once the oil becomes hot, add hing and mustard seeds.  Allow the mustard seeds to splutter.  Then add the steamed amlas.  Saute the amlas  on a low flame for a minute.
Add red chilli powder, turmeric powder and salt.  Mix well.
Add the prepared dry pickle masala and mix well again.  Cook on a low flame for a minute, till the flavours are well absorbed by the amlas.  Switch off the flame.
Instant amla pickle or amla achar or nellikayi uppinakayi is ready to be served.  Store in a clean and dry bottle for a long shelf life.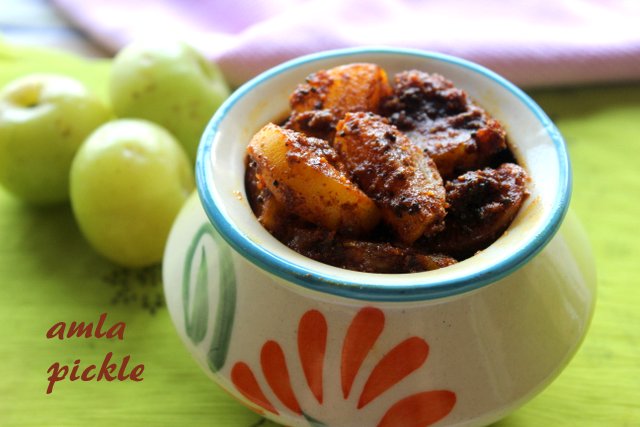 NOTES/TIPS
You can also use mustard oil instead of til oil.
Instant amla pickle stays good for a fortnight when refrigerated.
Do not overcook the amlas, else the pickle becomes mushy.
It is better to prepare instant amla pickle in small batches, as soon it becomes too soft and looses its shape.
Adjust the red chilli powder according to the spiciness required by you.