Sprouted green moong salad recipe – How to make healthy green moong sprouts salad/ sprouted green moong salad recipe – healthy recipes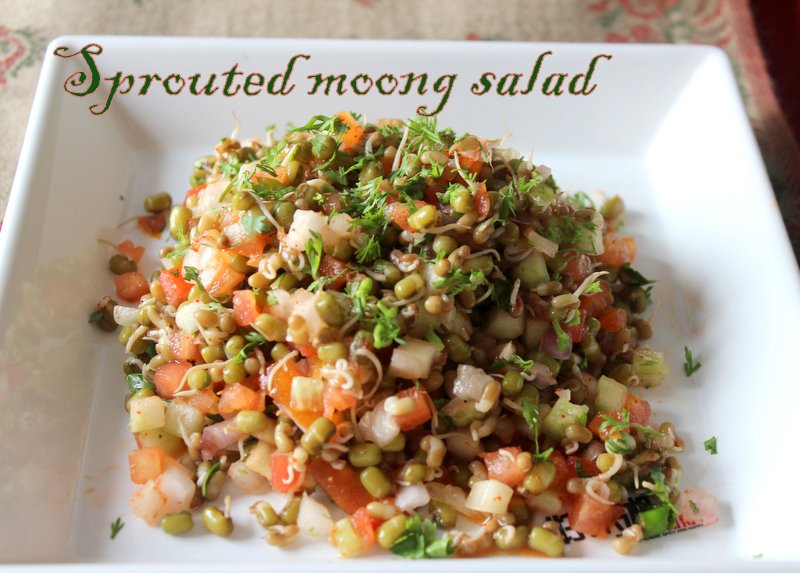 Moong sprouts salad is a very healthy and refreshing salad made with sprouted moong, onions, tomatoes and chaat masala. You can use the readily available moong sprouts available in the market or can easily sprout the moong at home itself.
Sprouted moong salad is a very nutritious and refreshing salad, which can be used as a side dish or as light meal in itself.  This recipe is very simple to make and a dish full of proteins and calcium.  It can be had as a breakfast too.  Lemon juice and chaat masala gives a nice tangy taste to the salad.  You can also add other veggies like grated beetroot, cabbage or carrot to  make it even more healthier.
To sprout moong beans at home, wash and soak the moong beans with sufficient overnight or for 8-10 hours. Next day, drain all the water out with a strainer. Now cover the bowl with damp towel and place the bowl in a warm dark place. Just ensure that there is enough moisture by checking periodically. Second day you can see the sprouts coming out. You can use these now as raw in salads or boil it or have it plain or use for making a chaat.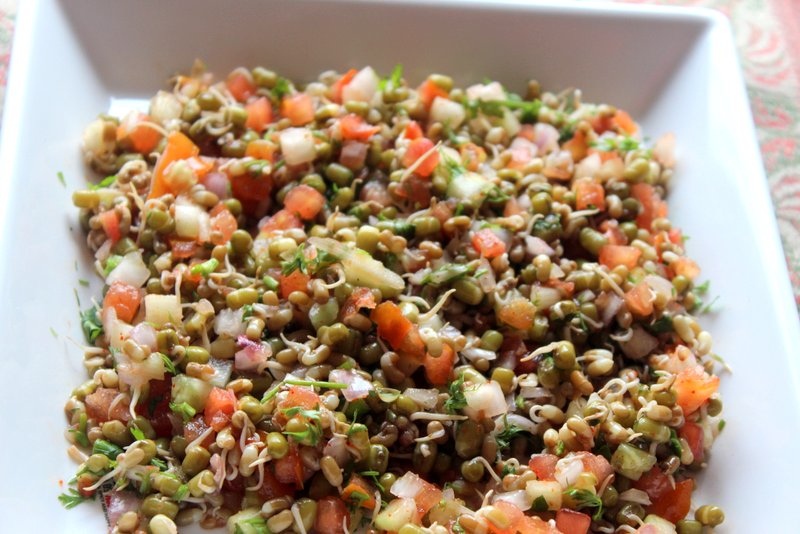 Prep Time : 15 mins
Cook Time : 10 mins
North Indian cuisine
INGREDIENTS
Sprouted green moong – 1 cup
Chopped onions – 1/4 cup
Chopped tomatoes – 1/4 cup
Chopped cucumber – 1/4 cup
Red chilli powder – 1/4 tsp
Green chilli – 1 (small – finely chopped) (optional)
Chaat masala – 1/4 tsp
Lemon juice – 2 tablespoons
Few chopped coriander leaves for garnishing
Salt according to taste
HOW TO MAKE OR PREPARE SPROUTED MOONG SALAD RECIPE
Firstly boil or steam the sprouted green moong till completely cooked.  (You can also parboil the moong if you prefer a crunchy taste. ) Then completely drain the excess water.  Take the cooked moong to a wide bowl.  Add the chopped onions, tomatoes and cucumber.
Add the chopped coriander leaves.  Then add the red chilli powder, chaat masala, green chilly, lemon juice and salt.
Give a good mix.  Serve the sprouted moong salad immediately.
NOTES/TIPS
Sprouted moong salad stays good for 4-5 days, if refrigerated.
Add pomegranates to give a sweet tangy taste to the salad.
Add roasted peanuts for a crunchy flavour.
You can also use this salad as a filling or stuffing, for a grilled sandwich.
You can half cook the moong beans, if you want a crunchy salad.