Sweet corn fried rice recipe – How to make corn fried rice recipe – rice recipes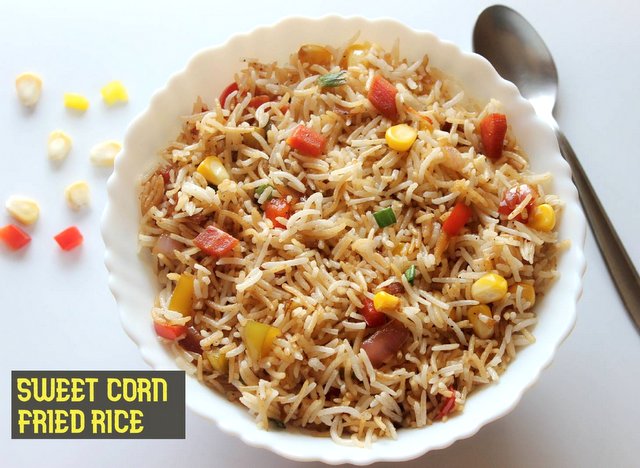 Sweet corn fried rice – a easy and healthy variation of rice made with rice, sweet corn kernels, spring onions and other vegetables.  This dish tastes slightly sweet  due to the sweet corn added to it.  Sweet corn also adds flavour to the rice.  It is a simple, delicious and colourful rice recipe which you can pack for your kids lunchbox or have as a light lunch or dinner. The addition of soy sauce and red chilli sauce to the rice makes it more tasty and flavourful.
Sweet corn fried rice can be served plain as it is or with a side gravy dish like manchurian or chilli mushroom.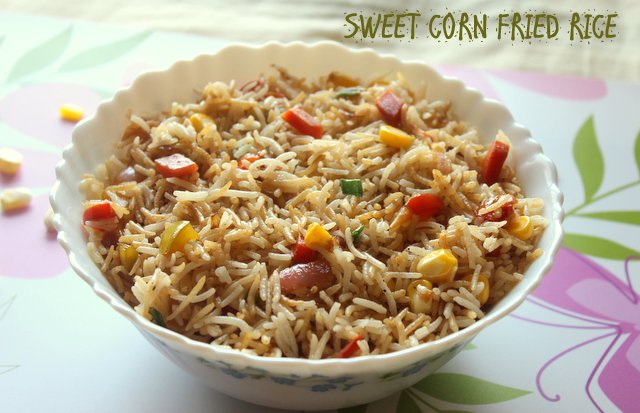 Prep Time : 20  mins
Cook Time : 20 mins
Servings : 4 persons
Indian cuisine
INGREDIENTS
Oil – 3 tablespoons
Garlic cloves – 4 (chopped finely)
Onion – 1/4 cup (chopped finely)
Spring onions – 1/4 cup (chopped finely)
Sweet corn kernels – 1/2 cup
Red capsicum – 1/4 cup (chopped finely)
Yellow capsicum – 1/4 cup (chopped finely)
Carrot – 1/4 cup (chopped finely)
Red chilli sauce – 2 teaspoons
Vinegar – 2 tablespoons
Soy sauce – 2 tablespoons
Basmati rice – 3 cups (cooked)
Black pepper powder – 1/2 teaspoon
Salt to taste
HOW TO MAKE OR PREPARE SWEET CORN FRIED RICE RECIPE
PREPARATION
Wash  and soak the basmati rice for 30 minutes.  Add 2 cups of water and cook in a pan or pot till cooked.  Once cooked, spread the rice and cool completely.  Keep it aside.
METHOD
Heat 3 tablespoons of oil in a pan, on medium flame.  Add chopped garlic cloves and saute for a minute till light brown in colour.
Add chopped onions and spring onions and saute till the onions become translucent.
Add sweet corn kernels, yellow capsicum, red capsicum and carrots and mix well.  Saute on medium to high flame for 2-3 minutes till partially cooked and slightly crunchy.  Do not overcook the vegetables.
Then lower the flame and add red chilli sauce, vinegar and soy sauce.  Mix well.  Now add the cooked rice and mix again.
Lastly add black pepper powder and salt and give a quick mix. Stir-fry for a minute.  Garnish with chopped coriander leaves.  Switch off the flame.
Serve sweet corn fried rice hot as it is or with gobi manchurian.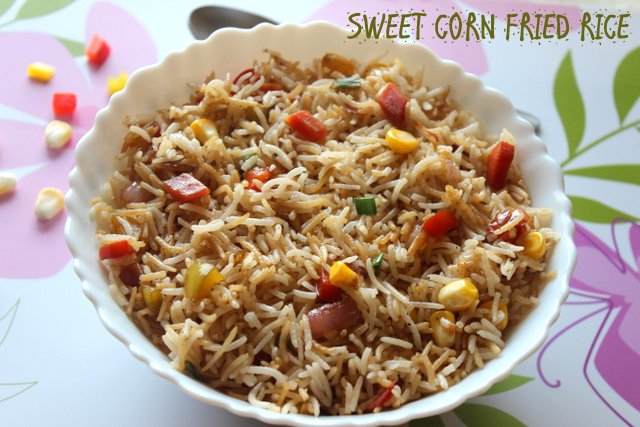 NOTES/TIPS
You can even add schezwan sauce or tomato sauce to the rice for flavour and spiciness.
You can use normal rice or leftover rice instead of basmati rice for this recipe.
For this fried rice, you can use fresh or frozen corn.
Ensure not to overcook the vegetables and keep them crunchy.
Add vegetables of your choice like brocolli, green peas or beans to this recipe.