Arbi or colocasia cutlet recipe
Arbi or colocasia cutlet is a crispy snack made with boiled arbi, onions mixed with spices and then shallow fried. It makes up for a good evening snack with a cup of tea/coffee. Arbi cutlet is a simple and popular snack which can also be served as a starter. It is best served with green chutney or tomato ketchup.
Ingredients
Arbi or colocasia - 250 gms
Onion - 1 (chopped finely)
Ginger-garlic paste - 1 teaspoon
1 string of curry leaves - (chopped finely)
Red chilli powder - 1 teaspoon
Turmeric powder - 1/4 teaspoon
Garam masala powder - 1 teaspoon
Lime juice - 2 tablespoons
Salt to taste
Cooking oil for shallow fry
All purpose flour or maida - 1 cup
Bread crumbs - 1 cup
Method
Step 1
HOW TO MAKE ARBI OR COLOCASIA CUTLET RECIPE Wash the arbi thoroughly under running water. Pressure cook the arbis with little water and salt till cooked.
Step 2
Once the pressure is cooled down, peel the skin of arbi and mash them. Set aside.
Step 3
Heat 2 tablespoons of oil in a pan. Add onions and saute till they become translucent.
Step 4
Add ginger-garlic paste and saute till the raw smell goes away.
Step 5
Add salt, turmeric powder, red chilli powder and garam masala. Stir fry on a low flame for 2 minutes.
Step 6
Add the mashed arbi and curry leaves and combine together.
Step 7
Lastly add lime juice and mix well. Switch off the flame. Keep this arbi mixture ready in a bowl.
Step 8
Prepare a batter from maida or all purpose flour and little water and keep aside. The batter should be little thick like dosa batter.
Step 9
Spread the bread crumbs on a flat plate and keep it ready. (To prepare bread crumbs, grind few slices of bread to a fine dry powder)
Step 10
Heat little oil in a shallow pan. Take a small lemon sized ball from the arbi mixture and flatten it to get a circular shape.
Step 11
Dip them in maida batter and then roll them in bread crumbs. Bring it to desired shape.
Step 12
Now shallow fry them on both the sides till golden brown. Drain excess oil in an absorbent paper and serve hot.
Step 13
Serve arbi cutlet hot with green chutney or tomato sauce.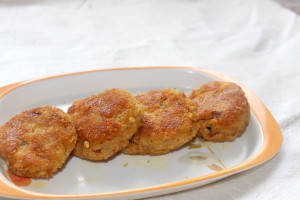 Step 14
NOTES/TIPS : You can also shallow fry for a more healthier version.