Masale bhath or bhat recipe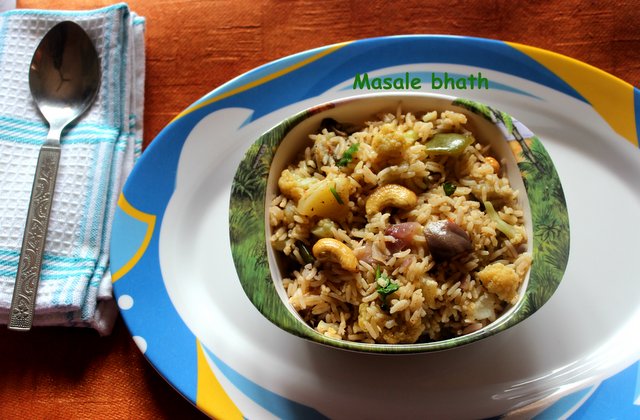 Masale bhath or bhat is a very popular Maharashtrian rice dish prepared from rice, vegetables, red chilli powder and goda masala and garnished with coriander leaves, coconut and cashewnuts. Goda masala is a special Maharastrian spice mixture which is used for making masale bhath, varan bhath or usal.This masala has a unique flavour and gives a nice aroma and taste when added to any dish. Masale bhath is a spiced one-pot meal and best accompanied with raita, chips, papad or plain curd and is generally served during Maharashtrian weddings. A very delicious and must try recipe…
Ingredients
Regular or Basmati rice - 2 cups
Cooking oil - 2 tablespoons
Mustard seeds - 1/2 teaspoon
Bay leaves - 2
Cloves - 2
Onion - 1 (chopped medium)
Ginger-garlic paste
Cauliflower florets - 1 cup
Brinjal - 1 (medium chopped)
Capsicum - 1 (medium chopped)
Potato - 1 (medium chopped)
Tomato - 1 (medium chopped)
Red chilli powder - 1 teaspoon
Goda masala - 2 to 3 teaspoons
Ghee - 1 tablespoon
Cashewnuts - 10
Grated coconut - 2 tablespoons
Chopped coriander leaves - 2 tablespoons
Salt to taste
Method
Step 1
HOW TO MAKE MASALE BHATH RECIPE Wash and soak rice for half an hour with enough water.
Step 2
Heat oil in a small pressure pan. Add mustard seeds and allow it to splutter. Once it stops spluttering, add bay leaf and cloves and stir for half a minute.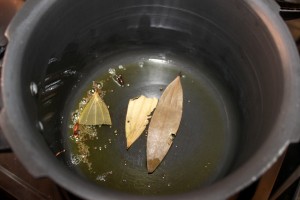 Step 3
Add chopped onion and ginger-garlic paste and saute till onions become translucent.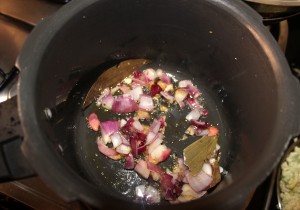 Step 4
Add all the chopped vegetables - cauliflower florets, potato, tomato, capsicum and brinjal and mix well.
Step 5
Add salt, red chilli powder and goda masala and combine together with the vegetables. Saute for a minute.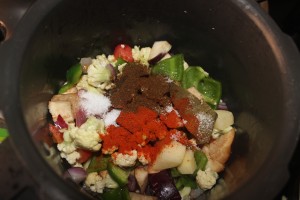 Step 6
Add the rice and mix well. Add 41/2 - 5 cups of water or sufficient water till the rice mixture is submerged with water. Now check for salt and add if required.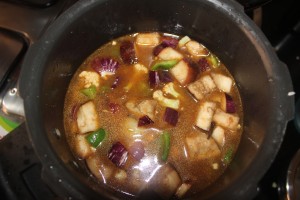 Step 7
Cover the pressure pan with a lid and cook upto 3 whistles. Let it cool down.
Step 8
Meanwhile heat ghee in a tadka pan. Roast cashew nuts till golden brown and add to the masale bhath and mix well.
Step 9
Add chopped coriander leaves and grated coconut and combine together.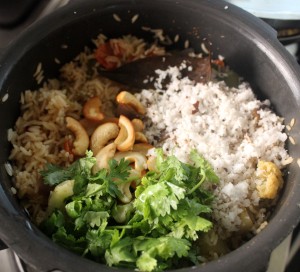 Step 10
Masala bhath is now ready to be served.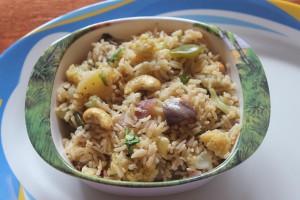 Step 11
Serve masale bhath hot with raita or curd or potato chips.
Step 12
NOTES : If you do not have goda masala ready, you can add garam masala and prepare in the same manner. You can also prepare masale bhath in a normal pan or vessel. Here you have to cover the pan with a lid and check once or twice if the rice is cooked well. Cook the rice on a low to medium flame. You can also add green peas or carrot to make it more healthier and nutritious.