Biscuit mug cake recipe – How to make biscuit mug cake recipe – eggless cake recipes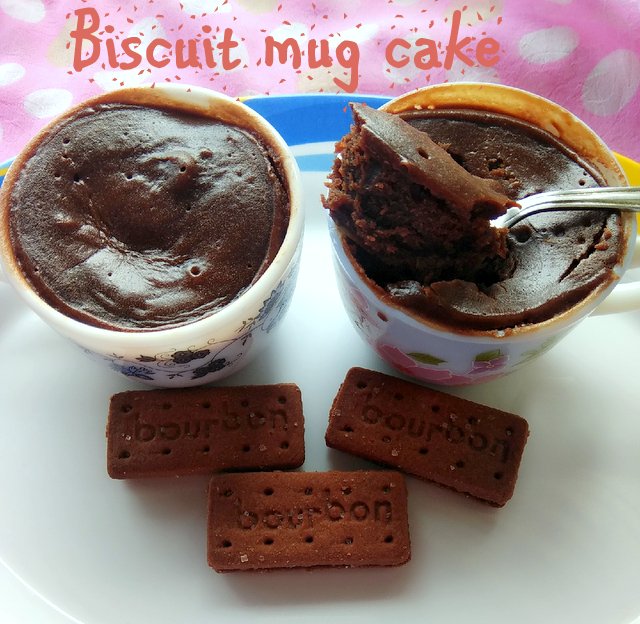 Biscuit mug cake  – – this eggless cake recipe is prepared with just 2 ingredients – bourbon biscuits and milk.  This is one easy microwave cake recipe which can be had as an instant dessert or as a teatime snack.  You can use oreo biscuits or any chocolate biscuits  for making this mug cake and for the chocolatey flavour.  
Biscuit mug cake is also one of the simplest and delicious dessert you can make at home with the ingredients easily available at home.  Mug cakes are great when you have a craving for an instant sweet treat.  This biscuit mug cake can be served plain or as a teatime snack or as a dessert with a topping of chocolate chips or a scoop of ice-cream.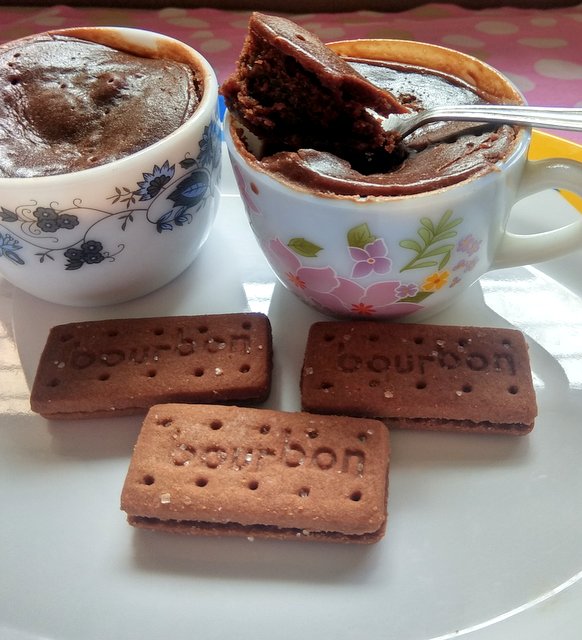 Prep Time :  10 mins
Cook Time : 2 mins (microwave time)
Yield:  2 mug cakes
Indian cuisine
INGREDIENTS
Bourbon biscuits – 15 nos
Milk – 1/2 cup
For a quick video recipe…click below..
HOW TO MAKE OR PREPARE BISCUIT MUG CAKE RECIPE
Take the biscuits and break into small pieces.  Put them into a mixer grinder.
Grind the biscuits to a fine powder.  Add milk little by little and grind once again for few seconds.
The batter  should be of  thick pouring consistency.  Grease microwave safe cups/mugs with little ghee.
Pour the biscuit batter into the cups/mugs and tap the cups a bit.  Pour the batter upto 3/4th capacity of the cup, so that enough space is there for the cake to rise.  Microwave on high power for 2 minutes.
Once done, remove the cake from the microwave and allow it to rest for a minute.
Enjoy the biscuit mug cake warm as a teatime snack or as an instant dessert.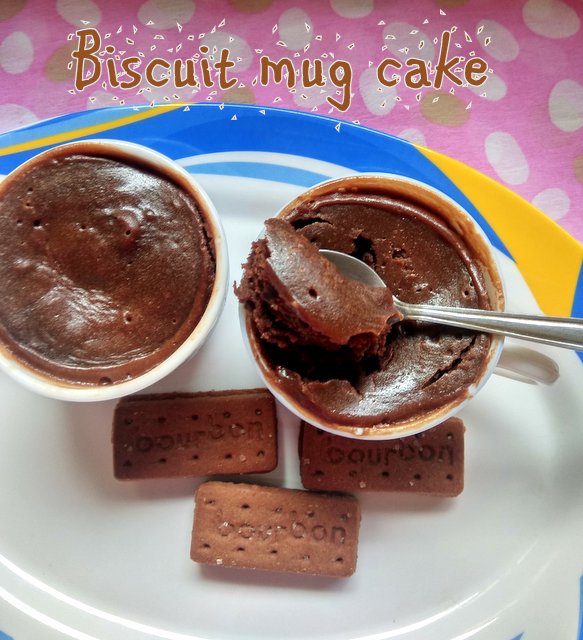 NOTES/TIPS
Add chocolate sauce or a scoop of ice-cream to the mug cake to make it more tasty and delicious.
You can also add chocolate chips or nuts of your choice.
Cooking time varies with each microwave. Hence cook the cake for 1 minute and then intervals of 10 seconds, until it is cooked.
Add powdered sugar alongwith milk, if you prefer a more sweeter mug cake.
Add milk accordingly to get the required thick pouring consistency.