Bread pizza recipe – How to make bread pizza recipe – bread snacks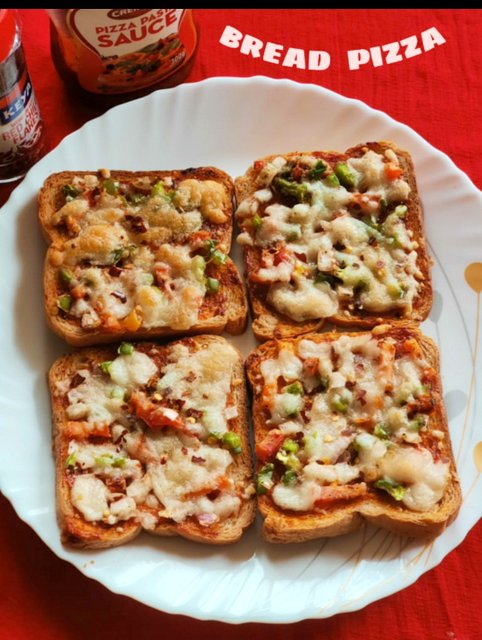 Bread pizza is a very easy and tasty snack recipe made with a mix of veggies, instant pizza sauce and herbs.    Since this is not a traditional pizza,  it does not take much time and can be prepared quickly with easily available ingredients.  This pizza can also be done in a tawa or pan.  If you have any leftover bread slices,  this is an ideal recipe to finish off the bread.
Bread pizza can be served as an ideal party or evening snack or as a delicious snack for kid's birthday party.  If you have a craving for a veg pizza, bread pizza serves as the best alternate pizza.  You can make this pizza using a heavy tawa or pan, so that the bread does not get burnt at the bottom or doesn't get overcooked.  If you are making bread pizza on a tawa, keep the flame low to get a evenly golden crust on the bread base.  Serve bread pizza plain or with tomato ketchup.
Video link given below :
Prep Time : 15  mins
Cook Time :  12-15 mins
Servings :  4 bread pizzas
Indian cuisine
INGREDIENTS
White or brown bread slices – 4
Onion – 1 (chopped finely)
Tomatoes – 2 (chopped finely)
Green capsicum – 1 (chopped finely)
Mixed herbs – 1/2 teaspoon
Oregano – 1/2 teaspoon
Red chilli flakes – 1 teaspoon
Black pepper powder – 1/2 teaspoon
Pizza sauce for applying on the bread slices
Mozzarella cheese or pizza cheese – 1 cup or as required by you (grated)
Salt as per taste
HOW TO MAKE OR PREPARE BREAD PIZZA RECIPE
Take a mixing bowl and add all the chopped veggies – onions, tomatoes and green capsicum.  Then add mixed herbs, oregano, red chilli flakes, black pepper powder and salt.
Mix all the ingredients well.   Set aside the veggie mixture. Grate the mozarella cheese and keep it aside.
In a plate, arrange 4 bread slices (you can apply butter before spreading the pizza sauce). Spread the pizza sauce on all the bread slices evenly.  (do not spread too much pizza sauce, just a thin layer will suffice. Otherwise the pizza becomes little tangy).
Top with the veggie mixture. Spread the grated mozarella cheese or pizza cheese over it.
Arrange them in an oven pan or tray.  Place the tray in a pre-heated oven and bake for 10-12 minutes at 180 degree celcius or till the cheese melts or gets light brown in colour.
Once the bread pizza is done, sprinkle with oregano or red chilli flakes on top and serve immediately.
NOTES/TIPS
You can also use white bread, but brown bread or multigrain bread is a healthier version of this pizza recipe.
You can add jalepeno or baby corn or olives too for making this pizza.
If you do not have pizza sauce, you can mix schezwan chutney, tomato ketchup and red chilli flakes for a quick and instant pizza sauce.
Use panner, sweet corn kernels or mushroom as toppings for variation.
Once the pizza is prepared, serve immediately.