Veg pizza recipe – How to make vegetable pizza recipe – veggie pizza recipe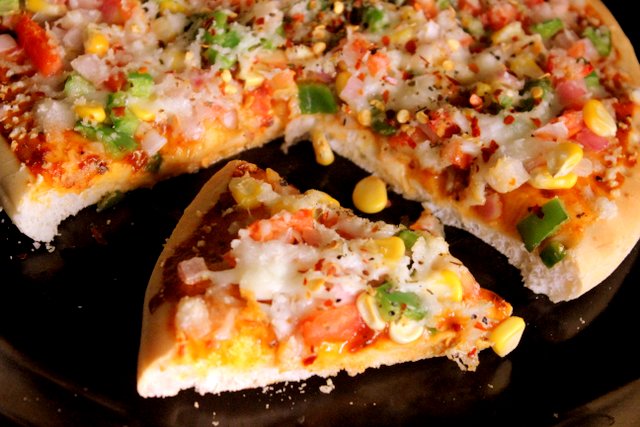 Veg pizza – a delicious pizza recipe made with a mix of vegetables.  This is a quick and easy pizza recipe made with readymade pizza base, pizza sauce, vegetables, herbs and cheese.  Pizza is a yeasted flatbread typically topped with tomato sauce and cheese and baked in an oven.  It is commonly topped with a mix of vegetables and herbs or spices.  Pizza is one such food which is loved by all – elders as well as kids alike..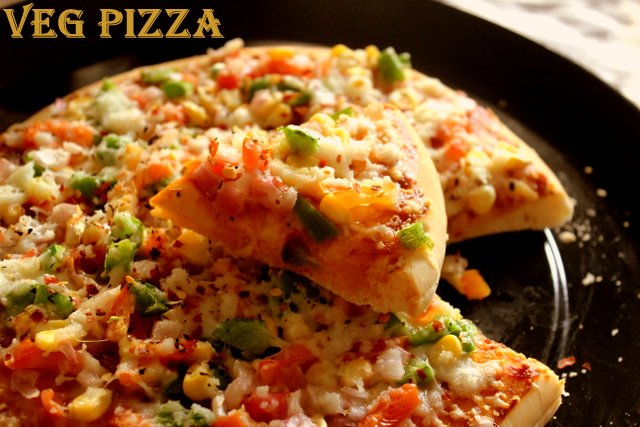 Prep Time :  20 mins
Cook Time : 20 mins
Servings : 2 pizzas
Italian cuisine
INGREDIENTS
Readymade pizza base  – 2
Pizza sauce – 4 tablespoons
Onions – 2 (small sized) (chopped finely)
Tomatoes – 2 (medium sized) (chopped finely)
Corn kernels – 1/2 cup (partially boiled)
Green capsicum – 1/2 cup  (chopped finely)
Red chilli flakes – 1 teaspoon
Oregano – 1 teaspoon
Black pepper powder – 1 teaspoon
Mozarella cheese or pizza cheese – as desired or according to your taste
Salt as per taste
HOW TO MAKE OR PREPARE VEG PIZZA RECIPE
Take a mixing bowl.  Add all the chopped veggies – onions, tomatoes, corn kernels and capsicum.  Add salt and mix well.  Set aside.
Grate the mozzarella cheese with the help of a grater.  Keep it aside.
Take a pizza base.  Spread the pizza sauce on the pizza.
Spread the grated cheese and top with the chopped vegetables.
Spread the cheese again on  the vegetables.  Sprinkle with oregano, black pepper powder and red chill flakes.
Bake the pizza into preheated oven for 15-20 minutes at 200 degree celcius.  Then switch off the microwave oven and take out the pizza.
Hot and yummy pizza is ready to be served.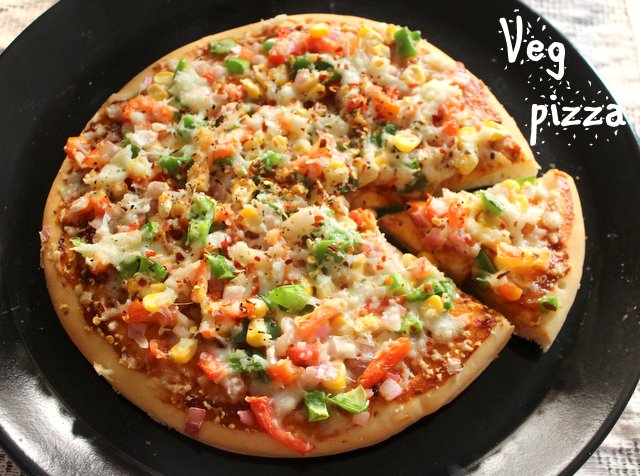 NOTES/TIPS
Pre-heating is important for baking as it helps in getting best results.
You can also add veggies like baby corn or mushroom, as per your taste and preference.
You can refrigerate the pizza for upto 2 days and reheat in an oven before serving it.