Brinjal dry curry or brinjal podi curry recipe- how to make eggplant stir-fry curry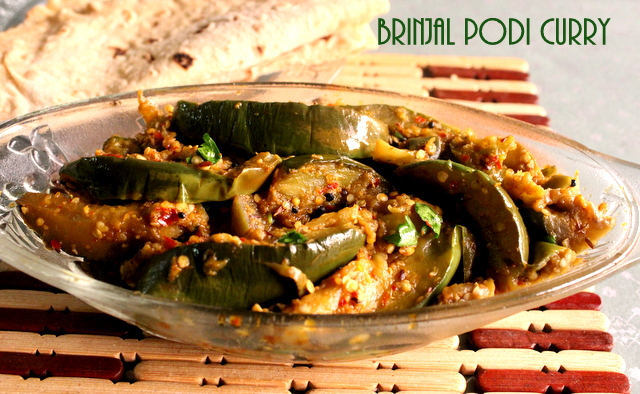 Brinjal stir-fry is a easy  vegetable recipe made with eggplants.  Brinjals are cooked and spice powder is added to it, to make it more tastier and delicious.  If the spice powder is ready, it can be made instantly.  It is a very traditional south indian vegetable made from brinjals and best served with rotis or rice.  I have used mattu gulla, a  type of eggplant which is available easily in Udipi and Mangalore.  But you can use the normal purple brinjals which is generally used for this recipe. ..
Mattu is a village in the Udupi district of Karnataka.  This  village is famous for a particular variety of brinjal (eggplant) that is grown only in this village called  Mattu Gulla. The brinjal grown here is light green in colour and is spherical, unlike the usual purple-coloured variety. The first brinjal harvested is offered to Lord Krishna at Krishna Matha, Udupi. 
I wanted to try the recipe with this eggplant and it turned out to be absolutely delicious.
Mattu Gulla is a seasonal vegetable and its seeds are sown during September after the monsoon. The gulla is available from January to May. Legend has it that over 400 years ago, Sri Vadiraja (1480–1600) of Sode Mutt, one of the Ashta Mutts of Udupi, gave the seeds of this special brinjal to farmers of Mattu to cultivate and since then it is being grown there.
If you are looking for brinjal recipes, check these recipes
South Indian brinjal curry – gravy
Brinjal curry or badanekayi gojju
Prep Time : 10  mins
Cook Time : 20  mins
Servings : 3-4 persons
South Indian cuisine
INGREDIENTS
Brinjal (eggplants)- 4  (medium sized)
Cooking oil – 4 tablespoons
Mustard seeds – 1/2 teaspoon
Cumin seeds or jeera – 1/2 teaspoon
A pinch of asafoetida
Red chilli powder – 1/2 teaspoon (optional)
Chopped coriander leaves – 2 tablespoons
Salt to taste
TO ROAST AND GRIND TO A FINE DRY POWDER
Coriander seeds – 4 tablespoons
Chana dal (Bengal gram) -2 tablespoons
Urad dal – 1 tablespoon
Red chillies – 6 to 7
Dry coconut – 1/4 cup
HOW TO MAKE OR PREPARE BRINJAL PODI CURRY OR EGGPLANT STIR-FRY RECIPE
Heat 1 teaspoon of oil  in a pan on medium flame.   Add coriander seeds, chana dal, urad dal, red chillies and saute till a you get a nice aroma exudes and the ingredients turn light brown.  Add dry coconut and roast for another one minute on a low flame.  Remove the ingredients in a plate and allow it to cool down.  Grind all the roasted ingredients to fine dry powder without adding water.  Keep it aside.
Remove the top portion of the brinjals and chop the brinjals into long slices.  Immerse them in water to avoid discoloration.
Heat the remaining oil in a pan on medium flame. Add asafoetida, mustards seeds and jeera.  Once the seeds stops spluttering and jeera turns light brown, drain the water and add the brinjals.  Add turmeric powder and salt and mix well.  Close the lid and cook on low to  medium flame for 12-15 minutes and keep stirring in between.
Once the brinjals are well cooked, add the spice powder and combine well.  Cook for another 2-3 minutes on low flame, till the spice powder is well coated and absorbed by the vegetable.  If you want little spicier, add red chilli powder and mix well.
Once it gets cooked, garnish with chopped coriander leaves. Switch off the flame.  Brinjal podi curry is ready to be served.
Serve brinjal stir-fry with rotis or plain steamed rice.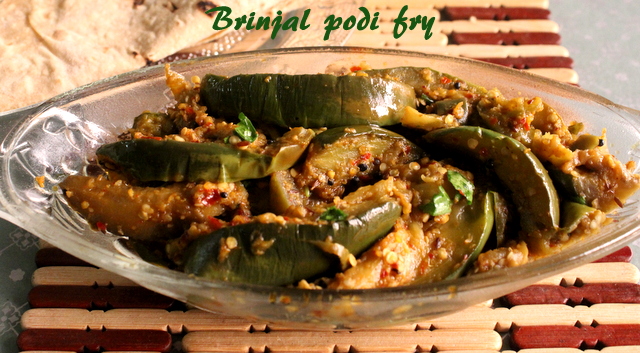 NOTES/TIPS
Spice powder can be prepared in advance and stored in an airtight container.  Use it as and when required.
Brinjals tastes good, when cooked with more oil than normally used.
You can also use freshly grated coconut instead of dry coconut.