Sweet corn salad recipe – How to make corn salad recipe – salad recipes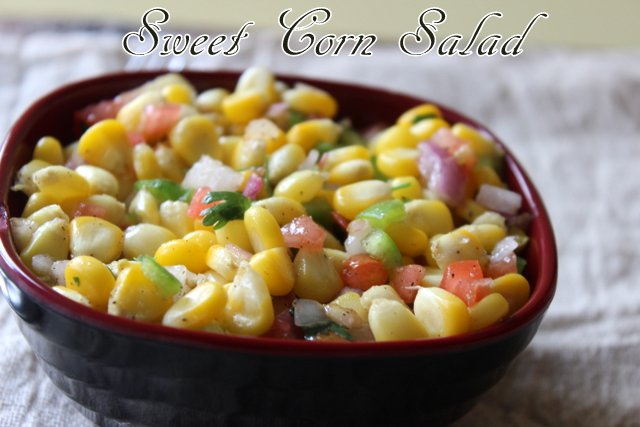 Sweet corn salad is an instant and easy salad recipe made with corn kernels, onions and tomatoes.  Lemon juice added to it makes it tangy and tasty.  You can add more veggies like baby corn or fruits like pomegranate to make it more delicious and healthy.  This salad is a good breakfast option too as it is filling and keeps you full for a long time.
It is best served chilled.  You can use fresh corn if available in the market as it tastes better than the canned corn. Adding minimum spices to this salad makes it more nutritious and tasty.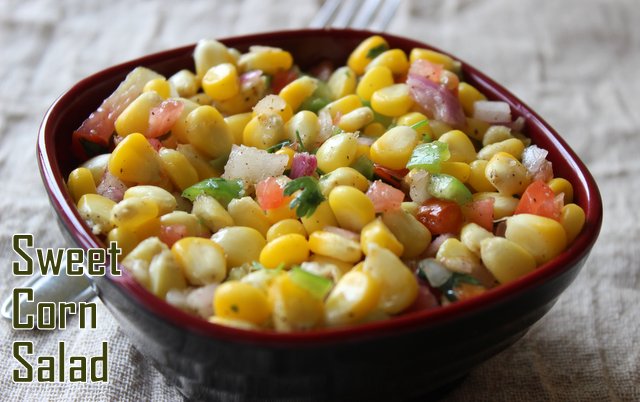 Prep Time : 10 mins
Cook Time : 10 mins
Servings :  4 persons
Indian cuisine
INGREDIENTS
Corn kernels – 2 cups  (boiled)
Onion – 1 (chopped finely)
Tomato – 1 (chopped finely)
Green capsicum – 1 (chopped finely)
Pomegranate seeds – 1/2 cup (optional)
Black pepper powder – 1/2 teaspoon
Lemon juice- – 2 tablespoons
Olive oil – 2 tablespoons
Salt to taste
Chopped coriander leaves – 1 tablespoon
HOW TO MAKE OR PREPARE SWEET CORN SALAD RECIPE
Boil the corn kernels with enough water, till they are well cooked.  You can also  steam them in a pressure cooker for 3 whistles.  Once cooked, let them cool down.  In a mixing bowl, add the boiled corn kernels, chopped onion, tomato, green capsicum, coriander leaves, pepper powder and salt.  Mix well.
Lastly add lemon juice and olive oil.  Mix everything well.
Serve healthy sweet corn salad immediately.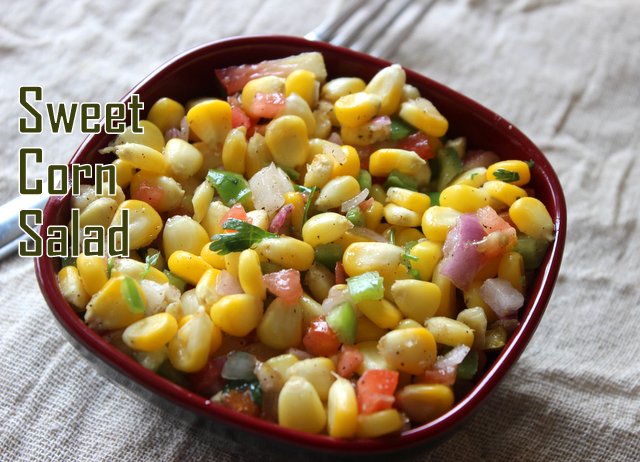 NOTES/TIPS
Add cumin powder or chat masala for an enhanced taste.
You can also add chopped cucumber pieces.
If not serving immediately, chill the salad in the refrigerator and serve later.
If you prefer a mild spicy salad, add chopped green chillies or red chilli powder.