Idli chilli recipe – How to make idli chilli recipe – Indian snacks recipes | easy idli recipes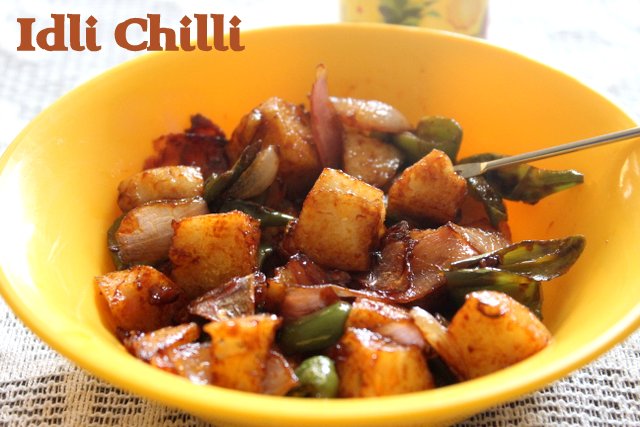 Idli chilli is a very delicious snack made with leftover idlis.  You can also use fresh regular idlis or mini idlis for this recipe.  Idli chilli is also a easy snack which can be prepared in less than half an hour.  You can have it as a breakfast dish or as an evening snack or as an appetizing party starter.  It is a nice way to use the leftover idlis.  Chilli idli is a dry preparation of south indian idlis cooked in a chinese gravy.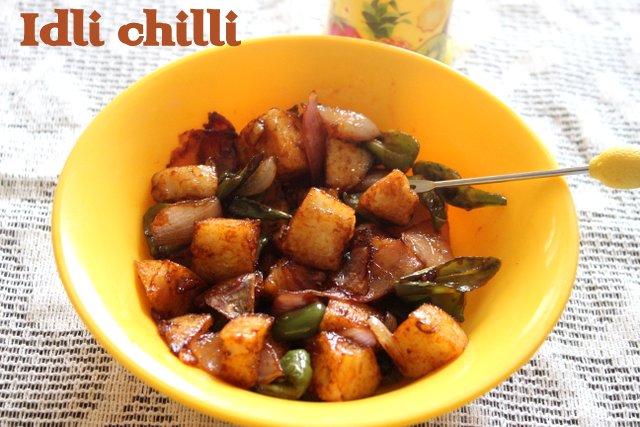 Prep Time : 10 mins
Cook Time : 10 mins
Servings :  2 persons
Indian cuisine
INGREDIENTS
Idlis – 3 nos
Onion – 1 (chopped into medium cubes)
Green capsicum (chopped into medium cubes)
Garlic cloves – 1 teaspoon (chopped finely)
Ginger (adrak) –  1/2 teaspoon (chopped finely)
Green chillies – 3 to 4 (slit vertically)
Tomato ketchup/sauce – 1 tablespoon
Soya sauce – 1/2 teaspoon
Red chilli sauce – 1/4 teaspoon
Vinegar – 1/2 teaspoon
Salt to taste
Oil – 2 tablespoons
HOW TO MAKE OR PREPARE IDLI CHILLI RECIPE
Cut the idlis into small equal cubes.   Heat 1 tablespoon of oil in a pan and add the idli cubes.  Saute the idlis on medium flame for 2-3 minutes till they turn  light brown in colour.  Set aside.
To the same pan, add another 1 tablespoon of oil.  Heat the pan on a medium flame.  Once hot, add chopped onions, garlic cloves, ginger and green chillies.  Saute on medium flame for a minute.
Add chopped capsicum and saute on medium flame for another 1-2 minutes.  Keep stirring occasionally. (Do not overcook and let onions and capsicums retain their crispiness).  Then add red chilli sauce, tomato sauce, soya sauce and vinegar.
Mix all the ingredients well.  Now add the sautéed idlis and give a good toss.  Sprinkle little salt and mix well.   Cook on a low flame for a minute.  Switch off the flame.
Serve chilli idli immediately.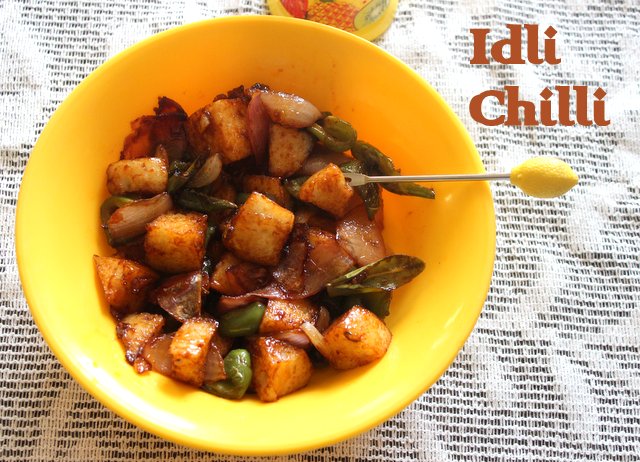 NOTES/TIPS
You can also deep-fry the idlis instead of shallow frying them.
Add salt carefully, as the sauces already has enough salt in it.
Always serve chilli idli immediately, as they tend to become soggy after some time.
Garnish with chopped spring onion greens and serve.
If you have fresh idlis, refrigerate them for half an hour and then deep fry them. This way, the idlis will not crumble while frying them.