Aloo gobi paratha recipe – How to make aloo gobi (potato cauliflower) paratha recipe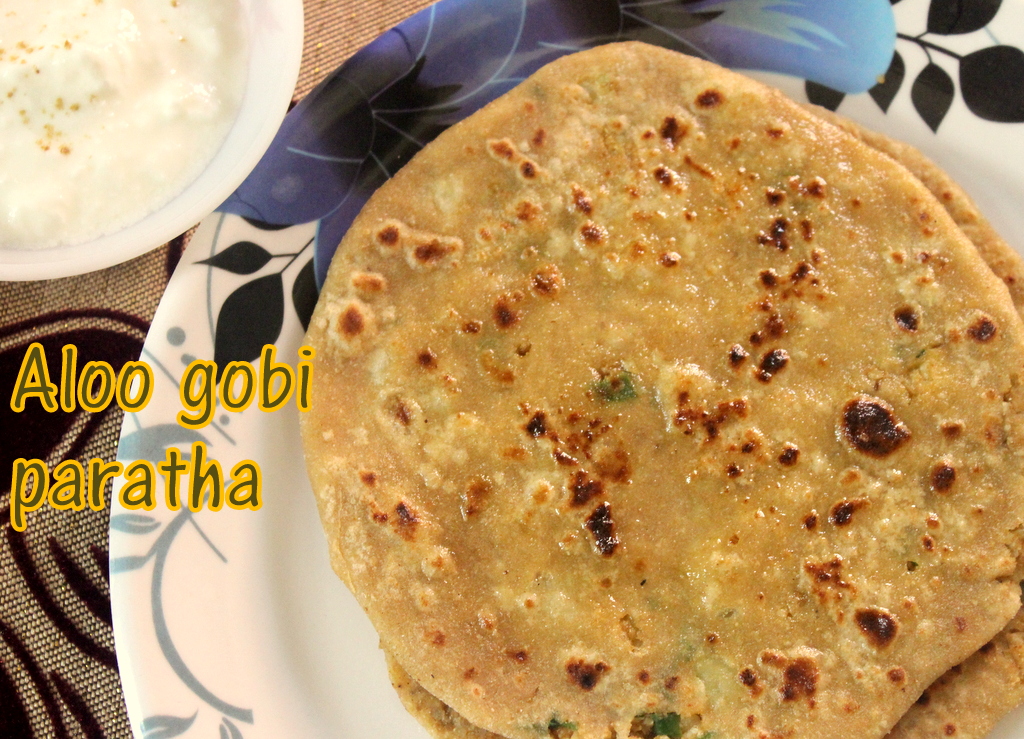 Aloo gobi paratha – a stuffed paratha made with grated cauliflower, mashed potatoes and spices.  It is one of the popular paratha recipes from Punjab.  Parathas are generally served as breakfast dish and served with raita or plain curd.  Wheat flour is used here for making these parathas instead of maida and hence makes this parathas all the more healthy.  Traditionally paratha is cooked with lots of  ghee in North Indian households.  But you can use normal cooking oil if you are more calorie conscious.  Do try this nutritive and filling breakfast dish and enjoy!!
Other paratha recipes :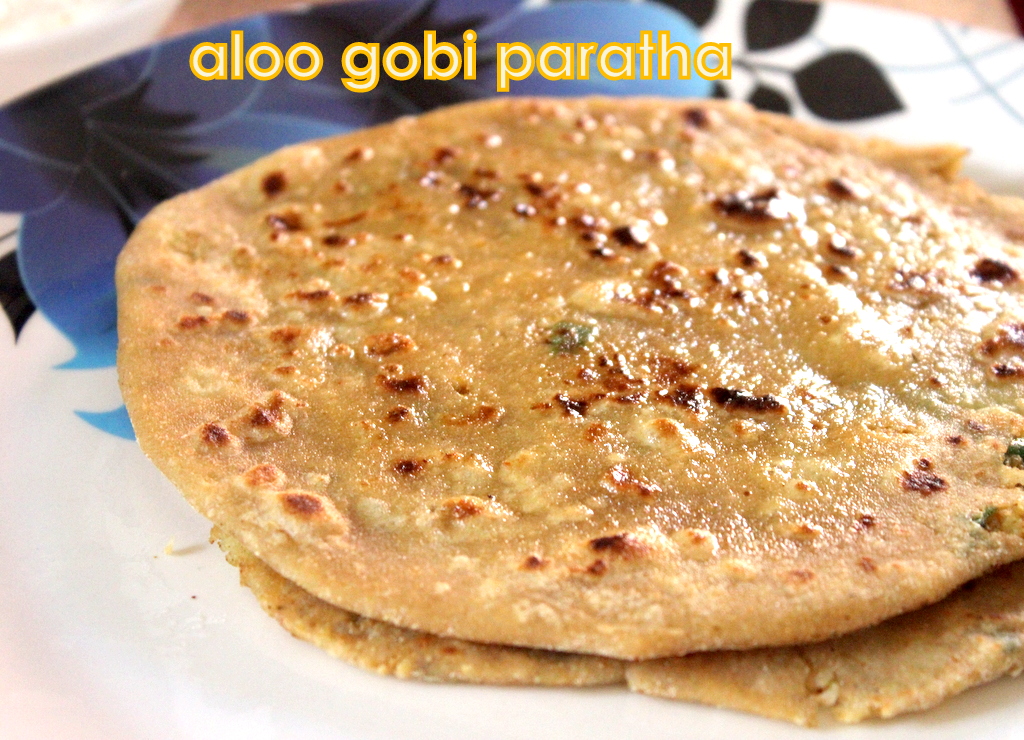 Prep Time :  25 mins
Cook Time :  20 mins
Yield :  8 parathas
North Indian cuisine
INGREDIENTS
Wheat flour (gehun ka atta) – 3 cups
Oil or ghee for making parathas
Water to knead the dough
Salt to taste
FOR THE STUFFING
Potato – 2 (medium sized)
Cauliflower (gobi) – 1 cup (grated)
Green chillies – 2 (finely chopped)
Ajwain (carom seeds) – 1/2 teaspoon
Coriander powder – 1/2 teaspoon
Garam masala – 1/2 teaspoon
Amchoor powder – 1/2 teaspoon
Chopped coriander leaves – 2 tablespoons
Salt to taste
HOW TO MAKE OR PREPARE ALOO GOBI PARATHA RECIPE
Wash and clean the cauliflower thoroughly.  Then grate the cauliflower with the help of a grater or a chopper to chop the cauliflower. Boil the potatoes with sufficient water till they become soft.  Once cooled down, remove the skin of the potato and mash them. Take a mixing bowl.  Add the grated cauliflower, mashed potatoes, green chillies, ajwain, red chilli powder, coriander powder, garam masala, amchoor powder, coriander leaves and salt.
Mix well all the ingredients by hand.  The stuffing is ready for use.  Make medium sized balls of the stuffing and set aside.
In another bowl, take the wheat flour, salt and 2 tablespoons of oil and mix well.  Add warm water little by little and knead to a smooth  and pliable dough.  Cover the dough with a wet muslin cloth and keep it aside for 15-20 minutes.  Take a small medium sized ball from the dough and roll  into a thin round shape.  Put the stuffing in the centre of each paratha.
Lightly fold on all the sides.  Remove the excess dough from the top. Dust with wheat flour and press lightly by hand.
Roll it gently with the stuffing to a round shape.  Heat tawa on a medium flame.  Add oil, ghee or butter and put the rolled paratha on the tawa.   Cook for few minutes.
Once the bubbles start appearing, apply oil on the top of the paratha.  Flip on the other side and spread oil on the other side too.  Cook on both the sides till they become little crisp and golden brown in colour.  Repeat the process with the remaining dough.
Serve aloo gobi parathas hot with curd, raita, pickle or any curry/dal.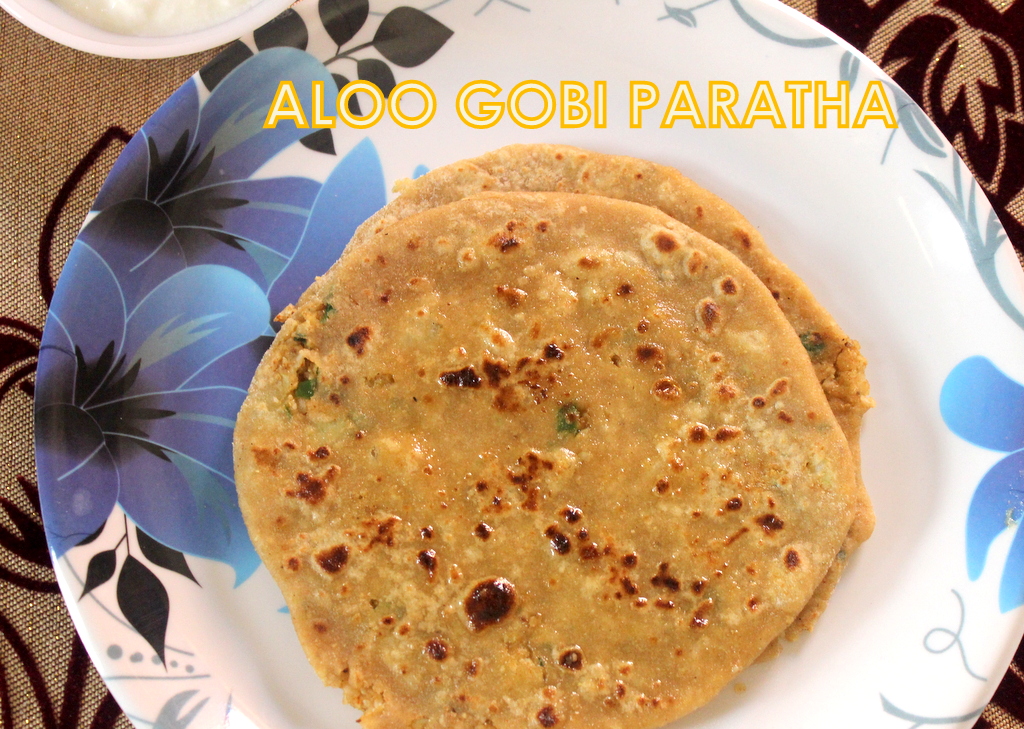 NOTE/TIPS
Use the stuffing immediately for making parathas.  Do not store them as they tend to ooze water and makes it difficult for making parathas.
You can substitute amchoor powder with 2-3 teaspoons of lemon juice.
Parathas are best enjoyed when served hot.
You can also grate the green chillies instead of chopping them finely.