Collection of 11 fenugreek leaves/methi recipes – methi leaves recipes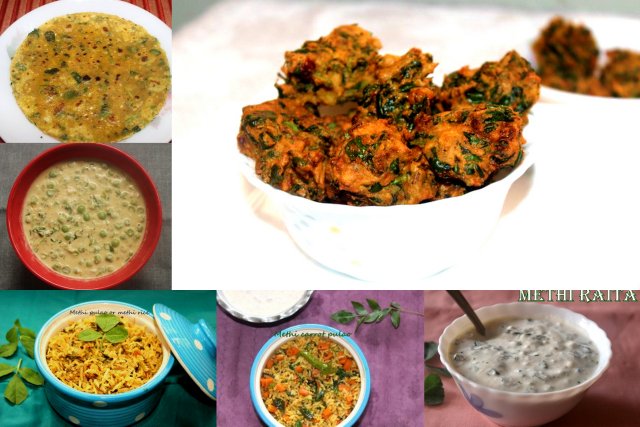 Methi leaves or fenugreek leaves has lot of health benefits but has a light bitter taste.  Methi leaves are widely used in Indian cuisine as it gives a distinct flavor and gives good taste if prepared with mild spices.  They can be used in different ways in our Indian kitchen.  They are not only easy to prepare but delicious too.  It is good to include methi leaves in our diet when they are in season and available in plenty, especially during winter season.
I have compiled 11 methi recipes from my blog and sharing them here, for your easy reference!!
Methi raita recipe – How to make methi (fenugreek) raita recipe | raita recipes
Methi subzi or bhaji recipe or how to make methi subzi recipe
Methi fritters or pakora
Methi (fenugreek leaves) pakoda or pakora or methi fritters recipe