Karthigai pori urundai recipe or puffed rice balls with jaggery recipe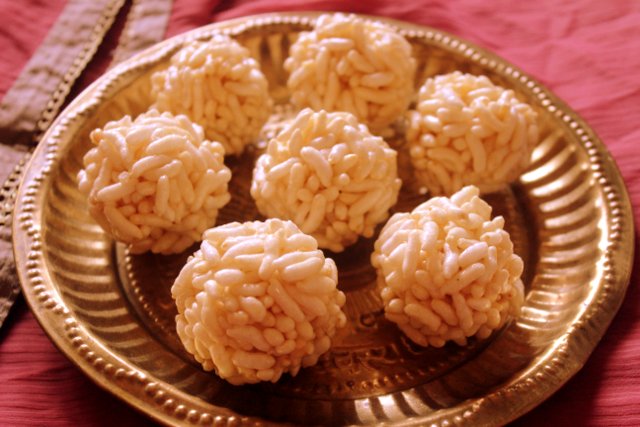 Pori Urundai or Puffed Rice Balls is a traditional sweet prepared with puffed rice and jaggery.  The crunchiness of the rice and the sweetness of  jaggery  makes this dish delicious.  It is very  easy to prepare and also healthy too.  It is prepared during Karthigai deepam festival.   Karthika Deepam is a Hindu festival especially among Hindu Tamils and this year 2015 it falls tomorrow i.e 25th November 2015.   Karthigai is essentially a festival of lamps. The lighted lamp is considered as an auspicious symbol and  is believed to ward off evil forces and usher in prosperity and joy.  We will now learn how to make karthigai special pori urundai recipe with step wise pictures.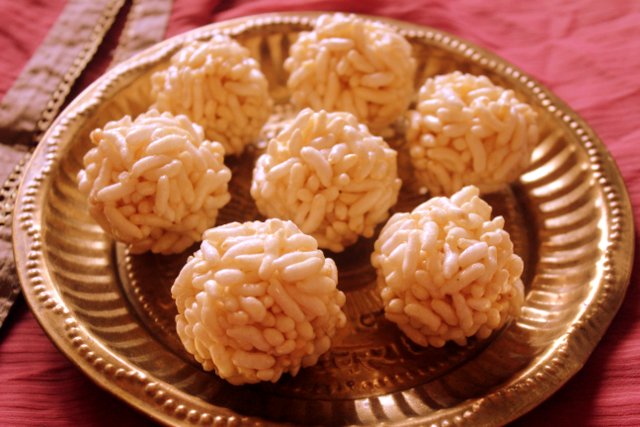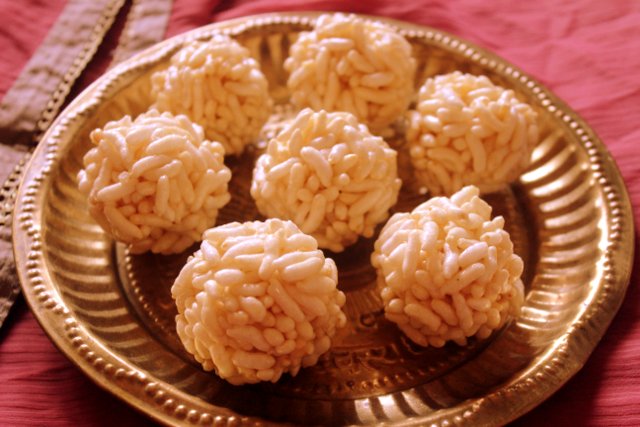 Prep Time : 15 mins
Cook Time : 20 mins
Yield : 12-15
Total time – 35 mins
Karthigai deepam recipe
INGREDIENTS
Puffed rice or pori – 4 cups
Jaggery – 3/4 cup
Cardamom powder – a generous pinch
Water – 1/4 cup
Ghee – 2 teaspoons ( for greasing hand at the time of making puffed rice balls)
HOW TO MAKE KARTHIGAI DEEPAM PORI URUNDAI RECIPE
Heat jaggery with 1/4 cup of water in a pan on a low flame.   Heat it till the mixture bubbles and you get a frothy look.
To check the consistency, keep a small bowl of water ready.  Add a few drops of jaggery syrup into the water.  If it dissolves, then let it boil for some time.  If the jaggery syrup stands firm and you can form a ball by rolling with your finger, it means  the consistency has reached.  It is called as soft ball consistency.
At this stage, add cardamom powder  and puffed rice and switch off the flame.  Stir well so that the pori gets well coated with the jaggery syrup.  Grease or smear your hands with little ghee and roll the mixture into tight round balls, taking care as to not break them.  Ensure to make the balls even while the mixture is still warm.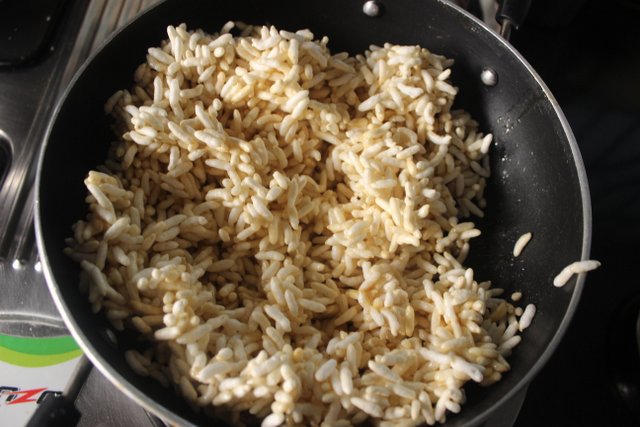 Once the puffed rice balls or pori urundai is full cooled down, store them in an airtight container and enjoy as and when desired.  It stays fresh and crisp for 3-4 days.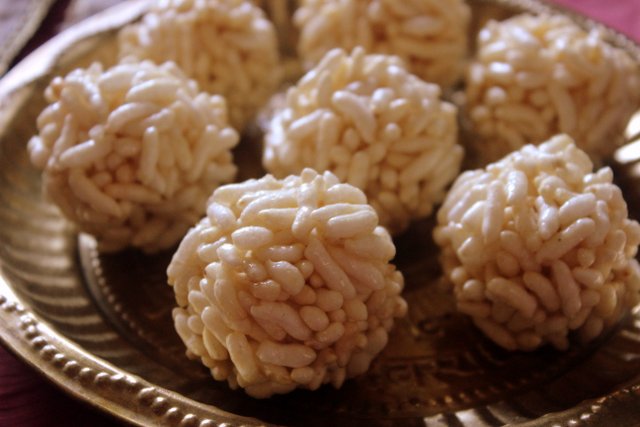 NOTES /TIPS
You can also add a pinch of  dry ginger powder and few coconut bits or pieces to further enhance the taste.
Ensure to clean the puffed rice to remove any dirt or impurities.
Soft ball consistency is important or else making the balls will be little difficult.
The color of the pori urundai also depends on the quality of the jaggery used while making the balls.