Masala chaas or spiced buttermilk recipe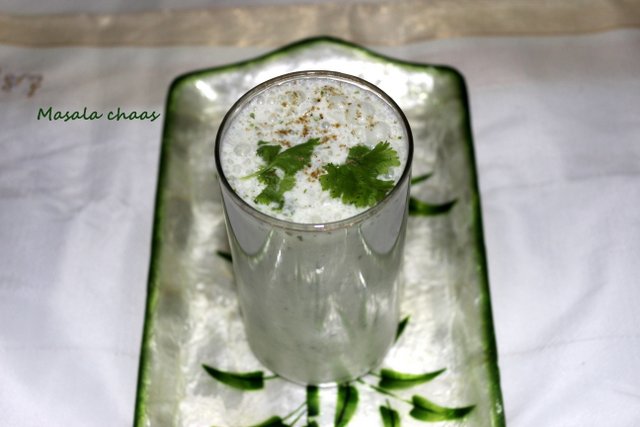 Masala chaas is a buttermilk preparation and a perfect cold beverage during summer. It is a salty, spicy and refreshing summer drink made with curd. Ginger, green chillies, asafoetida and mild spices are added to further enhance its taste. Masala chaas helps to cool your body and aids digestion and therefore is a best drink during hot weather. Make chaas a regular part of a meal especially during summer as it is the best refreshing drink.
Ingredients
Yoghurt/Curd - 1 cup (chilled)
Green chillies - 1 to 2 (chopped finely)
Ginger - 1/2 teaspoon (chopped)
Cumin powder - 1/2 teaspoon
Chaat masala - 1/2 teaspoon
Few springs of curry leaves and coriander leaves
Salt to taste
Water - 2 cups
Black salt - 1/4 teaspoon
A pinch of asafoetida
Method
Step 1
HOW TO MAKE MASALA CHAAS RECIPE Grate a 1/2 inch ginger or chop the ginger finely and keep aside.
Step 2
Take a mixer grinder. Add curd, asafoetida, green chillies, ginger, cumin powder, chaat masala, black salt, curry leaves, coriander leaves and salt.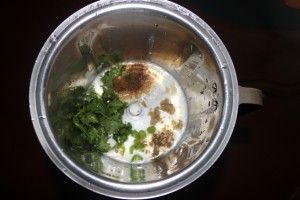 Step 3
Grind or blend all the above ingredients till almost ground. Add water and again blend well.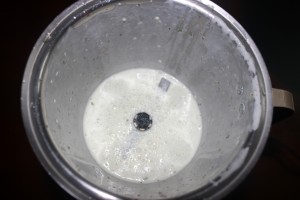 Step 4
Pour the chaas in a serving glass and garnish with chopped coriander leaves and chaat masala. Serve chilled.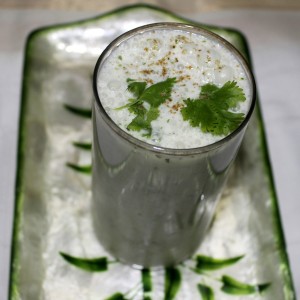 Step 5
TIPS: Always serve chaas chilled. It can be had at any time of the day. Adjust the water according to the consistency required.