Masala dal khichdi (with rice and moong dal) recipe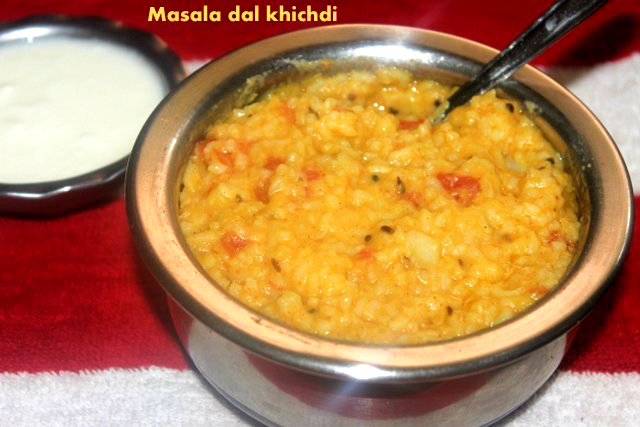 Masala dal khichdi is a spicy variation of the simple khichdi made from rice and moong dal and tempered with mild spices in ghee.  It is a healthy Indian comfort food and makes up for a wholesome and delicious meal.  If you want to cook something quick and healthy, then khichdi is a good option.  You can also cook a plain and simple dal khichdi which also tastes good.  (I have posted plain dal khichdi earlier http://charuscuisine.com/moong-dal-khichdi/).  But vegetables and little spices added to it makes it more nutritious, tasty and filling.  Enjoy this hot comforting food as it is  or with curd or papads or pickles or raita.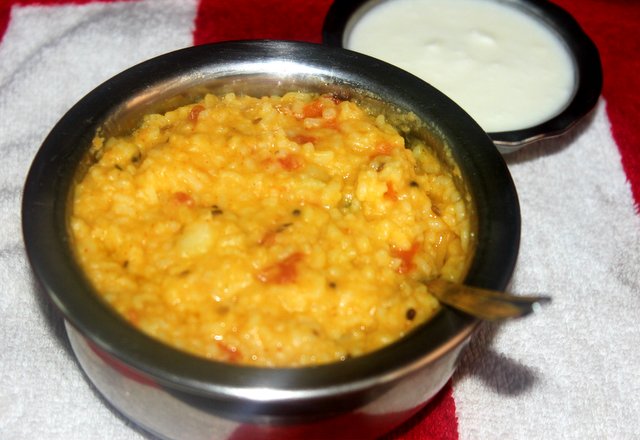 Prep Time : 25 mins
Cook Time : 20 mins
Servings : 2-3 persons
Total time – 45 mins
INGREDIENTS
Rice – 1/2  cup
Split yellow moong dal – 1/2 cup
3 cups of water
Potatoes – 2 (small sized) (chopped into cubes)
Turmeric powder (haldi) – 1/4 teaspoon
Butter/ghee – 2 tablespoons
Salt to taste
FOR THE SEASONING/MASALA
Butter/ghee – 3 tablespoons
Mustard seeds (rai) – 1/2 teaspoon
Cumin seeds (jeera) – 1/2 teaspoon
A pinch of asafoetida (hing)
Tomatoes – 2 (chopped finely)
Green chillies – 1 (slit vertically)
Red chilli powder  – 1/2 teaspoon
Garam masala – 1/4 teaspoon
Chopped coriander leaves – 2 tablespoons
Salt to taste
HOW TO MAKE/PREPARE MASALA DAL KHICHDI RECIPE
Wash rice and moong dal thoroughly in running water. Drain the water and keep it aside.
Heat a small pressure cooker.  Add rice and moong dal, 3 cups of water, diced potatoes, turmeric powder, salt, 2 tablespoons of ghee/butter. Close the cooker with the lid and pressure cook on high flame for upto  3 or 4 whistles.
Once the pressure is cooled down, mash the rice and dal mixture and set aside.  It should be soft and littly mushy.
Heat 3 tablespoons of ghee/butter in a pan on a medium flame.  Add hing, mustard seeds and cumin seeds.  Once the seeds stops spluttering, add tomatoes and green chillies and cook till the tomatoes become soft.
Add garam masala and mix well.  Add the cooked rice and combine together.  Add little water if required and mix well.  The khichdi consistency should be little thin and not thick.
Adjust salt accordingly as rice and dal is cooked with salt.
Finally add chopped coriander leaves and give a good mix.
Serve masala dal khichdi hot with papads or pickles or raita or curd.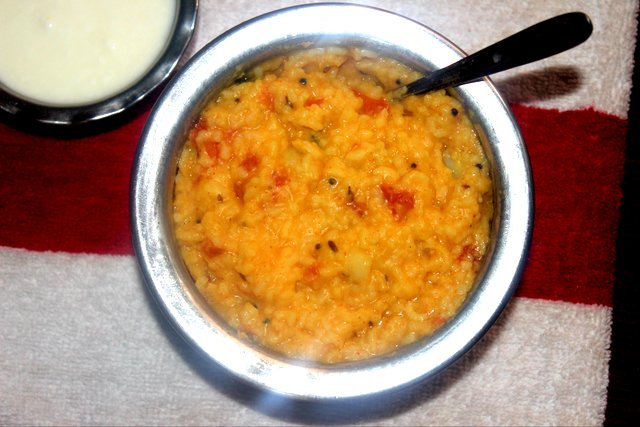 NOTES/TIPS
Khichdi tends to become thick once cooled down.  So add water accordingly when preparing khichdi.
You can add your own choice of vegetables like french beans, green peas to make it even more healthier.