Mutter or matar paneer recipe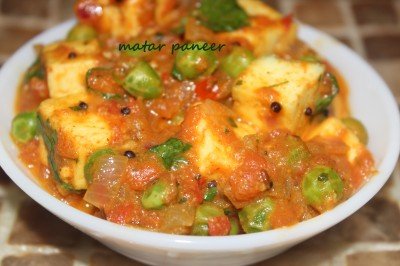 Matar paneer is a popular North Indian cuisine made with cottage cheese, green peas cooked in delicious tomato gravy and spiced with garam masala. It goes well with rotis, naans or plain pulao.
Ingredients
Paneer or cottage cheese - 200 gms (cut into small cubes)
Onions - 2 (chopped finely)
Tomatoes - 4 (chopped finely)
Green peas - 1/2 cup
Butter/Cooking oil - 2 tablespoons
Mustard seeds - 1/2 teaspoon
Cumin seeds - 1/2 teaspoon
Ginger-garlic paste - 1 teaspoon
Turmeric powder - 1/4 teaspoon
Coriander powder - 1 teaspoon
Cumin powder - 1 teaspoon
Red chilli powder - 1 teaspoon
Garam masala powder - 1 teaspoon
Kasoori methi - 1 teaspoon (crushed finely by hand)
Chopped coriander leaves - 2 tablespoons
Salt to taste
Method
Step 1
HOW TO MAKE MUTTER OR MATAR PANEER MASALA RECIPE Heat butter in a pan or a kadai. Add mustard seeds and cumin seeds.
Step 2
Once the seeds start spluttering, add ginger-garlic paste. Saute for few seconds. Add onions and stir fry till the onions become translucent.
Step 3
Then add chopped tomatoes and cook on a medium flame till they become little soft.
Step 4
Add turmeric powder, red chilli powder, coriander powder, cumin powder and salt and mix well. Cook for 4-5 minutes on a medium flame.
Step 5
Add green peas and cook for another 5 minutes. Add little water if required if the gravy is too thick.
Step 6
Add paneer pieces and simmer for few more minutes.
Step 7
Add garam masala, kasoori methi and combine together. Add chopped coriander leaves and mix well. Switch off the flame
Step 8