Masala pav recipe – How to make masala pav recipe – Mumbai street snacks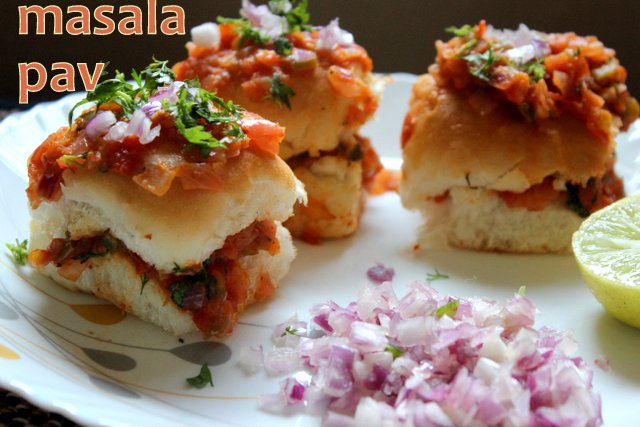 Masala pav – a street fast food recipe from Mumbai made with bread and stuffed with  spicy onion tomato and capsicum mixture.  Masala pav is a very popular street food from Maharashtra, especially Mumbai.  It is an ideal and quick snack, when you want to have something filling to eat.  
Mumbai is known for some popular fast food like pav bhaji, vada pav, tawa pulao and masala pav.  Masala means 'spicy mixture' and pav means 'bread'.  Masala pav is pav spread and topped with a spicy masala. If you have the pav and pav bhaji masala readily available, then it can be prepared quickly in less than half an hour, as other basic ingredients are easily available in the kitchen.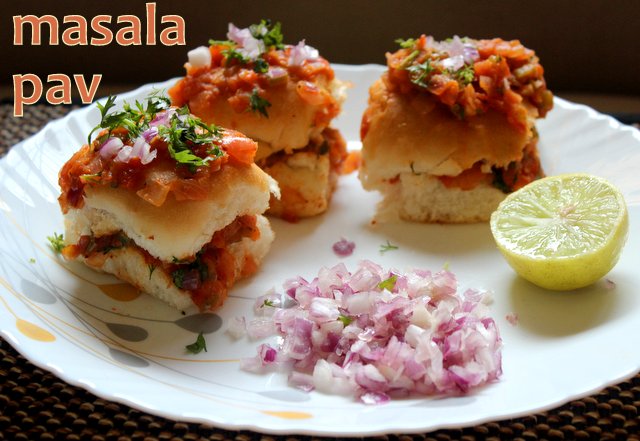 Prep Time : 10  mins
Cook Time : 20 mins
Servings : 2 to 3 persons
Indian cuisine
INGREDIENTS
Pavs – 4 to 5 nos.
Butter – 2 teaspoons
Onions – 2  (medium sized chopped finely)
Tomatoes – 3 (chopped finely)
Ginger-garlic paste – 1 teaspoon
Green capsicum – 1 (chopped finely)
Red chilli powder – 1/2 teaspoon
Pav bhaji masala – 1 tablespoon
Coriander leaves for garnishing
Lemon juice – 1 tablespoon
Salt to taste
HOW TO MAKE MASALA PAV RECIPE
Heat butter in a tawa or a pan on medium flame.  Add chopped onions and saute for a minute.
Do not let it turn brown.  Add ginger-garlic paste and cook till the raw smell of the ginger-garlic goes away.
Then add chopped green capsicum and continue to cook.  Add chopped tomatoes and mix well.
Cook till the tomatoes become little soft.  Then add salt, red chilli powder and pav bhaji masala.
Combine all the ingredients well and saute till well cooked.  Add little water and with the help of the masher, mash the mixture.
Once the mixture is well mashed, add lemon juice and chopped coriander leaves.
Mix well and keep the mixture to the side of the pan.  Add another teaspoon of butter to the same pan.  Cut the pav to half and toast for a minute.
Add butter to the top of the pav and toast the top side too.
Turn over and spread the masala  on both sides of the pav.  Spread the masala over the pav and garnish with chopped onions and coriander leaves.
Serve the yummy masala pav with chopped onions and a slice of lemon.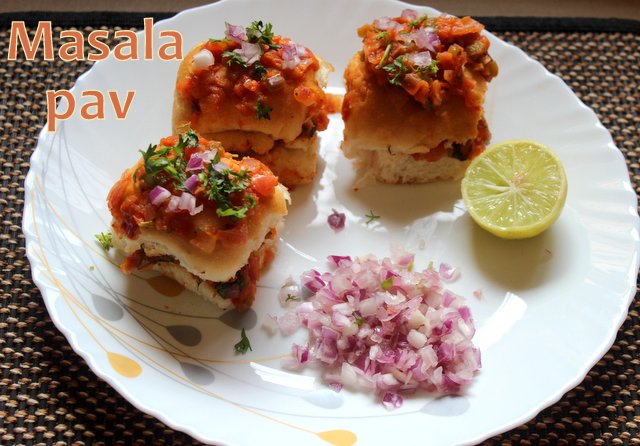 NOTES/TIPS
Serve the masala pav immediately when prepared, otherwise the pav will turn soggy.
Adjust the red chilli powder as per the spiceiness required by you.
Use fresh pav for this recipe, otherwise they will break easily.
Ensure to mash the mixture well for a good flavor and taste.