Bread besan toast recipe – How to make bread besan toast recipe – Easy breakfast recipes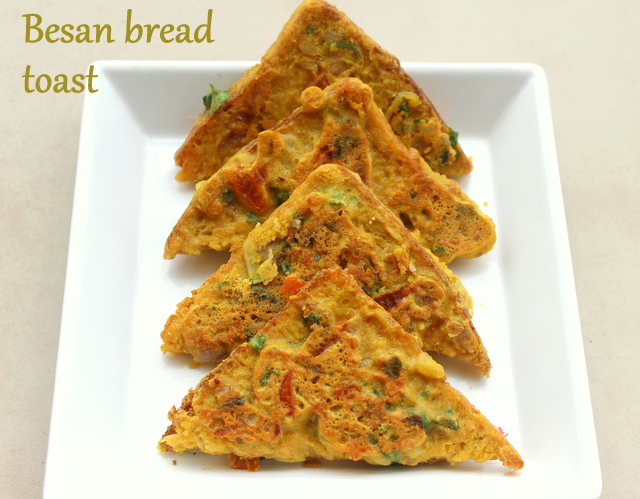 Bread besan toast – a healthy snack prepared from bread, gram flour, onions, tomatoes and spices.  It is a good option for a healthy breakfast or as an evening snack.  This toast is not only  easy to make but can also be prepared in less than 30 minutes.  Bread besan toast is a healthy alternative as bread is full of carbohydrates and gram flour has lot of proteins in it.  It is very similar to bread pakoras, but here it is lightly toasted with oil and not deep fried. It is a very popular and tasty snack which is best served with tomato sauce or coriander chutney.
Other bread recipes :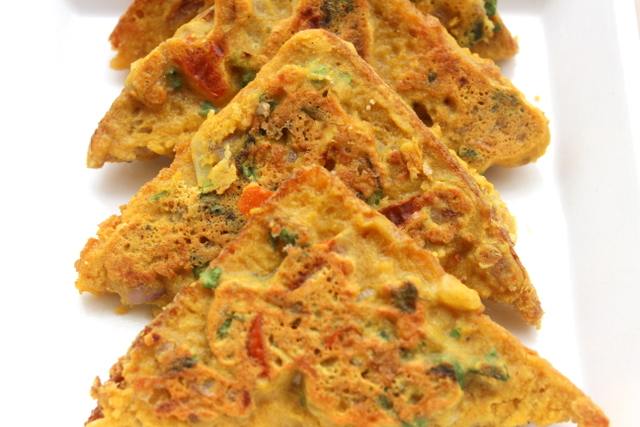 Prep Time : 10  mins
Cook Time : 15 mins
Servings :  2-3 persons
Indian cuisine
INGREDIENTS
White or brown or multigrain bread – 5 slices
Besan or gram flour – 1 cup
Rice flour – 1 teaspoon
Onion – 1 (chopped finely)
Tomato – 1 (chopped finely)
Green chillies – 2 (chopped finely)
Ginger – 3/4 teaspoon (grated or chopped finely)
Cumin powder – 1/2 teaspoon (optional)
A pinch of asafoetida or hing
Chopped coriander leaves – 2 tablespoons
Turmeric powder – 1/4 teaspoon
Red chilli powder – 1/2 teaspoon
Salt to taste
Cooking oil as required
HOW TO MAKE OR PREPARE BESAN BREAD TOAST RECIPE
Take a mixing bowl. Add chopped onions, chopped tomatoes, green chillies, ginger, coriander leaves.  Then add besan, rice flour, turmeric powder, red chilli powder, cumin powder, salt and hing.  Mix well.
Add water little by little and make a batter of medium consistency.  Ensure there are no lumps at all.  Cut the bread in  two triangular slices.
Heat 1 teaspoon of oil in a tawa or a frying pan.  Dip the bread slice into the batter with your hands and coat the slice evenly with the batter.  Do not keep the slice in the batter for too long, as the slice tends to break otherwise.
Place the coated bread slices in the tawa and roast on both the sides till golden brown in colour.  Repeat with the other bread slices.
Serve besan bread toast hot with tomato ketchup or green coriander chutney.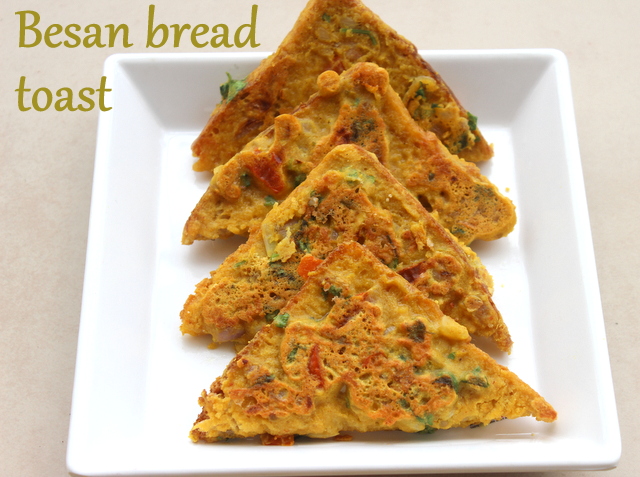 NOTES/TIPS
Ensure that the batter is of medium consistency.  If it is too thin, the slices will not get coated properly.
Use non-stick tawa for best results.
You can also add pepper powder instead of red chilli powder for a more spicy flavour.