Methi chole recipe – How to make methi chole or methi chana recipe – North Indian recipes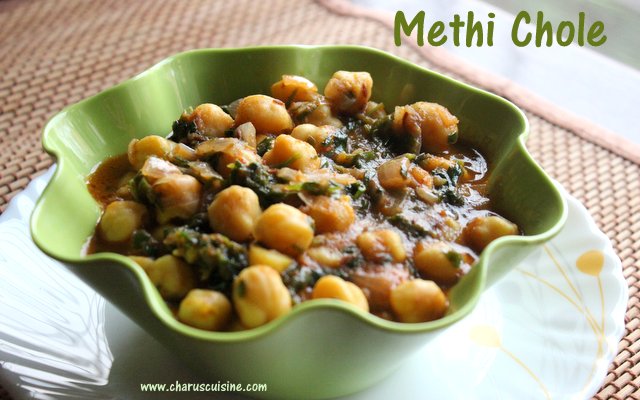 Methi chole is a delicious gravy recipe made with fenugreek leaves and white chickpeas, which goes well with rotis, naans, puris and rice.  Methi leaves gives a pleasant taste and aroma to the dish.  Methi chole is a nutritious dish as it is not only rich in iron which comes from methi leaves, but also rich in proteins which comes from chickpeas.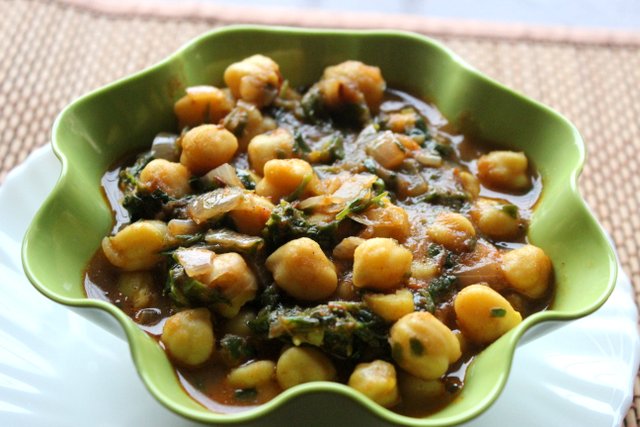 Prep Time : 15 mins
Cook Time : 20 mins
Servings : 2 to 3 persons
North Indian cuisine
INGREDIENTS
White chickpeas (dried) or kabuli chana – 1 cup
Methi or fenugreek leaves – 1 cup
Onion – 1 (chopped finely)
Tomatoes – 2 (ground to a fine paste or puree)
Ginger – garlic paste – 1/2 teaspoon
Red chilli powder – 1/2 teaspoon
Turmeric powder – 1/4 teaspoon
Coriander powder – 1/2 teaspoon
Garam masala – 1/2 teaspoon
Cumin seeds – 1/4 teaspoon
Star anise – 1
Tej patta or bay leaf – 1
Cloves or lavang – 2
Dalchini or cinnamon – 1/2 inch small piece
Cooking Oil – 2 tablespoons
Salt to taste
HOW TO MAKE OR PREPARE METHI CHOLE RECIPE
PREPARATION
Wash and soak the chickpeas overnight in water.  Next day drain the water and add fresh water.  Add turmeric powder and salt to it.  Pressure cook the chickpeas for upto 4 whistles or till cooked. Once the pressure is cooled down, drain the water and keep the boiled chickpeas aside.
Grind the tomatoes in a mixer to make a fine paste.  Keep the tomato puree aside.
Clean the fenugreek leaves by removing the stems.  Rinse them thoroughly in water.  You can also soak them in water for 1/2 an hour.  The impurities, if any, gets settled at the bottom.  Drain the water completely.  Chop the clean fenugreek leaves finely and keep it aside.
METHOD
Heat oil in a pan.  Add cumin seeds, bay leaf, dalchini, star anise and cloves.  Fry till the spices exudes a nice aroma.  Then add chopped onions and ginger-garlic paste.  Fry till the onions become translucent.
Add the tomato puree or paste and mix well.  Cook on a low flame.  Then add coriander powder, red chilli powder, garam masala and salt.  Mix well.
Add chopped methi leaves and give a quick stir.  Saute till the oil leaves the sides of the pan.
Finally add the boiled chickpeas  and little water.  Mix well and cook on a low flame for 2-3 minutes, till all the spices gets well blended with the chickpeas.
Mash few chickpeas with the back of the ladle to slightly thicken the gravy.  Adjust the consistency by adding less or more water, at this stage, as required by you. Simmer for another 2 minutes and then switch off the flame.  Serve methi chole hot with rotis, naan, puris or rice.
NOTES/TIPS
You can also add little amchur powder for a nice flavor to the dish.
Do not add too much methi leaves, otherwise it will give a bitter taste.
You can use butter or ghee instead of normal cooking oil for a rich taste.