Moong sprouts salad recipe – How to make healthy moong sprouts salad recipe – healthy recipes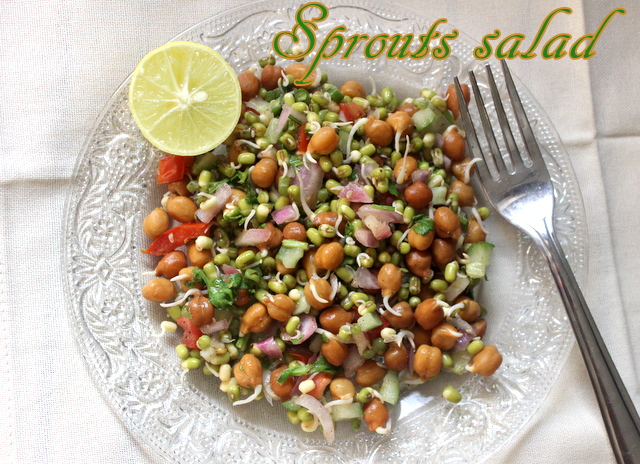 Sprouted moong salad is a very nutritious and refreshing salad, which can be used as a side dish or as light meal in itself.  This recipe is very simple to make and a dish full of proteins and calcium.  It can be had as a breakfast too.  Lemon juice and chaat masala gives a nice tangy taste to the salad.  You can also add other veggies like grated beetroot, cabbage or carrot to  make it even more healthier.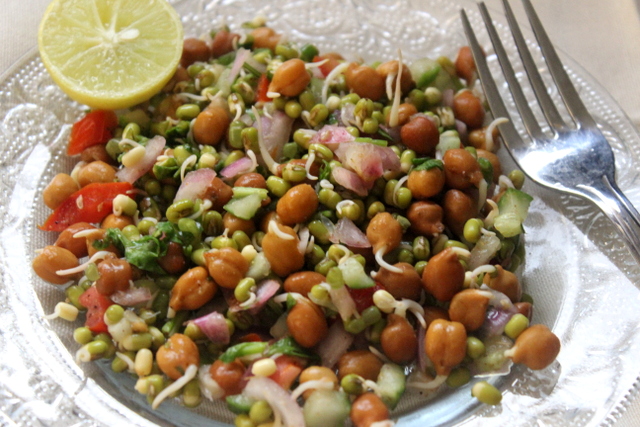 Prep Time :  10 mins
Cook Time : 15 mins
Servings : 2 persons
Indian cuisine
INGREDIENTS
Sprouted green moong – 1 and 1/2 cups
Sprouted chana  – 1/2 cup (optional)
Onion – 1 (medium sized and finely chopped)
Tomato – 1 (medium sized and finely chopped)
Red chilli powder – 1/4 teaspoon
Green chillies – 2 (chopped finely)
Chaat masala – 1/2 teaspoon
Salt as required
Lemon juice – 2 tablespoons or as per taste
Few coriander leaves for garnishing
HOW TO MAKE OR PREPARE MOONG SPROUTS SALAD RECIPE
Take 1 cup of water in a pan on medium flame and bring it to a nice boil.  Add the sprouted green moong and sprouted chana and cook for upto 2-3 minutes.  Switch off the flame.  Once cooled down, drain the water completely.
Take the cooked moong and chana in a serving dish.  Add chopped onion, tomatoes, green chillies, red chilli powder, chaat masala and salt.  Mix well.
Sprinkle lemon juice on top and garnish with chopped coriander leaves.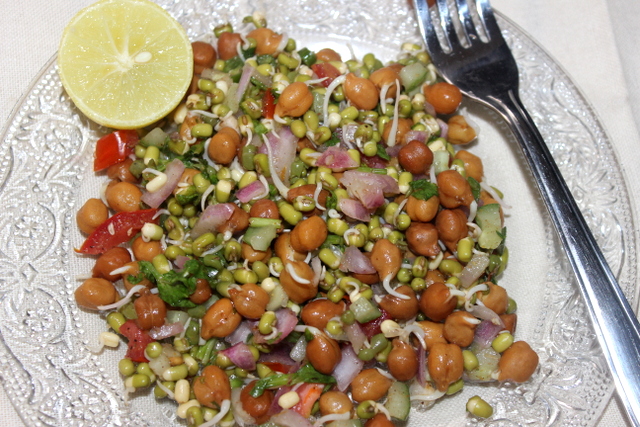 NOTES/TIPS
Sprouted moong salad stays good for 4-5 days, if refrigerated.
Add pomegranates to give a sweet tangy taste to the salad.
Add roasted peanuts for a crunchy flavour.
You can also use this salad as a filling or stuffing, for a grilled sandwich.
You can half cook the moong beans and chana, if you want a crunchy salad.