Murukku or chakli recipe – Indian vegetarian food – Easy to make deepavali/diwali recipes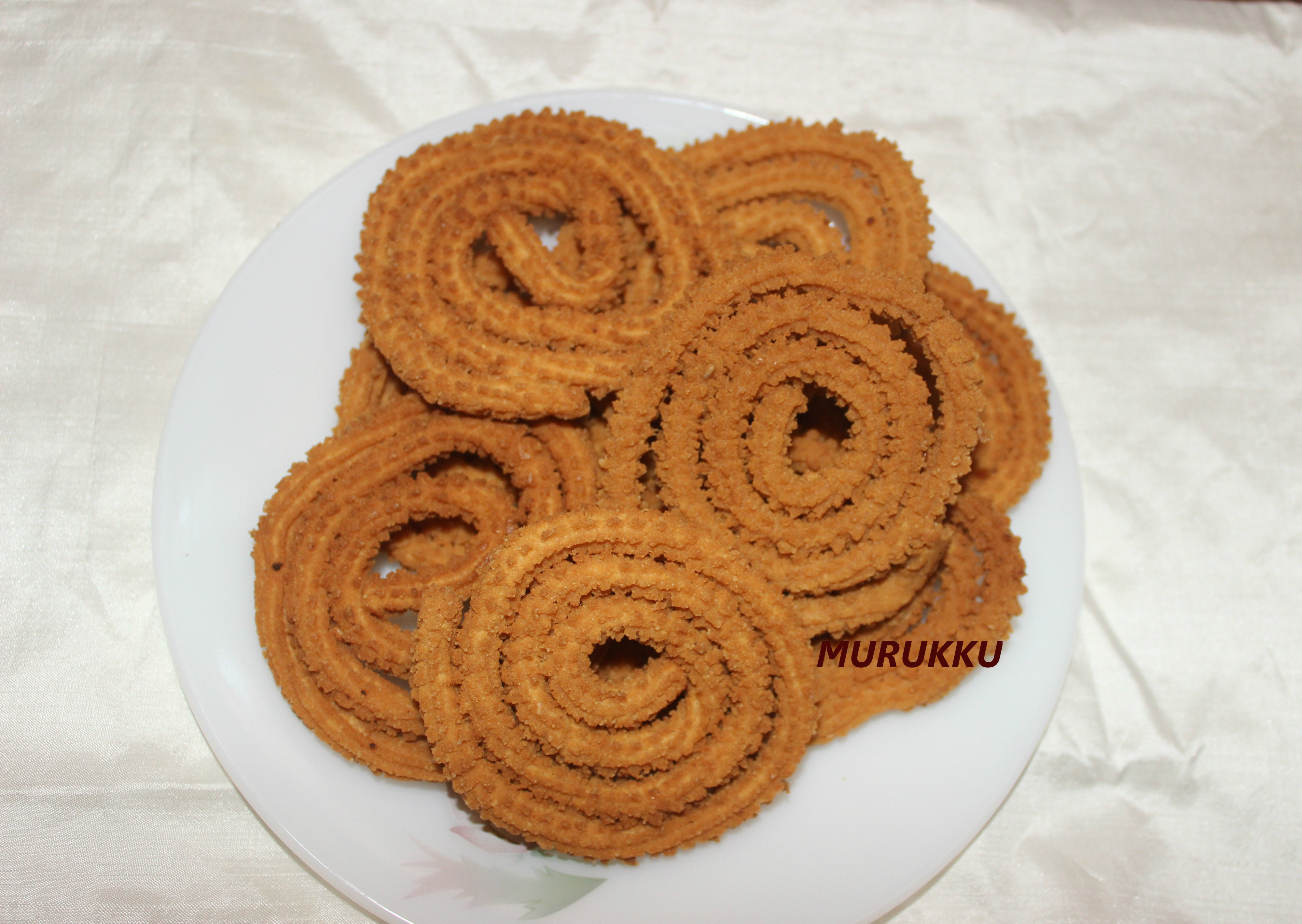 Murukku or chakli is a popular South Indian snack made with rice flour, gram flour and seasoned with salt, asafoetida and either cumin seeds or white sesame seeds.  Murukku is a traditional treat for festivals like Diwali and Krishna Janmashtami.  The ingredients are mixed together to form a dough which is then shaped into spiral  shapes either by hand or using a mould.  They are then deep fried in cooking oil.
Ingredients
Rice flour - 2 cups
Gram flour/besan - 1/2 cup
White sesame seeds/til - 1 teaspoon
Red chilli powder - 1/2 teaspoon
Butter - 2 tablespoons (melted)
A pinch of asafoetida
Salt to taste
Oil for frying
Method
Step 1
HOW TO MAKE MURUKKU OR CHAKLI In a bowl, add rice flour, gram flour, sesame seeds, chilli powder, asafoetida, melted butter, salt and mix well.
Step 2
Add warm water and knead to make a soft dough. Keep the dough aside for 10 to 15 minutes.
Step 3
Take one handful of dough and put it inside the dough press and gently close and rotate the hand to make 3 to 4 circles of murukku.
Step 4
Shape the murukkus on a plastic sheet.
Step 5
Heat sufficient oil in a pan. When the oil is hot enough, gently lift the murukkus from the plastic sheet and slide them in oil. Now lower the heat and cook the murukkus on low to medium heat.
Step 6
Deep fry the murukkus till golden brown. Drain them in an absorbent paper or tissue to absorb the excess oil.
Step 7
Once the murukkus are cooled down, store them in an airtight container. It stays good for a week to 10 days.
Step 8
NOTES : Adding warm water while kneading the dough helps the dough to become soft. If the dough is hard, murukkus tend to break while shaping the murukkus. Add little water if dough is very hard. The dough should not be too soft or too hard. You can add urad dal instead of gram flour to make the murukkus. Once the murukkus are shaped in a plastic sheet, deep fry immediately, otherwise they will dry out.