Spicy sprouts bread sandwich – healthy breakfast recipe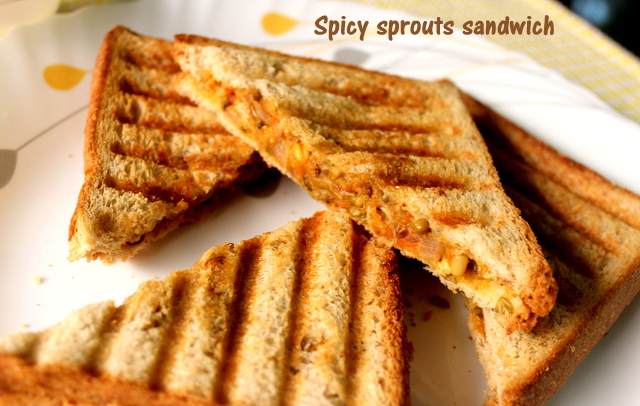 Spicy sprouts sandwich is a nutritious sandwich made with sprouts which is full of proteins.  It is a healthy and a perfect breakfast dish to start your day.  Grilled sprouts sandwich is not only healthy but also tasty with the goodness of fibre-rich sprouts and it is very filling too. I have added potatoes and little spices to make it more delicious.  You can also add mixed sprouts instead of only green sprouts to get the full benefit of the sprouts. Try this sandwich for a change and I am sure this sandwich will be liked by both kids and elders alike.
You can also try   vegetable sandwich, Potato or aloo sandwich, pizza sandwich, paneer sandwich in my blog.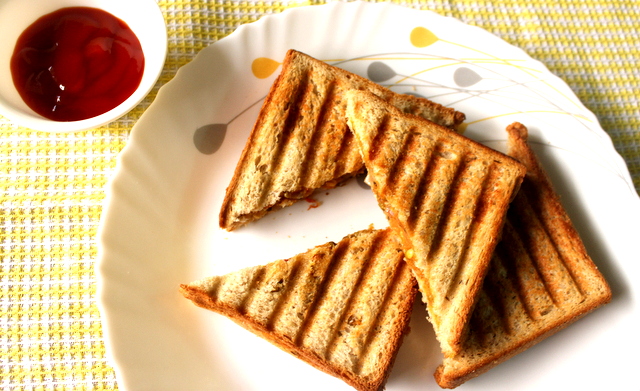 Prep Time :  15 mins
Cook Time :  20 mins
Servings :  2-3 persons
INGREDIENTS
Whole wheat bread – 10 slices
Cooking oil – 2 tablespoons
Mustard seeds (rai) – 1/2 teaspoon
Cumin seeds (jeera) – 1/2 teaspoon
Chopped onions – 1/2 cup
Ginger-garlic paste – 1 teaspoon
Chopped tomatoes – 1/2 cup
Coriander powder – 1 teaspoon
Cumin powder – 1 teaspoon
Red chilli powder – 1 teaspoon
Turmeric powder – 1/4 teaspoon
Pav bhaji masala or garam masala powder – 1 teaspoon
Boiled sprouts – 1 cup
Boiled and mashed potatoes – 2 (small sized) 1/2 cup
Salt to taste
Low fat butter to grill the sandwiches
HOW TO MAKE OR PREPARE SPICY AND HEALTHY SPROUTS SANDWICH RECIPE
Pressure cook the potatoes and sprouts with very little water in a pressure cooker for upto 3 whistles or till just cooked.  Once cooled down mash the potatoes and keep it side.  Drain the water and keep the boiled sprouts too aside.
Heat oil in a pan on medium flame.  Add mustard seeds and once it stops spluttering, add cumin seeds.  Once the cumin seeds turn light brown, add onion and ginger garlic paste and saute till onion turns translucent.
Add chopped tomatoes and cook till they become mushy.  Add turmeric powder, red chilli powder, coriander cumin powder and pav bhaji masala and mix well.  Cook on a low flame for 1-2 minutes.
Add boiled potatoes, boiled sprouts and salt and mix well.  Cook for another 2 minutes till the mixture is well blended with the vegetables and the moisture is fully evaporated.  Switch off the flame.  Now the sandwich mixture is ready for use.
Take 2 slices of bread.  Apply a thin layer of low fat butter on both the slices.  Then add the sprouts mixture to the bread slices and spread evenly.
Close it and press gently.  Apply little butter on the top of the sandwich. Arrange the sandwich on the sandwich maker and grill it till done.
Serve the sprouts sandwich hot with tomato ketchup.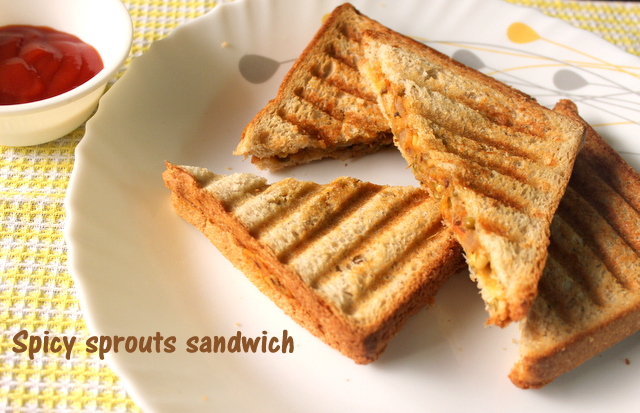 NOTES/TIPS
You can also use mixed sprouts for making this sandwich.
You can toast the sandwich instead of grilling as per your liking.
If you do not have grill maker, you can toast the sandwich on a non-stick pan or tawa, by greasing little butter on both the sides of  the sandwich.  If you are using tawa, seal the edges and close the bread firmly, so that the mixture does not come out.  In a sandwich maker,  the edges gets sealed on its own, once it is closed, hence it is taken care.
I have used whole wheat bread.  You can also use white bread or multigrain bread.