Aloo palak paratha recipe – how to make aloo palak (potato spinach) paratha recipe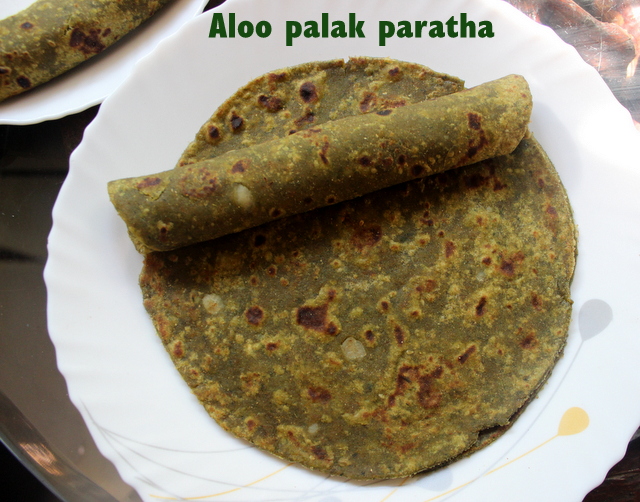 Aloo palak  paratha is a delicious and nutritious paratha made with potatoes, spinach leaves and spices.  It is a perfect snack for lunchbox and a fulfilling meal in itself.   It is a nice way to include greens in your diet and make a healthy dish for your family.  Here the wheat flour is kneaded alongwith spinach puree, boiled potatoes and spices and then rolled into parathas.  The other version of making aloo palak paratha is to make the potato stuffing in the parathas.  It goes well with curd or pickle or just smeared with butter on the top of paratha.
Other paratha recipes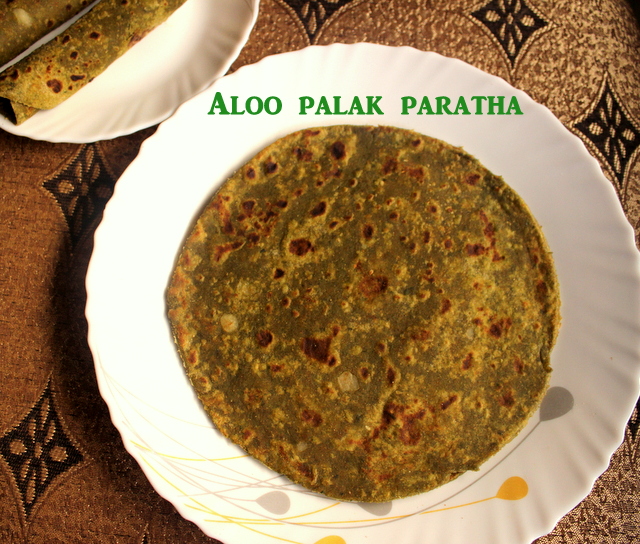 Prep Time : 30  mins
Cook Time :  20 mins
Servings :  2-3 persons
North Indian cuisine
INGREDIENTS
Aloo or potatoes  – 2 (medium sized)
Palak or spinach leaves – 15 large spinach leaves or 1/2 cup spinach puree
Coriander powder – 3/4 teaspoon
Red chilli powder – 1/2 teaspoon
Turmeric powder – 1/4 teaspoon
Garam masala – 1/2 teaspoon
Ginger-garlic paste – 1 teaspoon
Sesame seeds – 1/2 teaspoon
Curd/yoghurt – 2 tablespoons (optional)
Salt to taste
Cooking oil for frying the parathas
HOW TO MAKE OR PREPARE ALOO PALAK PARATHA RECIPE
PREPARATION
Wash and chop the palak leaves roughly.  Heat 2 1/2 to 3 cups of water and bring it to a nice boil.  Immerse the chopped palak leaves into the water and simmer for 3-4 minutes.  Switch off the flame.  Once cooled down, drain the water (this water can be used later for kneading the dough) and make a puree out of the spinach leaves with the help of a hand blender or a mixer grinder.  Keep the puree aside.
Pressure cook the potatoes with sufficient water till 4 whistles or till cooked.  Alternatively you can also boil or steam the potatoes in a separate pan, till cooked.  Once cooled down, peel the skin and mash the potatoes.  Keep the mashed potatoes aside.
METHOD
Take a mixing bowl.  Add wheat flour, mashed potatoes, spinach puree, ginger-garlic paste, turmeric powder, red chilli powder, coriander powder, garam masala, curd and salt and mix well.  Knead them to a smooth dough.  You can use the drained palak water for kneading the dough, if required.  (Otherwise the curd and spinach puree is sufficient for kneading to a soft dough.).  Rest the dough for 15-20 minutes.
Make small equal sized balls out of the dough and roll into round shaped parathas.  Dust off the excess flour from the parathas.
Heat a  tawa  or griddle on a medium flame. Smear little oil in the tawa. Transfer the rolled paratha to the tawa and cook for a minute. Flip it over and put some oil. Cook on both the sides till golden brown.
Serve aloo palak parathas hot with butter, pickle or curd.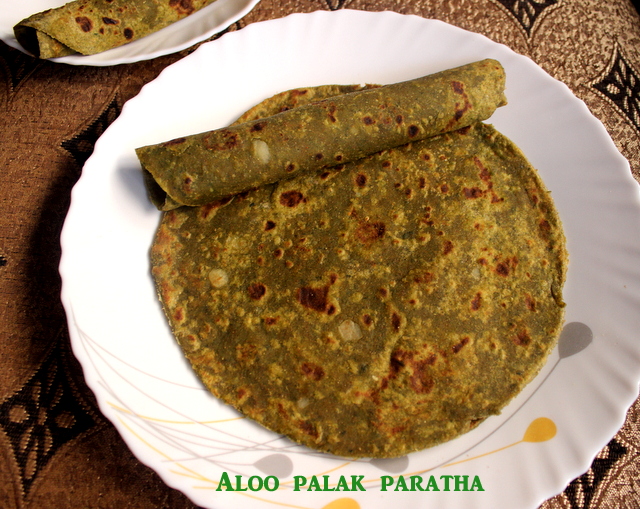 NOTES/TIPS
You can add crushed garlic cloves or finely chopped green chillies while kneading the dough to make the parathas more spicy and flavourful.
No need to add water while kneading the dough as curd and spinach puree is enough for kneading.  If required, you can use the drained palak water to knead.
If the dough becomes sticky, add more flour and then knead.