Palak ki kadhi (Spinach curry) recipe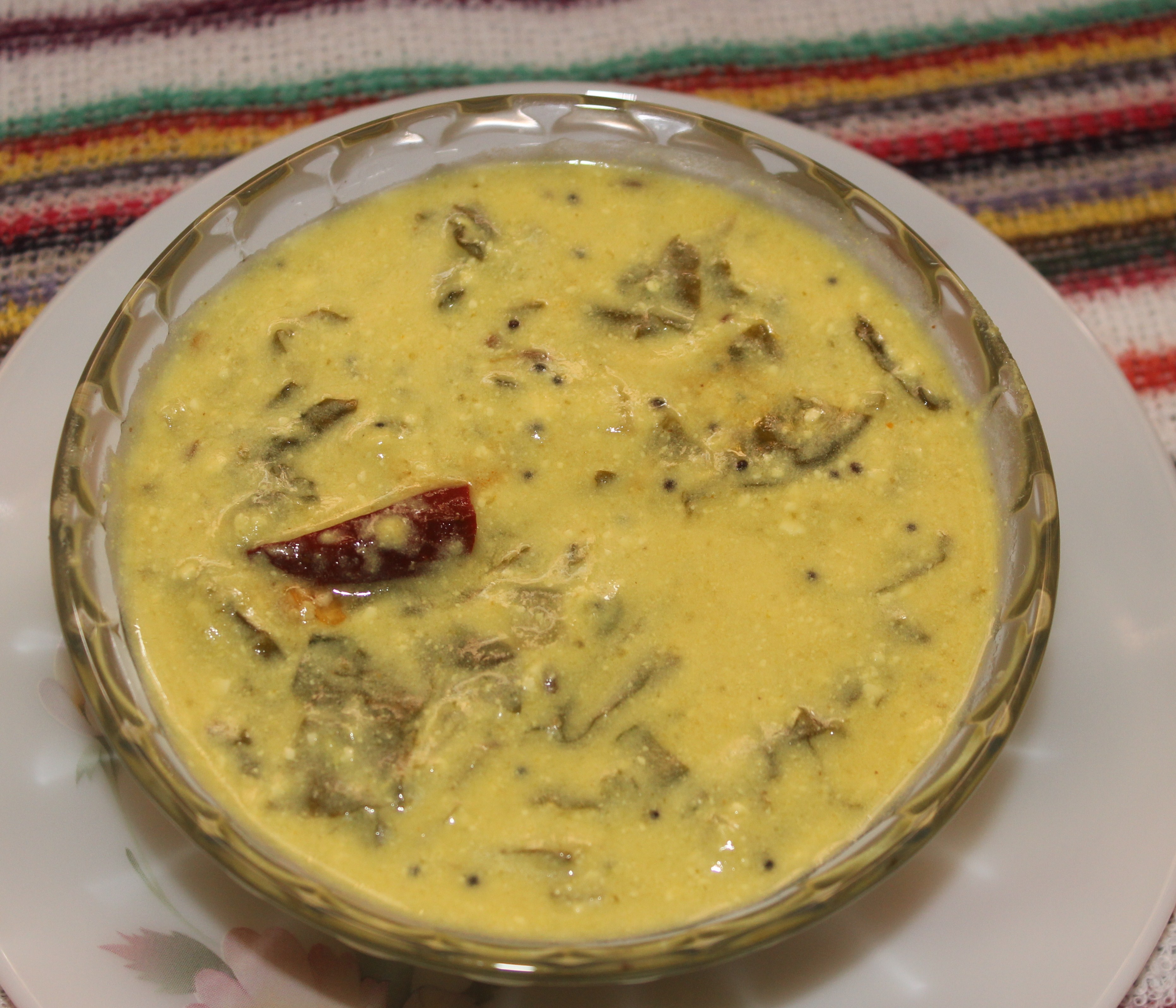 Spinach is an excellent source of other antioxidant nutrients — including vitamin C, vitamin E, vitamin A (in the form of carotenoids), and manganese —as well as a very good source of the antioxidant zinc and a good source of the antioxidant selenium—it's no wonder that spinach helps lower risk of numerous health problems related to stress.Palak or spinach is considered to be rich in iron and also has high calcium content    Spinach curry is a very healthy curry made with spinach, yogurt and gram flour.  Do try to include in your daily diet for a more healthier you.
Ingredients
Spinach (chopped) - 2 cups
Curd - 3 cups (whisked)
Gram flour or besan - 2 tablespoons
Turmeric powder - 1/4 teaspoon
Oil - 2 tablespoons
Mustard seeds - 1/2 teaspoon
Cumin seeds - 1/2 teaspoon
Fenugreek seeds (methi seeds) - 1/4 teaspoon
Whole red chillies - 2
Onion -1 (chopped finely)
Salt to taste
TO GRIND
Green chilies - 2
Garlic cloves - 5 (optional)
Ginger - 1 inch small piece
Coriander leaves - 2 tablespoons
Method
Step 1
Grind green chillies, garlic cloves, ginger and coriander leaves into a smooth paste by adding very little water.
Step 2
In a bowl, add whisked curd, gram flour, turmeric powder, ground mixture (green chillies, ginger, garlic and coriander leaves) and mix thoroughly and keep aside.
Step 3
Heat oil in a kadai. Add mustard seeds. Once it stops spluttering, add cumin seeds, methi seeds, red chillies, chopped onions and saute for 2 minutes.
Step 4
Add chopped palak leaves and cook for 2 to 3 minutes till the palak leaves become little soft.
Step 5
Add curd besan mixture, salt and little water and stir well.
Step 6
Simmer the curry for 8 to 10 minutes on a low flame or till the curry comes to a thick consistency.
Step 7
Serve hot with rice