Palak pulao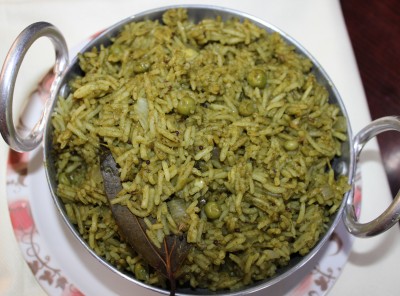 A quick and easy to make pulao recipe which is rich in iron and calcium and is also a  good combination of taste and health.
Ingredients
Basmati rice - 2 cups
Palak or spinach leaves - 15 leaves
Green chillies - 3 to 4 nos
Coriander leaves - 1/2 cup
Mint leaves - 1/2 cup
Onions - 2 (cut into small cubes)
Green peas - 1/2 cup
Cumin seeds - 1 teaspoon
Garlic cloves - 10 (chopped finely)
Bay leaves - 2
Cinnamon stick - 1 small piece
Lemon juice - 2 teaspoons
Salt to taste
Oil - 4 tablespoons
Method
Step 1
Grind palak leaves, green chillies, coriander leaves and mint leaves with little water to make a soft paste.
Step 2
Heat oil in a kadai. Add cumin seeds, bay leaves, cinnamon stick and stir fry for half a minute. Add crushed garlic cloves and saute till brown.
Step 3
Add onions and saute for till they turn light brown. Add green peas, salt, palak paste and sufficient water and cook for 2 to 3 minutes.
Step 4
Add rice and cook for 10 to 12 minutes or till the rice is completely cooked and water is absorbed by the rice.
Step 5
Sprinkle lemon juice and serve hot.