Pineapple kesari recipe – how to make pineapple rava kesari recipe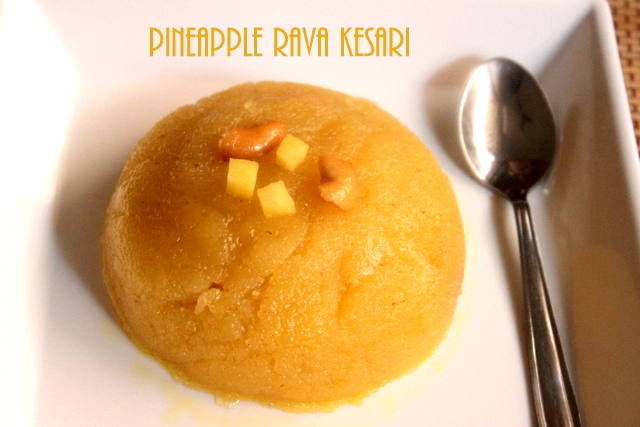 Pineapple kesari is a very delicious dessert made with semolina (sooji) and pineapple.  Pineapple gives a good flavour to the kesari and is a nice way to include the fruit in your dessert.  You can add pineapple essence too to this kesari.  But I did not add it, as I wanted the natural flavour and taste of pineapple in this dish.  Rava kesari is very popular during festive occasions and religious functions in India and it is best served hot or warm. Rava kesari gets solidified once cooled down.   So you can just warm it up before serving the kesari for a better taste.  Do try this different variation of rava kesari and enjoy with your family and friends !!
Other similar sweet dish recipes :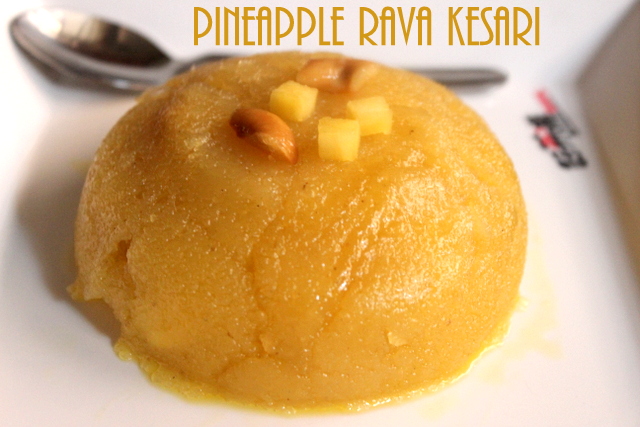 Prep Time : 10 mins
Cook Time : 15 mins
Servings : 4 persons
South Indian cuisine
INGREDIENTS
Semolina or rava or sooji – 1/2 cup
Ghee – 1/2 cup
Pineapple puree – 1/2 cup
Sugar – 1  cup
Cashewnuts – 10
Cardamom powder – 1/4 teaspoon
Water – 1 and 1/2 cup
Kesar or yellow food colour – a pinch
HOW TO MAKE OR PREPARE PINEAPPLE RAVA KESARI RECIPE
Take 3/4th cup of chopped pineapples and grind them to a fine paste without adding water. You will get 1/2  cup of pineapple puree.  Set aside.  Heat 2 tablespoons of ghee in a wide pan and add cashew nuts.  Fry them till golden brown.  Keep it aside
To the same pan, add the remaining ghee and rava.  Roast the rava on a low to medium flame for 3-4 minutes or until it turns golden brown.  Meanwhile add one and half cup of water to a vessel and bring it to a boil.  Add a pinch of kesari or yellow food colour.
Once the rava is well roasted, add pineapple puree to it.
Mix well.  Then add boiling water to this mixture and cook on medium flame, stirring continuously to avoid lumps.
Once the water is well absorbed and rava gets cooked fully, add sugar and mix well again.
The mixture will become watery.  Let it cook for few more minutes on medium flame till the mixture gets thickened.  Once it starts getting thickened, add cardamom powder and roasted cashewnuts.  Mix well.
Once the mixture starts leaving the sides of the pan and gets a thick consistency, switch off the flame.
Yummy pineapple rava kesari is ready to be served.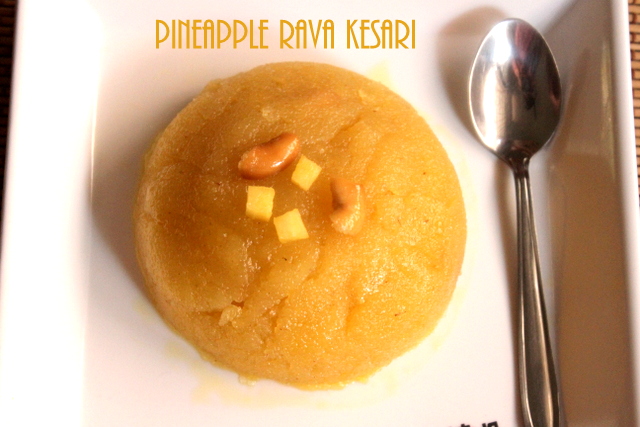 NOTES/TIPS
Once the kesari cools down, it gets solidified.  Then you can also cut into slices and serve.
You can add chopped pineapple cubes instead of pineapple puree, if you want that crunchy taste.
It stays good for 2-3 days at room temperature.