Pumpkin erissery recipe – how to make mathanga (pumpkin) erissery recipe – onam recipes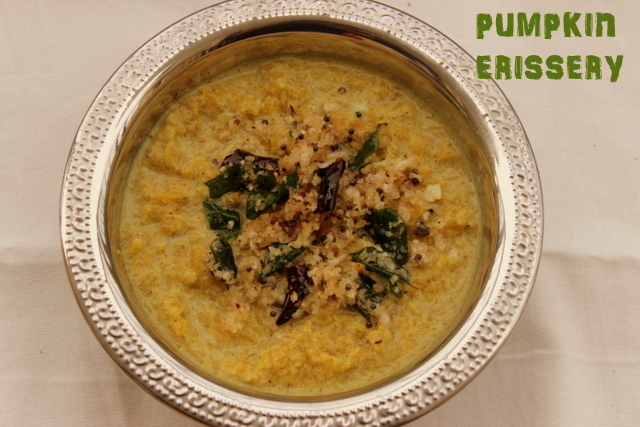 Pumpkin erissery or mathanga erissery is a traditional Kerala dish made with pumpkin and coconut and served during onam sadya.  Pumpkin is boiled first and then cooked with coconut paste and finally tempered with coconut oil. Coconut oil gives an authentic taste to the erissery.  Pumpkin erissery is best served with steamed rice  or as a side dish for rice and sambar. 
White pumpkin recipes :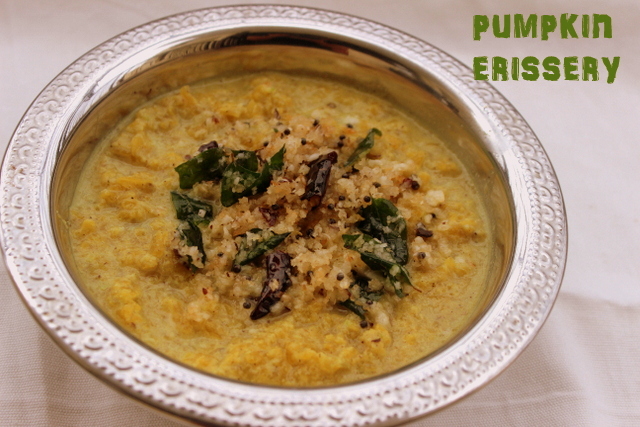 Prep Time : 10  mins
Cook Time :  25 mins
Servings : 3-4 persons
Kerala cuisine
INGREDIENTS
Yellow pumpkin or mathanga  – 2 cups (peeled and chopped into cubes)
Turmeric powder – 1/4 teaspoon
Salt to taste
TO GRIND TO A SMOOTH PASTE (COCONUT PASTE)
Grated coconut – 3/4 cup
Green chillies – 2
Cumin seeds or jeera – 1 teaspoon
FOR SEASONING/TEMPERING
Coconut oil – 2 tablespoons
Mustard seeds – 1/2 teaspoon
Curry leaves – 10 to 12
Red chillies – 2
Grated coconut – 2-3 tablespoons
HOW TO MAKE OR PREPARE YELLOW PUMPKIN ERISSERY RECIPE
Peel the skin of the pumpkin and discard the seeds.  Then chop them into medium sized cubes.
Take the peeled and chopped pumpkin pieces in a pan or vessel with 2 cups of water.  Add turmeric powder and salt.  Cover the pan with a lid and cook for 10-12 minutes on a low flame till it is fully cooked.  If not cooked, add more water and continue to cook again.  Once cooked, switch off the flame and drain the excess water.  Mash the cooked pumpkin lightly with a masher or a flat spatula.
Grind the grated coconut, green chillies and cumin seeds with little water to a smooth paste.  Add this coconut paste to the mashed pumpkin.
Mix well and simmer on low flame for 10 minutes  till the spices are well absorbed.  Check for salt and add if required.  Once done, switch off the flame.  Heat coconut oil in a small pan.   Add mustard seeds, red chillies and curry leaves.
Once the mustard seeds stop spluttering and curry leaves shrink a bit, add the grated coconut and saute till the coconut becomes light golden brown.  Pour this seasoning to the pumpkin erissery and mix well.
Serve delicious yellow pumpkin erissery or mathanga erissery hot with steamed rice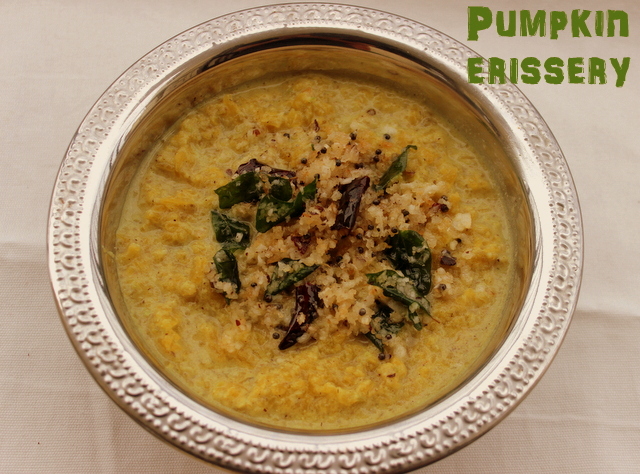 NOTES/TIPS
You can use any other vegetable oil instead of coconut oil, but for traditional Kerala taste, use coconut oil.
Adjust the consistency of this curry, as desired by you.  It can be prepared dry or semi-dry consistency.
You can make erissery with yam, cow peas or  raw banana too with the same recipe.