Rava kesari or kesari bhath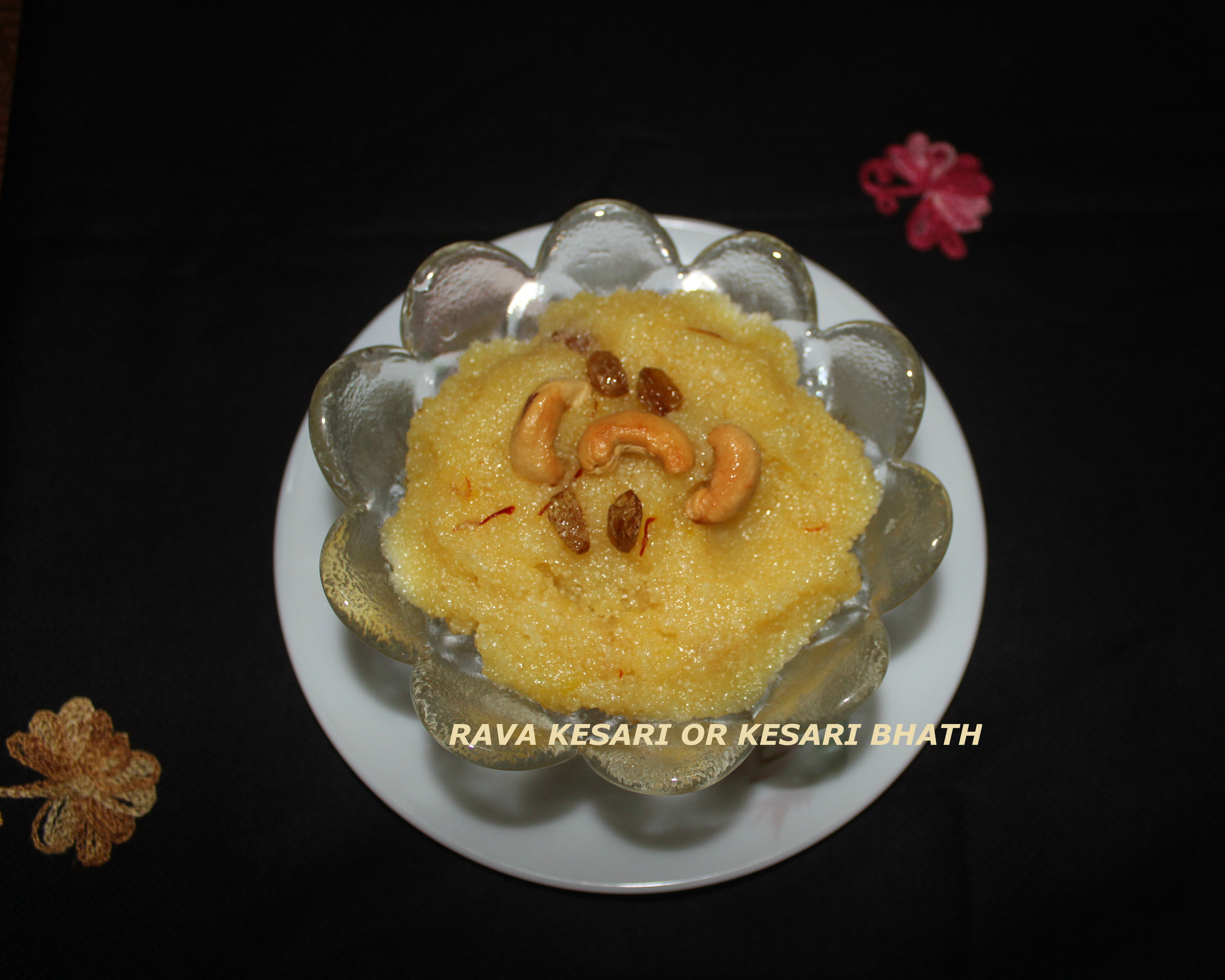 Rava kesari is also called as kesari bhath in Karnataka or Sheera or sooji halwa in North India.  In Karnataka, it is served along with khara bhath or uppittu.  Both kesari bhath and khara bhath are served in one plate which is popularly called as 'chow chow bhath' in Karnataka.  Rava kesari is a very delicious sweet dish prepared from semolina/rava, ghee, sugar, cashew nuts and raisins.
Ingredients
Semolina/Rava - 1 cup
Sugar - 1 1/2 cups
Ghee - 1/2 cup
Cashew nuts - 10
Raisins - 10
A pinch of saffron strings
Cardamom powder - 1/2 teaspoon
Water - 3 cups
Method
Step 1
HOW TO MAKE RAVA KESARI OR KESARI BHATH Heat 1/4 cup of ghee in a pan. Add cashew nuts and fry till golden brown. Then add raisins and fry for few seconds. Remove them in a separate plate
Step 2
Add semolina/rava in the same pan and roast till light brown and aroma exudes. Boil 3 cups of water separately. Add the saffron strings while the water is boiling. Then add this water to the semolina and cook while stirring continously on a low flame. Ensure no lumps are formed.
Step 3
When the water gets absorbed and the semolina is cooked fully, add the sugar and cardamom powder and mix well. Cook on a low flame for another 8 to 10 minutes to avoid lumps.
Step 4
Add the remaining ghee and mix well.
Step 5
Then add the fried cashewnuts and raisins to the semolina mixture and stir for a minute. Remove from flame.
Step 6
Garnish with cashewnuts and raisins and serve hot.
Step 7
NOTES : You can add vanilla or pineapple essence to the kesari at the time of adding sugar, to further enhance the flavor and taste. Adjust the sugar according to the sweet taste desired by you. Add sugar only after the semolina is fully cooked, else it affects the sweet taste. I prefer plain kesari with saffron strings which gives very little colour to kesari, But you can add kesari colour or orange colour to get the desired colour to kesari.