Methi paratha or methi thepla recipe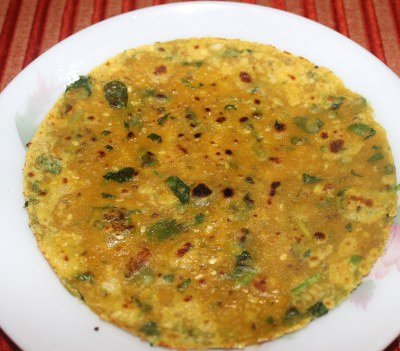 Methi thepla is a favourite Gujarati snack and is one of the comfort food for Gujaratis. It can be either had as a snack or as a breakfast dish. It is ideal as a travel food as they have a great shelf life. It can be either had on its own or served with curd or pickle. Methi leaves or fenugreek leaves are rich in iron and calcium and is a good soure of fibre. Enjoy as a simple and healthy meal any day. Methi thepla is prepared with chopped fenugreek leaves, wheat flour, besan, curd and mixed with spices and then rolled out into thin parathas.
Ingredients
Whole wheat flour - 1 cup
Methi or fenugreek leaves (chopped) - 1 cup
Bengal gram flour or besan - 1/2 cup
Curd - 2 tablespoons
White sesame seeds or white til - 1/2 teaspoon
Ajwain or carom seeds - 1/2 teaspoon
TO GRIND
Green chillies - 3 nos
Garlic cloves - 8 nos
Ginger - 1 inch small size
Turmeric powder - 1/4 teaspoon
Salt to taste
Method
Step 1
HOW TO MAKE METHI THEPLA RECIPE Grind together green chillies, garlic cloves, ginger, turmeric powder and salt with litter water to make a smooth paste and keep it aside
Step 2
In a bowl, mix all the ingredients like wheat flour, methi leaves, besan, curd, sesame seeds, ajwain seeds, ground paste and little water to make a soft dough.
Step 3
Keep the dough to rest for 15 minutes.
Step 4
Divide the dough into equal parts and roll into smooth balls.
Step 5
Take one ball of dough. Roll into a medium shaped circle.
Step 6
Heat a tawa on a medium flame. Apply butter on the tawa and put the paratha on it . Cook for a minute.
Step 7
Apply butter on the top of the paratha and flip on the other side. Cook till both the sides of the paratha become golden brown.
Step 8
Serve the parathas hot with curd or pickle.