Sweet and spicy amla chutney – How to make amla chutney recipe – amla recipes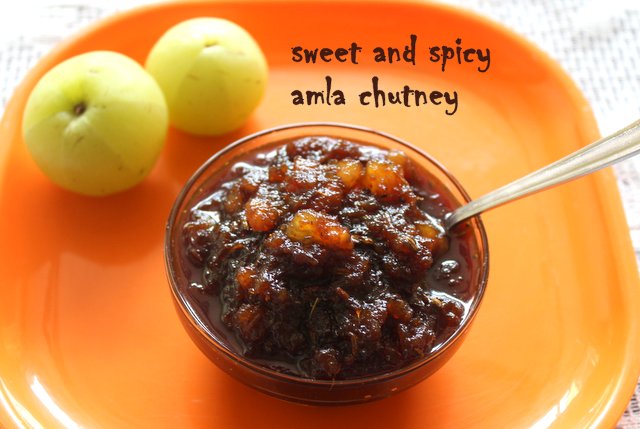 Indian gooseberry is called as amla in Hindi and nellikai in Kannada and Tamil.  Amla is an antidote to various winter maladies like cold, flu and coughs.  It is an immunity booster since it is high in Vitamin C and and is used to treat various ailments.  The other dishes which you can make from amla, apart from chutney, are amla pickle, amla juice, amla murabba or amla rice.
Sweet and spicy amla chutney – a very nutritious chutney made with amlas, jaggery and spices.  Amla is a wonder fruit packed with lots of health benefits.  This chutney can be used as a side dish for rotis as well as rice and dal.  It is also one of the popular chutney recipe which has a sweet, tangy and spicy flavor at the same time. This recipe is a quick and easy way to include amlas in your daily diet.
Amlas are easily available during winter months and good to consume during cold as it is helpful for digestion. And not mention its benefits, amla is high in vitamin C and iron and other important nutrients.  It is extremely beneficial to health.    Amlas are rich in Vitamin A which keeps the skin healthy and young and improves the hair texture too.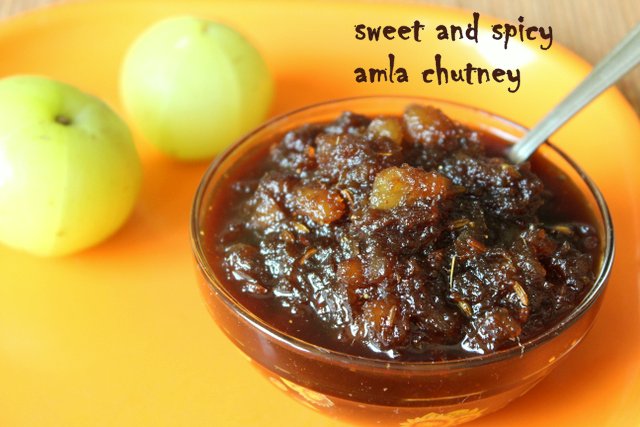 Prep Time : 25 mins
Cook Time :  15 mins
Indian cuisine
INGREDIENTS
Indian gooseberry or amla – 250 gms  (6 to 7 amlas)
Jaggery or gud – 1 cup
Ghee or oil – 2 tablespoons
A pinch of asafoetida or hing
Rai or mustard seeds – 1/2 teaspoon
Cumin seeds – 1/2 teaspoon
Saunf or fennel seeds – 1/2 teaspoon
Roasted cumin powder – 1/2 teaspoon
Turmeric powder – 1/4 teaspoon
Red chilli powder – 1/2 teaspoon
Black pepper powder – 1/2 teaspoon
Garam masala – 1/2 teaspoon
Salt to taste
HOW TO MAKE SWEET AND SPICY AMLA CHUTNEY RECIPE
Wash the amlas thoroughly with water.  Add 1 cup of water and pressure cook for 4 whistles.
Once the pressure is released and cooled down,  open the lid and transfer the cooked amlas to a plate.
Let the amlas cool down a bit.   Separate the seeds from the amlas.  Discard the seeds.
Crush the amlas coarsely by hand.  Heat ghee or oil in a pan on medium flame.  Add hing, mustard seeds, cumin seeds and saunf.
When the seeds stop spluttering, add the crushed amlas and 1 cup of  jaggery.  Mix them and cook on a low flame.  The jaggery will start melting slowly.
Once the jaggery is fully melted, add turmeric powder, red chilli powder, roasted cumin powder, black pepper powder, garam masala and salt.  Mix well.
Cook till the mixture thickens a bit.  Then switch off the flame.
Healthy, sweet and spicy amla chutney is ready to be served.  Once cooled down, store the chutney in an airtight glass jar or container.  It remains good for 2-3 days  at room temperature and for a fortnight in the refrigerator.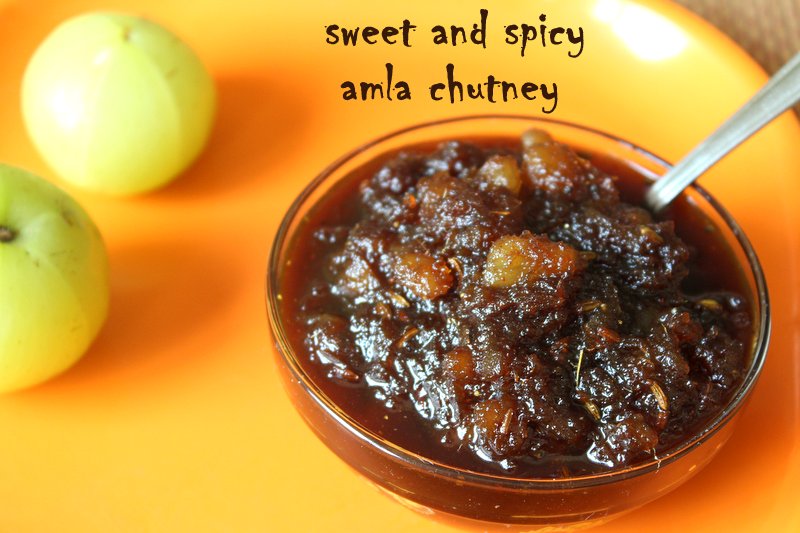 NOTES/TIPS
You can use sugar instead of jaggery for making this chutney.
Add 1/4 tsp of cardamom powder for enhancing the flavor of chutney.
Ensure to cook on a low flame to avoid sticking of the mixture to the bottom of the pan.
Switch off the flame, when the mixture is still slightly in liquid form. Otherwise once cooled down, the chutney will become too thick.