Ven pongal or khara pongal recipe – how to make ghee pongal recipe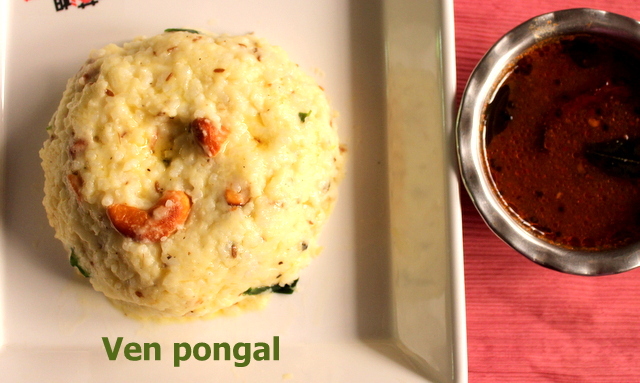 Ven pongal or khara pongal is a popular dish in South Indian homes and is served as breakfast dish in Tamil Nadu. It is called as huggi in Karnataka. Ven pongal is a spicy variant made with rice, moong dal, black pepper, cumin seeds and cashew nuts. It is commonly prepared during pongal, a harvest festival, where this dish is prepared to celebrate the festival. Ven pongal is very easy to prepare and tastes best when served with sambar or coconut chutney.  I have prepared gojju or tamarind curry (shown in the pic) which also goes well with ven pongal.
You can check sweet pongal , til laddoo for this festival season.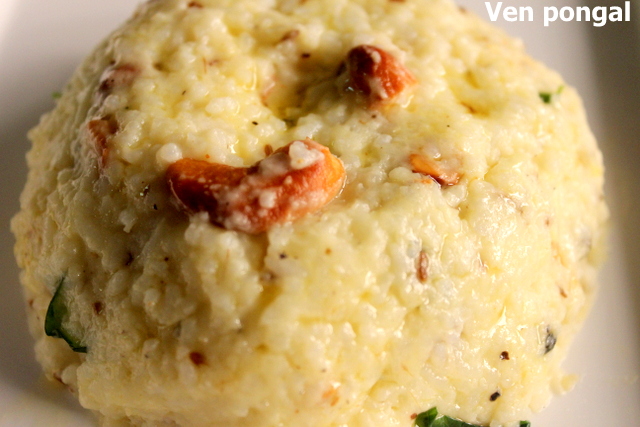 Prep Time :  15 mins
Cook Time : 20 mins
Servings : 2 to 3 persons
INGREDIENTS
Raw rice – 1 cup
Split yellow moong dal – 1/2 cup
Salt to taste
FOR TEMPERING
Ghee – 2 tablespoons
Cumin/jeera seeds – 1 teaspoon
Whole black pepper seeds – 1 teaspoon
Ginger – 1 tablespoon (chopped finely or grated)
Few curry leaves
A pinch of asafoetida
Cashew nuts – 10
HOW TO MAKE OR PREPARE VEN PONGAL OR HUGGI RECIPE
Wash and soak raw rice and moong dal for 15 minutes. This helps to cook rice and dal faster.  Add salt, 1 teaspoon of ghee and 4 to 5 cups of water and pressure cook the soaked rice and dal upto 4 whistles.
Once the pressure is cooled down, mash them thoroughly with a masher or a ladle and keep it aside.  In a pan, add 1 tablespoon of ghee. Add black pepper and cumin seeds and saute on a low flame for a minute. Add grated ginger and curry leaves and saute for few seconds.
Pour this mixture to the cooked rice and dal and mix well. In the same pan, add another 1 tablespoon of ghee and add cashew nuts and saute till golden brown.
Add these to the cooked rice and dal and combine together.  Switch off the flame. Ven pongal is ready to be served.
Serve ven pongal or huggi hot with sambar or coconut chutney.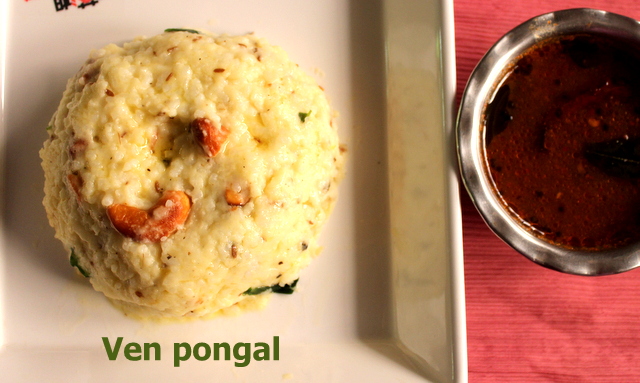 NOTES : Ven pongal tastes better if it is mushy. You can add little ghee at the time of serving to enhance the taste.
You can grind the pepper to a coarse powder and then temper it,  to make pongal more spicy and get pepper flavour.