Mysore pak recipe – How to make soft mysore pak recipe – a rich South Indian sweet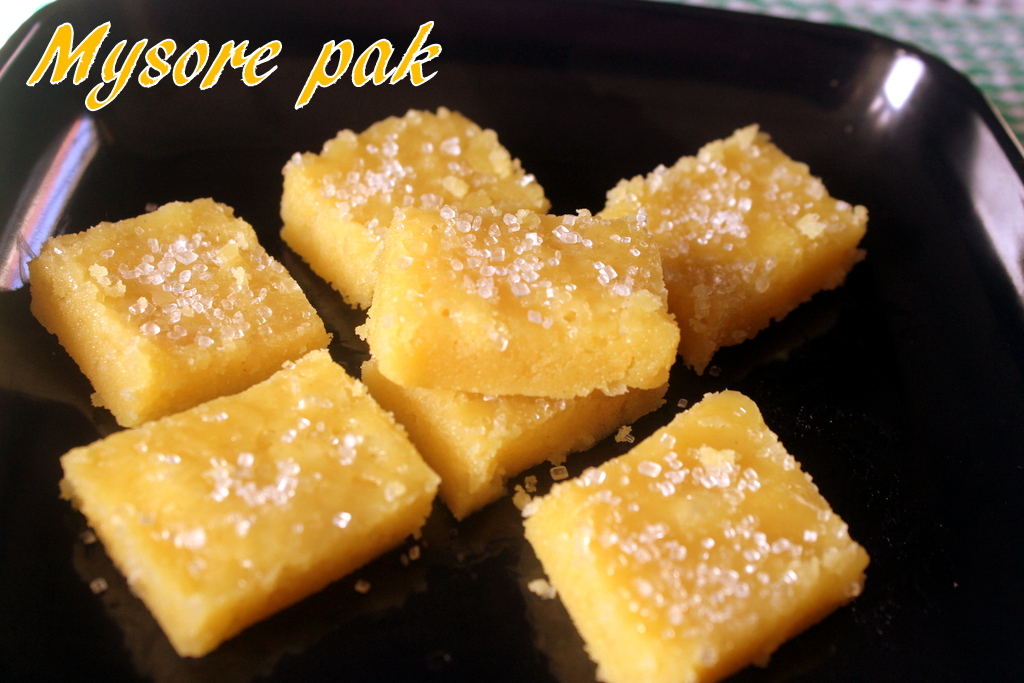 Mysore pak is a rich Indian sweet dish made from gram flour, sugar and ghee and usually served as a dessert.  It originated in Mysore city in Karnataka State.  Legend says that Mysore pak was first created in the kitchens of Mysore Palace by a palace cook named Kakasura Madappa.  When asked its name, Madappa having had nothing in mind, simply called it the 'Mysore pak'. Pak (or paka, more precisely), in Sanskrit and Kannada language, means sweet.  Paaka shastra (short paka) in Kannada means cooking procedure or cooking techniques. Also paka in Kannada refers to sticky sugary syrup obtained by simmering sugar with equal amount of water. Mysore pak is traditionally served in weddings, special occasions and other festivals of southern India. (info : courtesy Wikipedia)
Similar sweet recipes: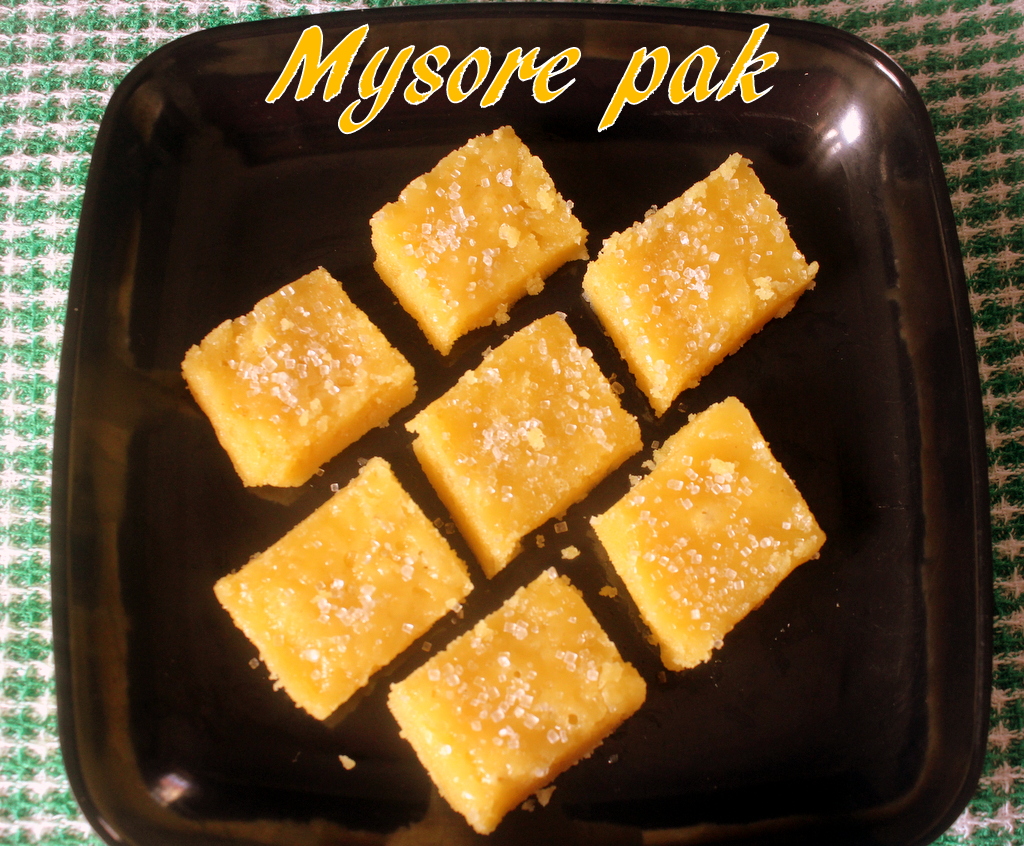 Prep Time : 10 mins
Cook Time :  30 mins
Yield :  23-25 pieces
South Indian cuisine
INGREDIENTS (besan : sugar : ghee – 1:2:3 ratio)
Besan/gram flour – 1/2 cup
Sugar – 1 cup
Ghee – 1 and 1/2 cups
HOW TO MAKE OR PREPARE MYSORE PAK RECIPE
Sieve the gram flour and discard the residues if any.  This helps to avoid lumps during the process of making  mysore pak.  Grease a plate with little ghee and keep it ready.
Heat the ghee on low flame till it melts down completely.  Then switch off the flame.  Keep the hot ghee ready.
Take 1 cup of sugar in a heavy bottomed vessel.  Add 1/2 cup of water and stir the sugar and water well.  Then heat the sugar syrup on a low flame.    Mix well and cook till it reaches a 1 string consistency.  One string consistency is when a thin string of sugar syrup is formed when you hold between your fore finger and thumb.
Once the one-string consistency is reached, add the flour slowly, also stirring continuously, so that no lumps are formed.  Keep the heat to a low to medium flame.
Here I have shown the cooking stages of mysore pak at each step.  Keep stirring and now add ghee little by little.
When you add little hot ghee, you will get a nice froth coming out of the mixture.
Keep stirring till the mixture gets a bit thickened.  Keep adding 1-2 tablespoons of ghee slowly but continuously.  Once the ghee mixes well with mixture, keep adding another tablespoon of ghee.  Repeat till you finish the entire ghee.
The entire mixture at one stage will come together and will start leaving the sides of the pan and the mixture will become frothy;
Immediately pour the mixture to the greased plate and tap the plate gently.  Smoothen the top with the help of a spatula. Sprinkle little sugar on top, if desired.  Allow it to cool down.
When the mixture is still warm, cut into desired shapes.  Once cooled down, store the mysore pak into an airtight container.
Delicious and authentic mysore pak is ready.  Enjoy as and when desired.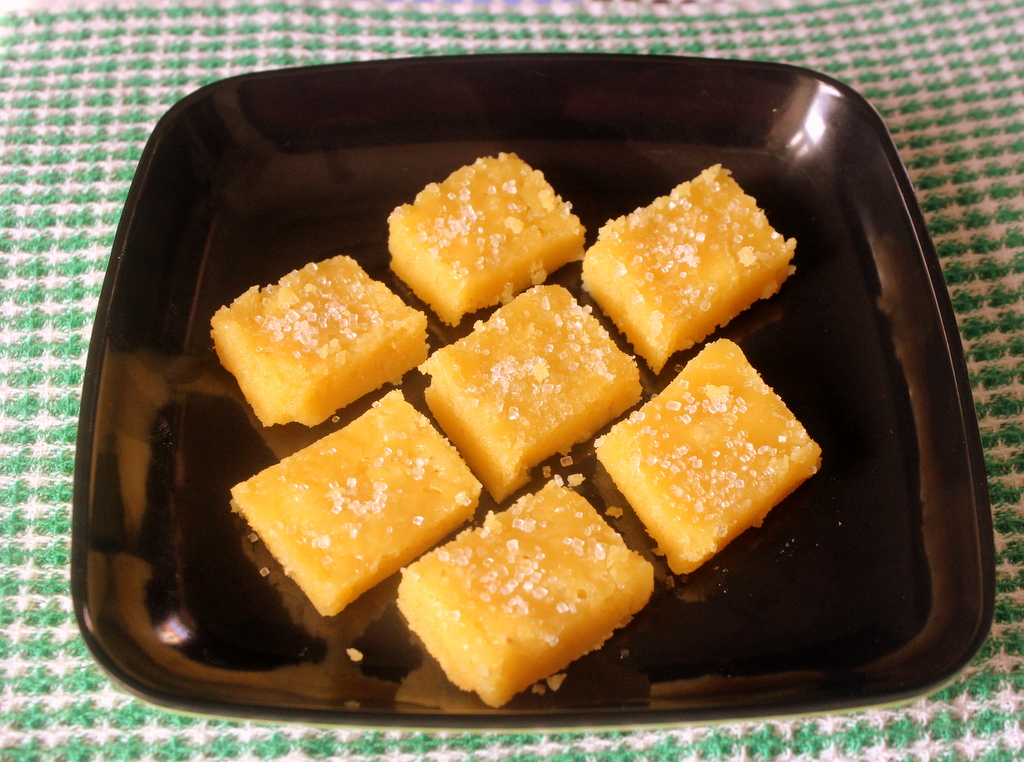 NOTES/TIPS
Sieve the gram flour for a good texture.
You can adjust the sugar content as desired by you.
If you want a soft and sweet mysore pak, then the ratio is 1:2:3 (besan:sugar:ghee) which I have used in this recipe.
Mysore pak stays good for upto a fortnight at room temperature.
One-string consistency is very important for a perfect texture.
Ensure to get a frothy and porous besan mixture before transferring into the greased plate.