Arbi ki sabji/subzi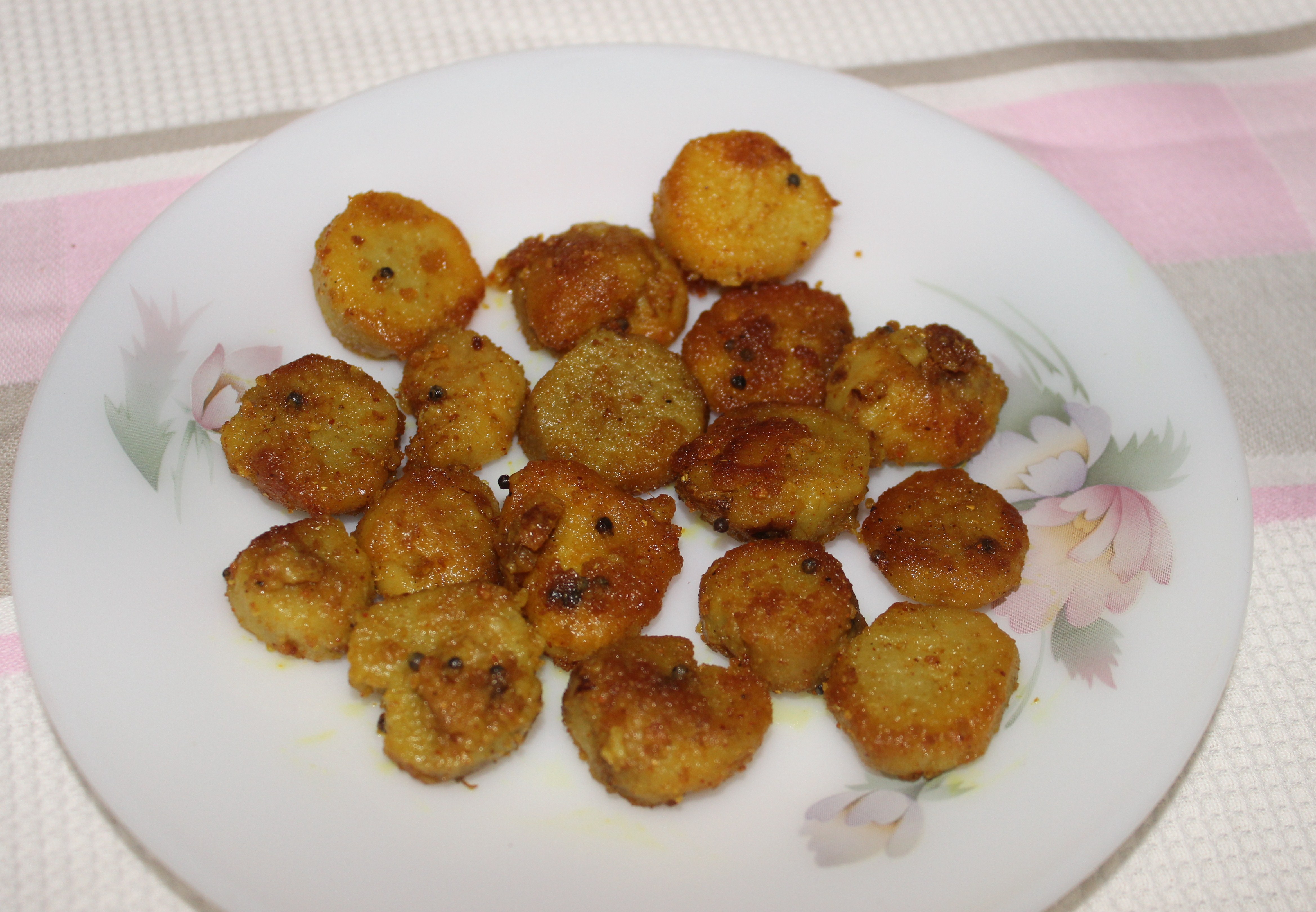 Arbi is also called as taro root. It is called as kesavuna gedde or same gedde in Kannada or Sepankezhangu in Tamil. It is one of the finest source of dietary fibre and easily digestible.  Taro is nutritious and an excellent source of potassium which is essential mineral for many bodily functions.  Arbi  is stir fried and mixed with spices which makes a great side dish for rice.
Ingredients
Arbi (taro roots ) - 8 medium sized
Red chilli powder - 1 teaspoon
Coriander powder - 2 teaspoon
A pinch of asafoetida
Turmeric powder - 1/4 teaspoon
Mango (amchoor) powder - 1/2 teaspoon
Cooking oil - 4 tablespoons
Salt to taste
Method
Step 1
HOW TO MAKE ARBI KI SABJI/SUBZI Wash the arbi roots well. Pressure cook (without the weight) the arbi roots with 6 to 7 cups of water and cook on a medium heat for 10 minutes. Alternatively, you can cook in a separate vessel with enough water with the vessel closed with a lid, on a medium flame.
Step 2
Once cooked, allow the arbis to cool down, peel the skin and place the arbis in a separate plate.
Step 3
Cut the arbis into thick round slices and keep them aside.
Step 4
Heat oil in a pan. Add asafoetida, red chilli powder, coriander powder, turmeric powder and mix well. Stir fry for few seconds.
Step 5
Spread the arbi slices around the pan. Add salt and amchoor powder over the arbi slices. Fry for 2 to 3 minutes.
Step 6
Turn the arbi slices on the other side. Sprinkle salt, amchoor powder and little oil and fry for another 2 minutes.
Step 7
Cook the arbi slices for 10 to 15 minutes on a medium flame, till they become crunchy. Remove from flame.
Step 8
Serve arbi ki sabji/subzi hot with rice.
Step 9
NOTES : Select the similar sized arbis for subzi, as it helps the arbis to get cooked evenly. You can cook them in a non sick pan to avoid excess oil.