Vegetable pongal recipe – How to make vegetable pongal recipe – pongal recipes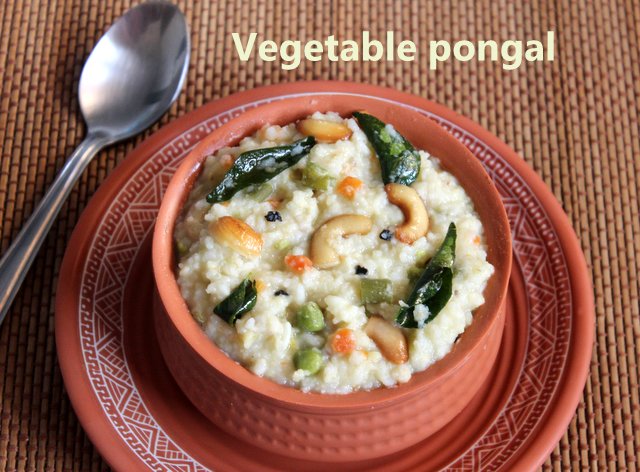 Pongal is an important dish prepared  during pongal festival in Tamil Nadu and Sankranthi festival in Andhra Pradesh. People pray to Sun God on this occasion. In Tamil language, 'pongal' means 'boiling over'. On that day, women boil the new rice with fresh milk and jaggery and allow it to overflow the pots. It is an expression of happiness that the new harvest is here and should enjoy it. The date of pongal festival remains constant every year, on the 14th of January. However the festival is celebrated for 4 days from 13th to 16th of the month.
Pongal or khara pongal is a popular dish in South Indian homes and is served as breakfast dish in Tamil Nadu. It is called as huggi in Karnataka. Ven pongal is a spicy variant made with rice, yellow moong dal, black pepper, cumin seeds and cashew nuts. It is commonly prepared during pongal, a harvest festival, where this dish is prepared to celebrate the festival.  This rice dish can be prepared in half an hours' time and tastes best when served hot or warm with coconut chutney or sambar.  Pongal is also a protein rich dish with a good aroma of ghee  and mild seasonings.
Vegetable pongal –  a one pot meal made with rice, moong dal and vegetables and tempered with ghee and mild spices.   You can use your choice of vegetables for this recipe.  This pongal is a more healthier version and a good change from the  regular pongal.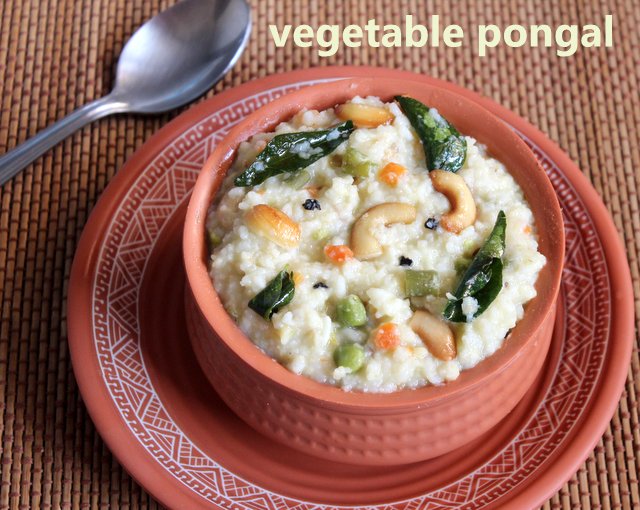 Prep Time : 20 mins
Cook Time : 20 mins
South Indian cuisine
INGREDIENTS
Raw rice – 1 cup
Split yellow moong dal – 1/2 cup
Water – 5 cups
Green chillies – 2 nos (slit vertically into two)
Ghee – 2 tablespoons
Carrot – 1/4 cup (chopped into small pieces)
Green peas – 1/4 cup
Green french beans – 1/4 cup (chopped into small pieces)
Salt as per taste
FOR TEMPERING/SEASONING
Ghee – 2 tablespoons
Cashewnuts – 10 nos
Ginger – 1 teaspoon (chopped or grated)
Black pepper – 1 teaspoon
Cumin seeds or jeera – 1 teaspoon
A pinch of asafoetida or hing
Few curry leaves
HOW TO MAKE OR PREPARE VEGETABLE PONGAL RECIPE
Rinse 1 cup of rice and 1/2 cup of yellow moong dal with sufficient water 2 to 3 times.  Then drain the water completely and keep the rinsed rice and dal aside.
Heat 1 tablespoon of ghee in a small pressure cooker on medium flame.  Add 2 green chillies and saute for few seconds.  Then add the rinsed dal and rice and 5 cups of water.  Add another 1 tablespoon of ghee on top and salt.  Mix well.
Add 1/4 cup of green peas, 1/4 cup of green french beans and 1/4 cup of carrots.  Mix everything well.  Pressure cook on medium flame for 4 whistles.
Once cooled down, open the lid and give a good mix.  The mixture will be soft and mushy.  Heat 2 tablespoons of ghee in a small pan.  Add the cashewnuts and roast them till light golden in colour.
Add hing, curry leaves, 1 tsp of black pepper, 1 tsp of cumin seeds and 1 teaspoon of grated ginger.  Saute for few seconds.  Pour this seasoning to the cooked rice and dal and mix well.
Serve vegetable pongal or huggi hot with sambar or coconut chutney.  Wish you all a happy Pongal!!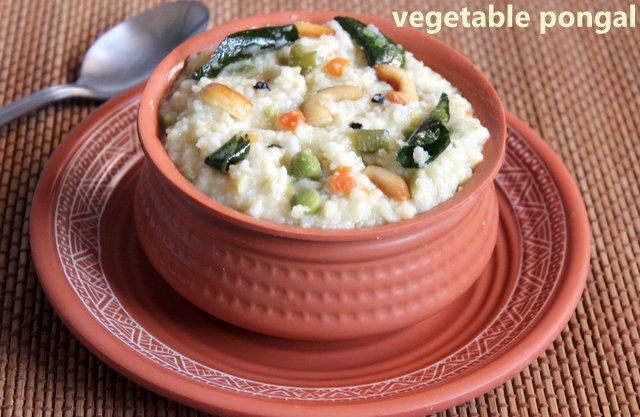 NOTES/TIPS
Pongal tastes better if it is mushy. You can add little ghee at the time of serving to enhance the taste.
Add more or less ghee as per your taste and preference.  Do not skip adding ghee, as it gives a nice flavour to pongal.
You can grind the pepper to a coarse powder and then temper it,  to make pongal more spicy and get pepper flavour.
If the pongal is too dry, add little hot water to get the desired consistency.   And if it is watery, just cook the pongal till the water evaporates.