Cucumber thalipeeth or cucumber pancake recipe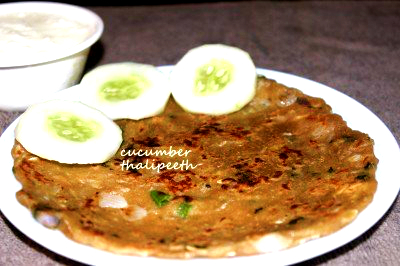 Thalipeeth is a very popular and delicious multigrain pancake from Maharashtra. The dough is prepared from different flours like rice flour, gram flour or bajra flour. Onions, fresh vegetables, coriander leaves and spices are then added to it while kneading the flour. Thalipeeth is generally served with curd or pickle. Here in this recipe I have added cucumber to the flours and mixed with spices. Cucumber gives a cooling effect to our body especially during summer season.
Ingredients
Cucumber - 4 (medium sized)
Rice flour - 1 cup
Gram flour (besan) - 1/2 cup
Onion - 1 (medium sized chopped finely)
Cumin seeds (jeera) - 1 teaspoon
Green chillies - 3 to 4 (chopped finely)
Chopped coriander leaves - 2 tablespoons
Salt to taste
Oil for cooking
Method
Step 1
HOW TO MAKE CUCUMBER THALIPEETH OR CUCUMBER PANCAKE RECIPE Grate the cucumbers and keep it aside.
Step 2
Take grated cucumbers in a mixing bowl. Add rice flour, gram flour, chopped onions, cumin seeds, green chillies, coriander leaves and salt. Mix well
Step 3
Cucumbers will ooze out water. So no need to add water while kneading the dough. The dough consistency should be soft and not too sticky.
Step 4
Make equal sized balls out of the dough and keep them aside.
Step 5
Heat a pan on a low flame. Add 1 teaspoon of oil and spread all over the pan. Place one ball of dough in the centre of the pan. Spread it gently by hand to a round shape. Sprinkle few drops of water and try to spread it thin.
Step 6
Let the thalipeeth roast for 2-3 minutes. Now flip on the other side and cook for another 1-2 minutes
Step 7
Serve thalipeeth hot with butter, yoghurt or pickle.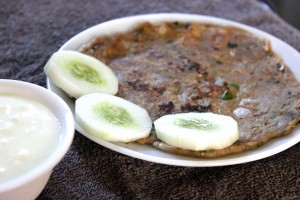 Step 8
NOTE : Alternatively you can use a plastic sheet or a wet cloth. Place sheet or cloth on a rolling board. Sprinkle water on it and spread the dough to a round shape. Then transfer or remove from the plastic sheet/cloth to the hot pan You can add bajra flour, ragi flour or jowar flour to make it more nutritious and tasty.