Dahi bhindi recipe – How to make dahi bhindi recipe- Indian curries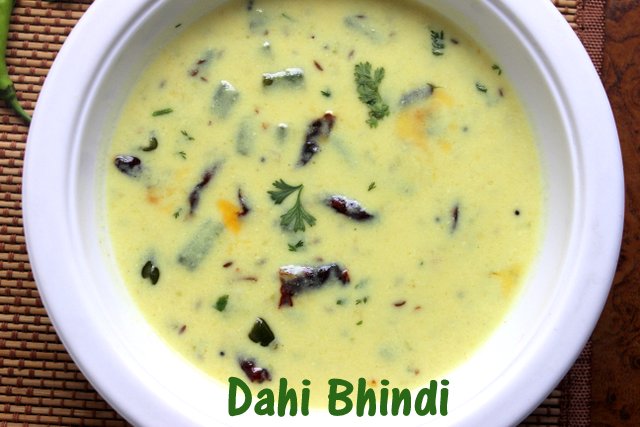 Dahi bhindi is a delicious curry cooked with yoghurt and gram flour as the main ingredients and mild spices added to it.  It is also a quick recipe but absolutely healthy and tasty.  Dahi bhindi is best served with  rice and rotis.  Ladies finger is very low in calories and also rich in vitamins and calcium.  Bhindi or ladies finger or okra is a very popular vegetable loved by all and curd added to this vegetable gives a good flavour and a smooth gravy is formed.  Do try this easy , tasty and quick recipe of bhindi and enjoy nutritious vegetable with chapatis, jeera rice or naans.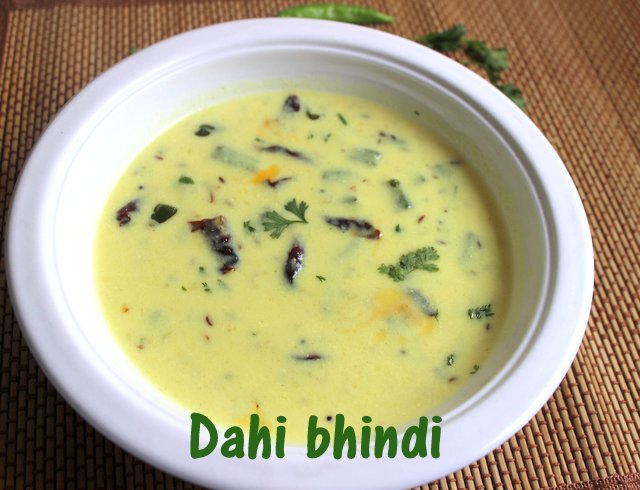 Prep Time : 15  mins
Cook Time : 15 mins
Servings :  2 to 3 persons
North Indian cuisine
INGREDIENTS
Ladies finger/okra/bhindi – 1/2 cup (chopped into medium pieces)
Curd – 2 cups
Besan/gram flour – 2 tablespoons
Green chilli-ginger paste – 1 tablespoon
Turmeric powder – 1/4 teaspoon
Cooking oil – 2 tablespoons
Mustard seeds or rai – 1/2 teaspoon
Cumin seeds or jeera – 1/2 teaspoon
Whole red chillies – 4 (broken into small pieces)
Methi seeds – 1/4 teaspoon
Salt to taste
Few chopped coriander leaves for garnishing
HOW TO MAKE OR PREPARE DAHI BHINDI RECIPE
Wash and pat dry the bhindi and cut the ends.  Then chop the bhindi into 1 inch medium pieces.  Take a mixing bowl and add the curd.  Add 1 cup of water to it and whisk it well.  Add the gram flour, green chilli-ginger paste, turmeric powder and salt.  Whisk again until smooth.
Heat oil in a pan on medium flame.  Add mustard seeds and cumin seeds.  When seeds begin to crackle,  add the red chillies  and bhindi.  Stir fry the bhindi on medium flame, till they become tender.
Once the bhindi is well cooked, add the besan-curd mixture.  Lower the flame and cook the mixture by stirring continuously.  Ensure that no lumps are formed.
Cook for 4-5 minutes on a low flame till the mixture starts thickening.  Do not simmer or over boil.  Once the curry swells a bit, then switch off the flame.
Garnish with chopped coriander leaves and serve dahi  bhindi hot with rice or rotis.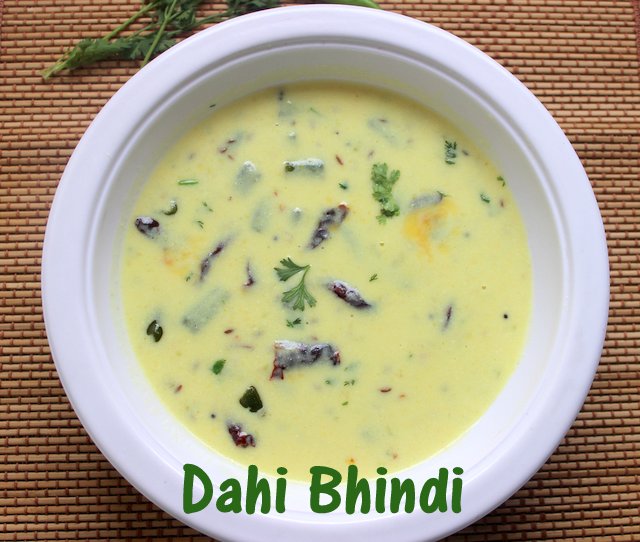 NOTES/TIPS
Always select small and tender okras for better taste and flavour.
Pat dry the bhindis well before chopping them.  Else it will be sticky.
Cook the curry always on a low flame and do not allow to simmer for a long time.
Once the curry  swells a bit, switch off the flame.  Whisk the curd well before adding the spices.