Hagalkai gojju or bittergourd/karela gojju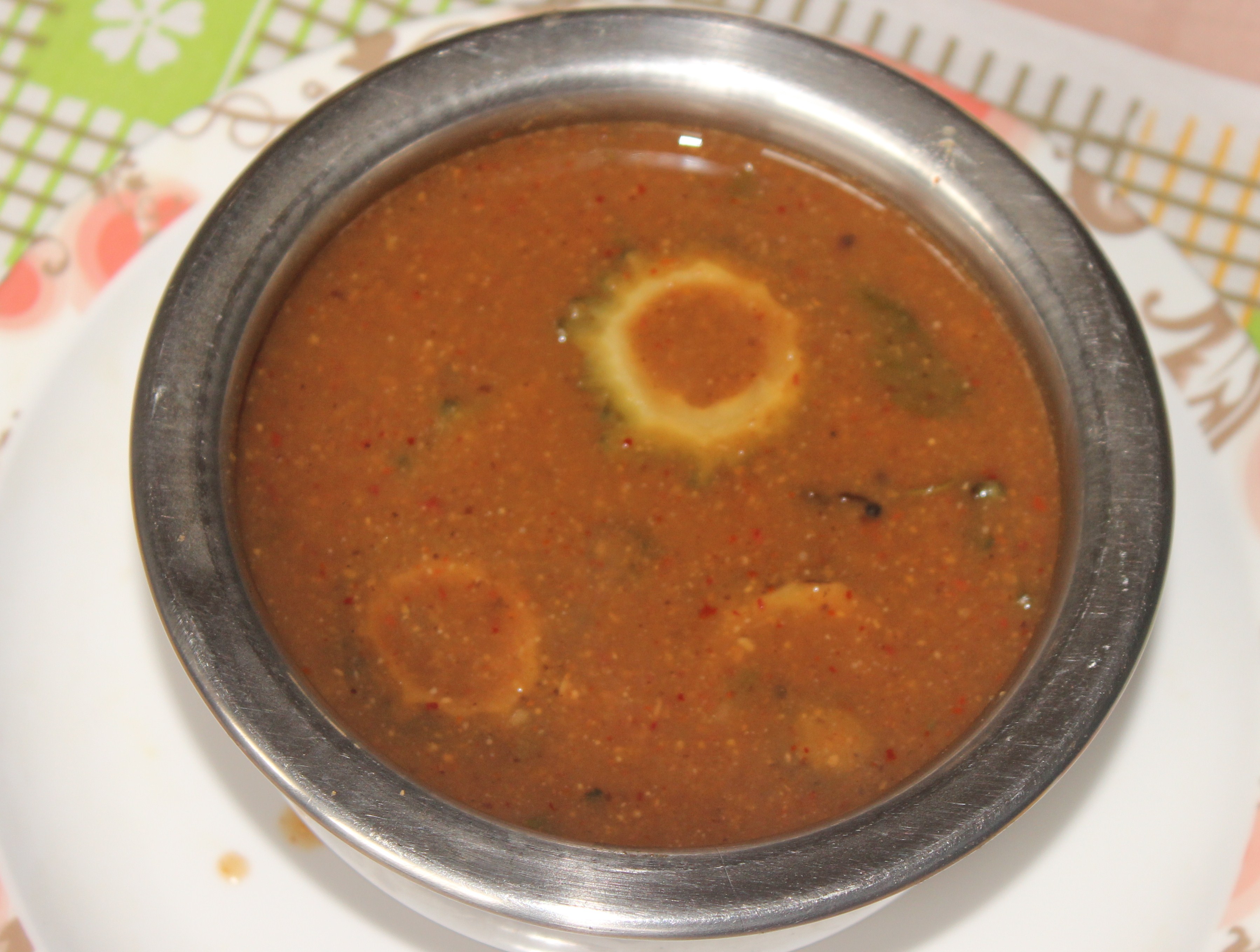 Hagalkai or karela gojju  is a traditional and simple curry recipe from Karnataka.  This curry is served with hot rice and little ghee and it makes a sumptuous meal.  Hagalkai gojju has a combination of sweet, spicy and tangy taste which goes well with both rice and rotis.
Ingredients
Bittergourd/Hagalkai/karela - 1 medium size
Grated Jaggery - 2 tablespoons
Rice flour - 2 tablespoons
Salt to taste
Tamarind water - 2 1/2 to 3 cups diluted
FOR MASALA POWDER
Coriander seeds/dhania - 2 teaspoons
Urad dal - 1 teaspoon
Gram dal/Chana dal - 1 teaspoon
Fenugreek/methi seeds - 1/4 teaspoon
Mustard seeds/rai - 1/2 teaspoon
Whole red chillies - 4
A pinch of asafoetida
FOR SEASONING
Cooking oil - 1 teaspoon
Mustard seeds - 1/2 teaspoon
1 string of curry leaves
Method
Step 1
HOW TO MAKE HAGALKAI/BITTERGOURD/KARELA GOJJU Wash and chop the bittergourd into thin round slices and deseed them. Soak them in salt water for about an hour. This helps to minimise the bitterness in the vegetable.
Step 2
Heat 1 teaspoon of oil in a pan. Add asafoetida coriander seeds, urad dal, chana dal, methi seeds, mustard seeds and whole red chillies and saute till the aroma exudes and dals turn light brown.
Step 3
Grind the roasted ingredientsin a grinder, into a fine dry powder and keep aside.
Step 4
In the same pan, 2 tablespoons of oil. Add chopped bittergourd pieces and stir fry till it turns light brown and crispy.
Step 5
Then add tamarind water and boil till the raw smell of tamarind goes.
Step 6
Add powdered masala and mix well. Cook for another 5 minutes on a medium flame, till the spices gets well blended with tamarind water.
Step 7
Add grated jaggery, salt and rice flour mixture and combine together. (For rice flour mixture, add 1/4 cup of water to 2 tablespoons of rice flour and mix well without any lumps) Rice flour helps in giving a thick consistency to the gojju.
Step 8
For seasoning heat 1 teaspoon of oil in a tadka pan. Once hot add mustard seeds. Once the seeds start to crackle add curry leaves and saute for few seconds. Pour this seasoning to gojju and mix well.
Step 9
Serve hagalkai gojju or karela gojju hot with rice.
Step 10
NOTES : For tamarind water, soak a lemon sized ball of tamarind in hot water for half an hour. Extract the pulp from tamarind by adding little water.