Avarekalu sagu recipe – How to make avarekalu curry recipe – Karnataka recipes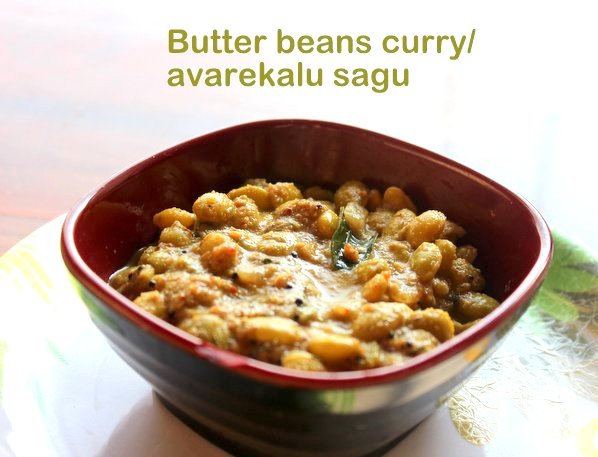 Avarekalu curry or sagu is delicious side dish for rotis and rice.  It also goes well with puris and dosas.  Avarekalu sagu is prepared with avarekalu also called as butter beans or hyacinth beans.  Avarekalu is a kannada term for butter beans.  It is called as mochai in Tamil and vaal or pavta in Marathi.  Avarekalu curry is a coconut based gravy made with avarekalu and spices and a very  popular dish in Karnataka.  As per the traditional recipe, the skin has to be removed from the beans after soaking them.  But I prefer to use the full beans without removing the skin.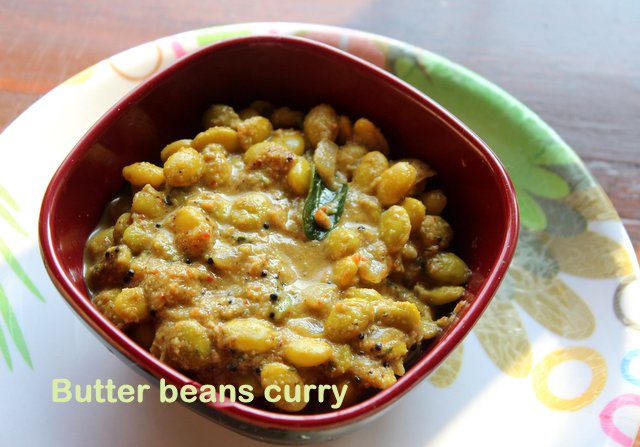 Prep Time :  15 mins
Cook Time :  20 mins
Servings : 4 persons
Karnataka cuisine
INGREDIENTS
Avarekalu/butter beans/pavta/mochai – 1 and 1/2 cups
Oil/ghee – 2 tablespoons
Curry leaves – 5
Turmeric powder – 1/4 teaspoon
Onion – 1 (small sized chopped finely)
Garam masala – 1/2 teaspoon (optional)
Salt to taste
TO GRIND TO A SMOOTH PASTE
Coriander seeds – 2 tablespoons
Cumin seeds – 1/2 teaspoon
Mustard seeds/rai – 1/4 teaspoon
Black pepper corns – 1/2 teaspoon
Red chillies – 4
Garlic cloves – 2 to 3 nos
Poppy seeds/khus khus – 1 teaspoon
Clove – 1
Cinnamon – 1/2 inch piece
Coriander leaves/Hara dhaniya – 2 tablespoons
Grated coconut – 1/2 cup
Tamarind – 1 small piece
Jaggery – 1 tablespoon
Onion – half (chopped roughly)
Oil – 1 teaspoon
HOW TO MAKE OR PREPARE AVAREKALU SAGU OR CURRY RECIPE
Wash and soak the avarekalu with enough water overnight or for 6-7 hours.  Next day drain the water and add fresh water, little salt and turmeric powder.  Pressure cook for 4-5 whistles or until it becomes soft.
Heat 1 teaspoon of oil in a  pan on medium flame.  Add coriander seeds, cumin seeds, garlic cloves, red chillies, poppy seeds, peppercorns, clove, cinnamon, rai and coriander leaves.  Saute for a minute.  Then add chopped onion and fry for 2-3 minutes on a low flame.
Once cooled down, take the ingredients to a mixer. Add coconut, tamarind and coconut to it.  Grind them  to a smooth paste by adding little water. Keep it aside.
To the same pan, add 2 tablespoons of oil or ghee.  Add mustard seeds and allow it to splutter. Then add curry leaves and finely chopped onions.  Fry till the onions become translucent.  Then add the ground paste and mix well. Add little water and adjust the consistency.
Add the boiled avarekalu and mix everything well.  Add salt and garam masala.  Mix well.
Add jaggery and cook on a low flame for 4-5 minutes, till it reaches a medium consistency.  Switch off the flame.  Garnish with chopped coriander leaves.
Serve avarekalu sagu with rotis, puris, dosas or rice.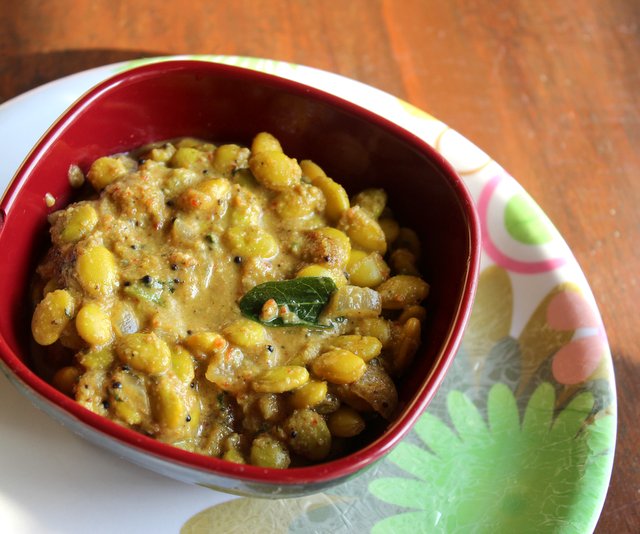 NOTES/TIPS
Adjust the gravy consistency by adding little water, as desired by you.
Ensure that the beans are not mushy.  They are just soft and cooked.
Add little red chilli powder, if you prefer more spicier.
Garam masala is totally optional.  You can skip adding the garam masala.  It tastes great both the ways.